Star Wars is one of those movies that has prevailed for decades, and will continue to do so, especially with all of the new movies being released, and characters and storylines along with them.
It's no surprise, then, that the tremendous popularity of the film franchise has sparked tons of Star Wars-themed gadgets and gizmos – from light saber-shaped smartphone chargers, to the BB-8 Sphero toy, and even a Death Star waffle maker. Yes, you can make waffles shaped like the Death Star.
It seems like every year, we're seeing new, more clever, gadgets coming to market, while old tried and true ones pick up steam every time a new movie is promoted. But May 4 is a particularly special day for fans, known as "May the Fourth be with you" day in celebration of the films.
With that, here's our annual Star Wars-themed gadgets list, and May the Fourth be with you.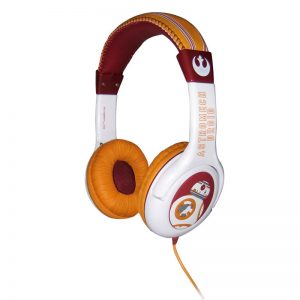 BB-8 Headphones
Designed for kids, these super-cute headphones include padded ear cushions, and come in the BB-8's signature orange and white colours, emblazoned with images of the loyal droid on the outer cups. They are volume-limiting, so your little one can't crank up the audio and potentially damage his eardrums. Grab a pair online, or through a number of retailers, like Indigo.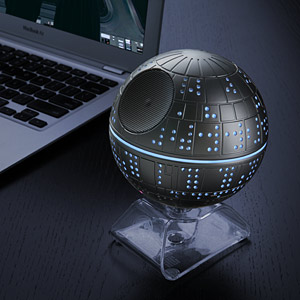 Death Star Bluetooth Speaker
Beyond the obvious tie-in with Star Wars, this is simply a pretty cool-looking Bluetooth speaker. Shaped like the Death Star and measuring 4.5" in diameter, the officially licensed device comes complete with illuminated holes for the lights, and a speaker that lights up when in use. It's perched atop a stand, making it the ideal companion for your office desk to listen to tunes while you work, streamed from up to 30 feet away. Grab it from ThinkGeek.com.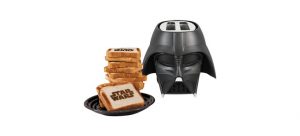 Darth Vader Cool Wall Toaster
Do you like your toast dark side or light side? As one of the punn-iest options on this list (pun intended), yes, it's a toaster shaped like Darth Vader's head that spits up toast emblazoned with the Star Wars logo. Pop one or two slices into the wide slots, select your desired shade, and enjoy a delicious breakfast. It's available at a number of retail stores, including Best Buy.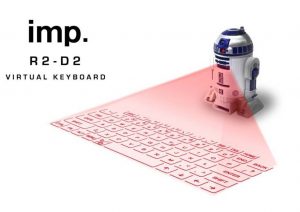 R2-D2 Virtual Keyboard
If you're willing to shell out a couple hundred bucks for a Star Wars gadget for yourself, or as a gift for a fan, consider this truly cool virtual keyboard. Rather than have the keyboard appear from a boring silver or black box, it will shine brightly from a miniature R2-D2 figure. Use this in any coffee shop and you're bound to get plenty of attention from passers-by. Get it from Amazon.
Keep in mind that the fun doesn't end on May 4: fans have recently dubbed the day following Revenge of the Fifth Day. Check out our gadget picks – dark side only, of course – from May 5 last year.