As you recover from the undoubted fabulous festivities from yesterday's unofficial Star Wars Day (May the Fourth, as in "May the Fourth be with you,") brace yourself, because it isn't over yet. Did you know that some are trying to turn the celebration into a two-day event, with today being known as "Revenge of the Fifth" day?
It makes sense: if the light side has it's own day, it's only fair the dark side would as well!
With that being said, if you've decided to come to the dark side, here are 5 great Star Wars tech gadgets that any fan of the Sith will love.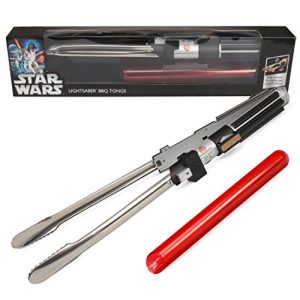 1.Star Wars Lightsaber BBQ Tongs
Barbecue season is upon us, and what better way to entertain a group of friends than cook them burgers while you do a great Darth Vader (or Kylo Ren) impression? These large BBQ tongs come with a red cover that disguises them as a lightsaber. There are even lightsaber sound effects, so you can feel like a true Sith as you flip and cook lunch. The handle is heatproof, so no worries, you won't get burned. But your guests may need to watch out for your swift lightsaber skills.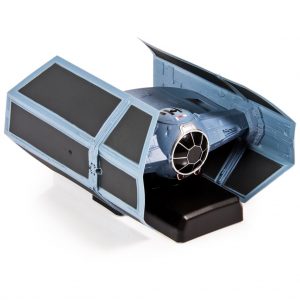 2.Air Hogs Star Wars Remote Control Zero Gravity TIE Advance X1
Fighting the Rebels? It's all pretend, but whether you're a child or an enthusiastic adult, you can race this remote control vehicle on the ground, upside down, or even up walls thanks to the Wall Climber Technology. The Wall Clings even glow in the dark for added effect during night time play. It's appropriate for anyone aged 8 and up, should only be used indoors, and runs on six AA batteries. It comes with the required remote. Grab a couple, and speed around with your friends as you reminisce about the iconic films.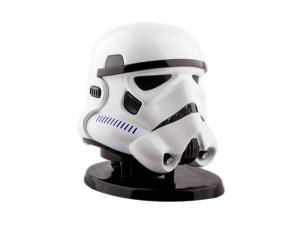 3.AC Worldwide Storm Trooper Bluetooth Speakers
Last year, I wrote about these gorgeous Star Wars-themed Bluetooth speakers, which were still at the Kickstarter crowdfunding stage, but ready for pre-order. Good news: they're now officially available! Selling for 199 Euros (or just under $300), you could opt for a "light side" one, like C-3PO. But "dark side" fans will prefer to get a limited edition Storm Trooper version. Fully licensed from Lucasfilm and Disney, it's extremely detailed, which explains why only a small number of them have been made. Pair it with your smartphone or tablet, and the eyes will glow green to signify a successful connection, and that the loyal solider is at your command. Use it to listen to tunes (The Imperial March, perhaps?), complete with adjustable bass; as a speakerphone for calls; or just as a great statement piece.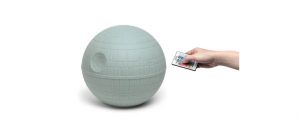 4.Giant Death Star Indoor/Outdoor Mood Light
Set the mood with this oversized mood light that's shaped just like the Death Star. It has 16 different colours and brightness controls, and runs from an internal battery, so you can use it virtually anywhere – even outside (though it isn't waterproof). The 2,200mAh battery will run for up to eight hours per charge. As a plus, it's large enough that you can use it as a seat – the 15" sphere can hold up to 190 lbs. of weight. Or, kick your feet up on it as you immerse yourself in the latest film, or one of the others in the franchise, for some nostalgia on this special day. Having a Star Wars-themed party? You can set it to strobe, flash, or fade from colour to colour to wow your guests. Control it via the remote.
Swap out your iPhone case today (or beyond) to show your love of Star Wars with this cool protective one that features Darth Vader in all his glory. Available in limited quantities, it clips onto the back of the smartphone, and comes with a screen guard and cloth. You still get full access to all buttons and ports. Made of plastic, the artwork was designed by Eric Tan.