In this year of celebration for Canada's sesquicentennial, a number of tech-savvy Canadian individuals, teams and organizations that have developed innovative technological solutions are being celebrated as well.
The Office of the Secretary to the Governor General has announced seven winners of the 2017 Governor General's Innovation Awards (GGIA), stating their innovations have a "truly exceptional, transformative, and positive … impact on the quality of life in Canada."
The Innovation Awards are meant to inspire us all to embrace innovation, and to celebrate those entrepreneurs who use technology to solve problems in sectors like healthcare and education.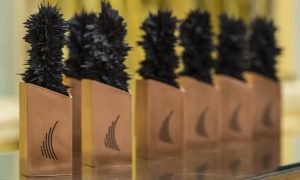 Presented for the first time in May 2016, this year's GGIA have a prestigious place in a what's turning out to be a year-long spotlight on Canadian innovation and creativity: while not formally a part of Sesqui, the federal government's packed calendar of Canada150 celebrations, the GGCA nevertheless both echoes and highlights Canadian technological solutions.
"The recipients of the 2017 Governor General's Innovation Awards demonstrate that Canadians are among the world's most creative and dynamic innovators," David Johnston, Governor General of Canada, said when introducing the award winners. "Through hard work, ingenuity and collaboration, each recipient has developed a unique and innovative approach to solving to an important challenge of our time. Their success is changing lives for the better in Canada and around the world."
2017 Governor General's Innovation Award Winners
–Audra Renyi co-founded World Wide Hearing (WWH) Foundation, an organization that combines affordable technology, market incentives and on-the-ground training to help people affected by hearing loss.
Particularly for those folks living in developing countries, the costs associated with hearing aids or related audiology services are often too much to bear. So WWH has developed an economic strategy to address hearing loss in low-to-middle income countries, including an accessible cloud-based portal to store and manage research findings, survey results and patient records. By working with a number of hearing aid manufacturer around the world, the Foundation does provide brand new digital devices, not ones that are used or refurbished, to those in need. Based in Montréal, Renyi is also the founder and CEO of earAccess, a for-profit social enterprise that aims to cut the price of hearing aids by 75 per cent.
* * *
–Biotech entrepreneur David Brown has developed a unique way to manufacture an important product used in medicine and health care, a method that's a great green improvement over previous processes, which were very energy- and chemical-intensive.
Known as chitosan, the product is used to control bleeding and blood loss. Major pharmaceutical and medical device companies around the world make use of the product. They used to extract it from shellfish by-products, but from his base in Fredericton, New Brunswick, Brown developed a new way to derive the substance from a fungus produced in his own lab. His company, Mycodev Group, has previously received support from federal and Atlantic region development agencies.
 * * *

–Ottawa-based Marie-Odile Junker has long explored how information and communication technologies can be used to preserve endangered Aboriginal languages in Canada. Through her work and her and partnerships, she has led the creation of several collaborative websites, including the Algonquian Linguistic Atlas and its online dictionary.    
The website (there are also companion Conversation apps for quick translation of common words and phrases) presents a visually-rich linguistic atlas of Algonquian languages, along with supportive resources for sound editing and linguistic training for aboriginal students.
Junker's innovative tech tools also help curriculum developers, language specialists and lexicographers of Algonquian languages come together online, and develop new language resources and dictionaries.
 * * *

–Drs. Patricia Lingley-Pottie and Patrick McGrath are the creators of the Strongest Families Institute in Halifax, Nova Scotia. It's a non-profit organization that uses a unique distance delivery platform to tackle common mental health problems (and other issues impacting overall health and well-being) bu offering information and support to children, youth and families. Using proprietary software technology, trained coaches are able to connect with users by phone or via the Internet, giving choice and flexibility when families need help.
* * *
–Guelph, Ontario's Dr. Bonnie Mallard created the High Immune Response Technology (HIR) as a way to track and manage livestock health through genetic identification. The goal is to develop environmentally sustainable and economically efficient food management techniques that address global food demands, meet consumer expectations for healthy, non-GMO products while also maintaining profitability for the industry.
* * *
–Toronto's Dr. Paul Santerre invented a new molecular compound that's added to plastics during the manufacturing of medical devices like catheters. The special coating helps reduce blood clotting when the devices are used to treat patients, reducing the risk of adverse reactions and potentially deadly complications.
His compound (Endexo is the trade name) is not simply applied to the surface of a medical device, but actually embedded into and throughout the device. It's already been commercialized in Canada, the U.S. and Europe, and it's helping to improve treatment outcomes for thousands of patients.
Winners of a Governor General's Innovation Award are selected through a two-stage, merit-based selection process. The selection process is managed by the Canada Foundation for Innovation while the execution of all aspects of the program is overseen by the Office of the Secretary to the Governor General, working in close collaboration with the Rideau Hall Foundation.
-30-