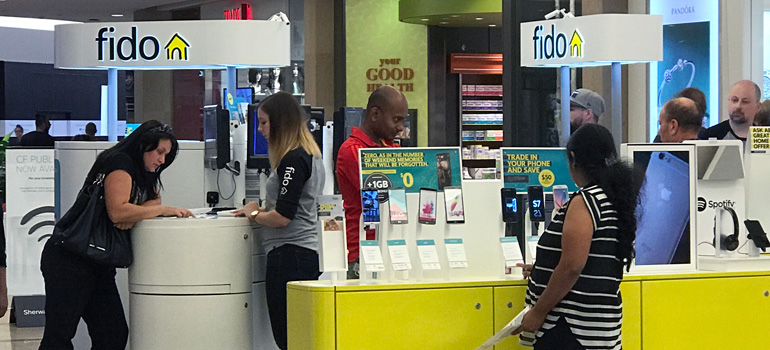 Starting on Dec. 1, carriers will no longer be able to sell smartphones locked to their network, potentially opening up a stagnant wireless market in Canada. If it does make it easier to leave from one carrier to go to another, will Canadians take advantage of the opportunity?
The CRTC (Canadian Radio-television and Telecommunications Commission) issued this directive in June, but is not binding until Dec. 1. Essentially, it means individual and small business consumers can have their existing devices unlocked for free upon request, while new devices sold after that date must be unlocked out of the box.
This may have been a parting shot from outgoing chairman Jean-Pierre Blais toward the carriers, whom he grappled with more than once during his tenure at the CRTC. It's something that should have been mandated as part of the wireless code of conduct that went into effect in 2015, but better late than never, as they say.
Long and winding road
The Canadian market has come a long way to this point. Consider that phone numbers were locked to carriers until the CRTC banned that in 2007. Number portability was, at the time, the beginning of a series of events that loosened the shackles somewhat.
The iPhone 3G launch in 2008 shook up the industry enough to have carriers rejig the plans offered for that device. Apple's retail presence was such that it could also sell iPhones outright and unlocked to customers, something carriers could only complain about in private.
The ridiculous period of carrier exclusive models for the same phone, where there would be three versions of the Samsung Galaxy S2, for example, also stopped. Carrier exclusives were still de rigueur for some time until that largely began to fade after 2010.
The wireless code of conduct ultimately banned three-year contracts and also brought with it an industry norm whereby the carriers charged an outlandish $50 fee to unlock a phone. This even applied to customers who had already paid off the initial subsidy of the term.
Some Telus subscribers may recall that they couldn't get their iPhones unlocked for years. The reason given always vaguely alluded to something "technical" without any explanation, despite Bell and Rogers already doing it at that time. Then one day, Telus magically began doing the same, and the "technical" hurdle it had supposedly overtaken had never been addressed.
Unlocking options
The truth is, there was always a recourse to unlock a phone, be it at a specialized local mom-and-pop store, or online, where codes could be purchased for a fraction of carriers' prices. Contracts rendered these moot, for the most part, for at least two reasons.
First, you would be required to buy out the remaining term of your contract, usually with a cancellation fee thrown in for good measure (until the code of conduct killed that) in order to go to another carrier. You would probably have to also pay extra to get your phone unlocked, unless you were getting a new device with your new carrier.
Second, even if you were travelling abroad, you would still be charged an unlocking fee, because you were still under contract. Being locked in to a three or two-year term lessened the chance you would leave, so the unlock fee was little more than a cash grab.
Bearing in mind the $50 fee applied to any phone, regardless of its initial price point or age, the discrepancy with what's available online is even more pronounced. Some devices could be unlocked for as little as $8.00 through online merchants, and could take 24 hours or less for a code to arrive. While popular handsets tend to cost more, it would still be no more than half, in most cases.
The CRTC's move does remove one of the last barriers, but phone unlocking was already widely available from third-parties.
Buying outright
I've long suggested buying a phone outright as the most economical option in spite of the larger upfront cost. Buying a phone on contract narrows the monthly plans to choose from and ensures the cost is high enough for the carrier to recoup the subsidy and make a hefty profit above that.
Any phone manufacturer offers a one-year warranty for damage, and phone repair shops are usually pretty adept at replacing screens, batteries and other components for popular models. Apple and Samsung offer extended warranties for a set price, and others may be following that example eventually as well.
Outside of the reduced upfront cost, a contract offers little other incentive. Carriers play up the "upgrade" options customers have over time, except those are also subsidy-laden because the newer device is offered on contract too.
Retention plans are far more sophisticated than the toothless ones typically offered to those on contract. Tenure with a carrier should mean something, and assuming loyalty goes both ways, a retention department should be willing to negotiate a better deal. Being contract-free, with an unlocked phone in hand (even better if it's new), significantly strengthens your bargaining position.
Price drop unlikely
Banning the carriers from locking devices, as this recent CRTC move does, is designed to spur the market and make it more flexible to switch carriers, but it's highly unlikely prices will go down because of it.
The Big 3 collectively took in $37 million in 2016 from unlocking fees. That may seem like a drop in the bucket for companies that made several billion, but rest assured, revenue lost will be revenue gained some other way.
Still, when pushed, some carriers will bend enough to make offers hard to refuse.
Case in point, Freedom Mobile launched a Canada 150 plan with 3GB of data, unlimited Canada-wide calling and 1- cent-per-minute long distance, among other trappings, for $55/month on its LTE network.
Public Mobile then began offering an exclusive deal aimed at Freedom customers, attempting to lure them over with a $40/month plan with 4GB of data, unlimited province-wide calling, voicemail, international texting and more. That deal is set to expire on July 6.
Fido then got into the act to entice existing customers with their own phones through retention plans that offered 4GB of data for $45/month. This was a two-year loyalty deal, rather than a contract, since there was no subsidized phone involved. The limited-time offer is supposed to be a response to what Public and Freedom have been doing.
Bell and Virgin Mobile offered a $250 port-in credit for users switching from Videotron.
The common thread along this flurry of activity is they all apply to customers who already have their own unlocked phone, and are not advertised on their respective websites. You need to call them or visit a store to inquire. The main three brands largely stayed out of the spree, but this is the kind of competition a greater number of BYOD (bring your own device) users can help generate.
Unlocking the way forward
With flagship phones now costing up to $1,000 or more, it's a very tough sell for some to buy them outright, but wanting the best requires paying more up front. The resale value of the phone could help offset the purchase of a new phone later on, but more than that, the savings on a monthly plan could amount to hundreds of dollars or more per year.
The country's wireless market needs far more liberalized regulation to enable MVNO (mobile virtual network operators) providers to offer service in regional areas, much like home Internet providers already do. By buying bandwidth wholesale from incumbents at regulated rates, they could then sell service to customers for a profit margin.
Beyond unlocking, such a move would have shaken up the industry considerably because it could have ushered in smaller players in smaller regions selling data and airtime for far less per month.
Time will tell if or when that happens, but for now, buy a phone outright, get it unlocked and shop around for a better deal to save money in the long run.
Related:
Where your cell phone bills may be headed in 2017