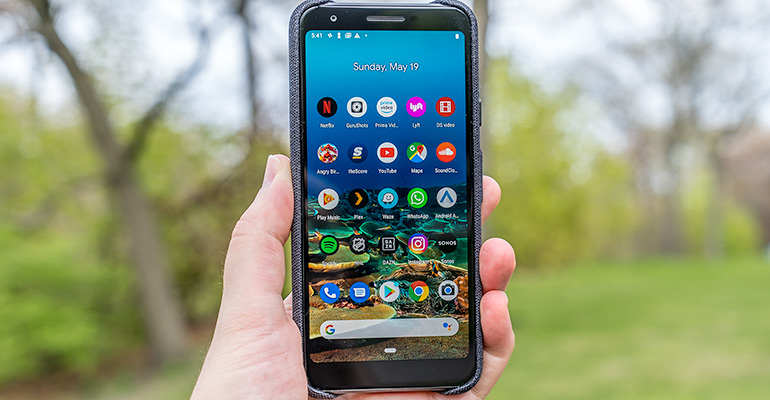 Google throws out a worthy alternative to consumers feeling the crunch of rising smartphone prices with the more affordable Pixel 3a and 3a XL.
The Pixel 3a isn't coming out of nowhere. Long rumoured, Google was poised to return to its previous roots under the prior Nexus line, which always offered real bang for the buck. Only this time, the Pixel 3a is a device based on something that came before it. The Pixel 3 remains Google's current flagship, whereas the Pixel 3a is the pared-down version aimed at anyone looking for a solid handset without breaking the bank.
Almost like a clone
The form factor and feel of the device is almost like a refitted Pixel 3. Put one beside the Pixel 3a and the difference isn't immediately obvious. There are physical changes, albeit minor ones, that do contrast between them, but it's almost like playing a game where you have to identify what's missing in one photo compared to the other.
More importantly, Google sacrificed a few things to make the phone cheaper, yet managed to retain a few others. It's that balancing act that makes such a huge difference in how this phone sizes up against other mid-range competitors.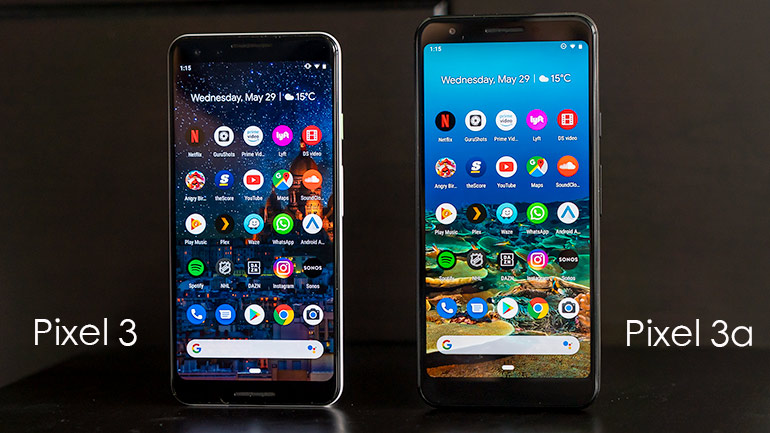 The gist of what's different is this:
The Pixel 3a runs on the Qualcomm Snapdragon 670 CPU, plus 64GB of internal storage and 4GB of RAM.
The screen is wee bit bigger than the regular Pixel 3, yet has a slightly lower resolution and durability.
There is no eSIM functionality, so you can only use one SIM card at a time.
There is a headphone jack, which the regular Pixel doesn't have.
You can only shoot with one front-facing camera lens, not two.
The back is made of a mix of glass and plastic, so materials aren't of the same higher quality.
Google took away the wireless charging and water resistance of the Pixel 3.
They weigh about the same, with buttons in the same places along the edges. The camera and fingerprint sensor are laid out the same way too.
Performance
Since they look so similar next to each other, it might feel like an apples-to-apples comparison, but it really isn't. Well, on paper it certainly isn't. In practice, it almost feels like they are directly connected. This has more to do with how lightweight Android feels when there is no overlay or skin on top of it. When it comes to "pure" Android, the Pixel phones are as untouched as it gets.
Using this phone is like wondering whether you are using what's advertised. And I don't mean that in a bad way. The Pixel 3a felt a lot like its premium sibling does, where performance maintained a steady and smooth consistency. It's not going to be as good with more intensive tasks, especially gaming or photo and video editing, but it holds up quite well, nonetheless.
The familiarity for previous Pixel owners will be seamless, but anyone using another Android device will feel at home. Even iPhone users may find the whole experience to be smooth and efficient.
To maintain a strong semblance of normalcy and congruence, Google didn't cut out key features. Squeeze the sides of the phone and Google Assistant pops up. Navigate to a destination on Google Maps by foot, and augmented reality (AR) animations lead the way. Night Light reduces blue light exposure from the screen, which is great at night. Call Screen and Digital Wellbeing are also available.
Having a headphone jack may be a good thing for those still plugging in, though Bluetooth wireless is always an option too. The 64GB of internal storage is actually more like 50GB, so bear that in mind. Without a microSD card slot to expand on it, you may need to rely on Google Drive or other cloud services to supplement.
Google Photos will back up all photos you shoot with the Pixel 3a to the cloud, albeit at a compressed file size. On the Pixel 3, those files maintain their original size, so it's another tweak Google threw in to differentiate between them. It may not pose a problem if you're mostly just posting and sharing via social media or messaging, but in any case, it's something to consider if you're an avid shooter.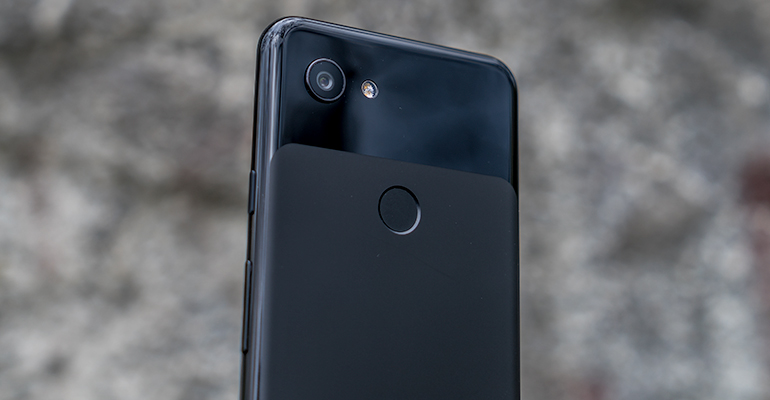 Camera familiarity
Google left out the Visual Core chip that was part of the Pixel 3's camera performance, but even without it, this is easily the best phone camera in its class. It comes with the same 12.2-megapixel image sensor for the rear camera, along with the optical image stabilization (OIS) and an f/1.8 aperture.
Even if you don't understand those numbers, the resulting images will say plenty. The reason the camera package works so well on a device so much cheaper than its premium counterpart is the software. Google's Pixel phones have used software-driven algorithms to help with composition and lighting. Case in point, Night Sight works the same way here for night and low-light settings, though the Pixel 3a may not render the photos quite as well. If you're a more serious shooter and know a thing or two about photo editing, shoot in RAW when you have the chance.
I've always been impressed with how Pixel devices shoot portraits with only one lens, and again, they do well here. They're not going to be perfect, mind you. Strands of hair may fall into parts of the blurry background, but for the most part, results will be impressive. That includes at night or in low-light. Try it at a dimly-lit dinner or in a nightclub and the results should be great. You just have to be steady with your hands when shooting.
Like the Pixel 3, the 3a will often skew toward a higher contrast composition with darker shadows and colours with more saturation. It's usually not overdone, and I advise using the exposure slider that pops up when focusing on a subject to get the look you want.
Top Shot is back for those times you want to make sure you don't miss the perfect moment to capture a moving subject. Super Res Zoom is also in there, which uses software to help retain more information in an image after zooming in.
The newest mode is timelapse video, which works fine. Overall video quality seems no difference from the Pixel 3, and the lack of a 24fps mode is still a glaring oversight, in my opinion.
The front-facing camera is the same as the standard one in the Pixel 3. That phone had a second wide-angle lens to cram more into a scene, and for bokeh effects, but it's not available with the 3a. You can still take bokeh portraits with the existing standard lens though.
Shot-for-shot, there isn't a gaping chasm between the Pixel 3 and 3a at all. For a mid-range handset to shoot this well is a great way to spur competitors to offer more in the same price point.
Battery life
It was easy to like this phone's battery life. It held up well throughout any given day, going over 24 hours on a charge with mixed usage. Heavier usage will dip it below that, but still easily runs over a full workday with plenty to spare.
The 18-watt charger Google includes in the box can charge the phone from zero to 60 percent in 15 minutes. The lack of wireless charging may take away the convenience of going cordless, but in a pinch, that 15-minute charge can go a long way.
Priced to go
The Pixel 3a isn't a phone that just works, it's a workhorse that comes with features belying its place in the market. Whether or not you view it as a poor man's Pixel 3 isn't the point, really. The phone stands up well on its own, and the software and camera are the pillars keeping it up. With three years of software updates guaranteed (when buying it from the Play Store), it should feel current for a while to come. The big question is how well the battery holds up over that time.
Mid-range phones have some interesting models already, but Google now takes pole position with the Pixel 3a (and 3a XL), in my view. The $550 price tag is worth it, especially in a time where some flagships are over double or triple that price.