Technology is playing a big part in eliminating inefficiencies in business travel, as well as empowering the businessperson who travels for work. How has technology disrupted business travel and business travel services? What are business travelers looking for and prioritizing these days? I asked David Thompson, Chief Information Technology Officer at American Express Global Business Travel (GBT) to share his insights on how technology is improving the travel experience for business people.
"Business travelers historically have been serviced as a homogenous group; without any defining or unique traits," began Thompson. "Today, in Canada and globally, the modern business traveller is expecting to be treated like a complete individual, as they are everywhere else in their lives."
"Simultaneously, shifts in the preferences of modern business travelers and travel managers have sparked a need for personalized products and consumer technologies that are better than those used in leisure travel."
"The modern business traveller wants access to all content – personalized and available in every channel. They want to know that someone has their back, and they don't want to encounter cumbersome processes before, during or post-trip. As a tech-forward travel management company (TMC), our technology investment program is designed to meet these expectations."
So, how are companies like American Express Global Business Travel evolving?
"In our industry, there are lots of partnerships and intermediaries, and a strong need for integration on the tech side of business travel versus other industries," explained Thompson. "This, paired with technology trends driving traveller expectations to mirror the consumer experience they have when shopping at home, has created disruption in business travel."
"At GBT, innovation is an integral component of our business strategy," stated Thompson. "Our focus is to ensure constant evolution, and proactive implementation of new solutions as they emerge. We've partnered with technology startups and even acquired technology startups whose solutions were either directly integrated, or slightly modified, to satisfy the unique needs of our customer base. An example of this is our recent commercial partnership with Lola.com. This commercial partnership enables us to offer a simplified, self-service corporate travel solution, with GBT content, to growing companies that have simpler managed travel needs.
Thompson added, "We foster innovation year-round by empowering our workforce to create solutions that help transform business travel management. Our annual Hackathon event is a great example of this.  Since its inception, this event has helped turn imaginative ideas into tangible results that benefit our clients and partners."
There are many technologies being leveraged to better meet the needs of business travelers.
Thompson agreed, commenting, "Technology that drives the automation of insights from data science and analytics allows us to optimize preferences and customization for better human interactions across business travel. With access to these data-driven resources, Travel Management Companies (TMCs)  can better learn about a traveller-base over time and make decisions and recommendations built around their individual needs. This is largely supported by AI and machine-learning, which have proven to add value for clients and drive new revenue opportunities. With the support of AI, TMCs can shift human resources away from manual processes to higher value services, deepen customer interactions and improve capabilities."
I was curious about the use of AI in travel, in particular.
"In terms of exciting AI technology at GBT, our Neo online booking tool is delivering a single shopping interface combining the traditional approach to booking with a more modern approach, which uses a smart search engine that's logical and 'thinks' like a person. When it comes to hotels, our Trip Recommender combines traveller preferences with air, hotel and ground data to make intelligent hotel recommendations based on previous bookings.  We've also developed new enhanced features on the GBT Mobile App to allow access to a global, real-time messaging platform that enables live conversations with travel counselors."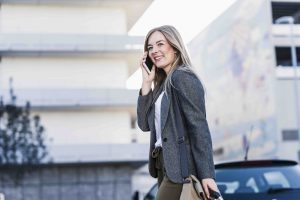 And, in terms of travel tips for business travelers, Thompson recommended:
"Protect your data when travelling, especially if you're using public Wi-Fi."
"Know what travel resources are available to you as a business traveller through your company. Flight delays and cancellations occur, so it's important to know how to rebook yourself on the next flight and protect your hotel reservation."
"Always have a back-up battery/charger for your mobile device."
Check out our articles on  Travel   for great tips and information