While the iPhone, Samsung Galaxy, and Google Pixel devices are top-of-the-line when it comes to smartphones, not everyone can afford something in the premium category. And if you already have one of these phones as your business device, you might just want to get a basic, mid-level device for personal use.
Whatever the reason, if you're looking mid-range, here are 5 smartphones to consider that might not have all the bells and whistles or the best of the best features and functions, but are pretty premium, and come at a good price point.
Samsung Galaxy A20 and A50
The mid-range Samsung Galaxy A20 smartphone has a 6.4" Full HD+ Super AMOLED Infinity Display, premium camera features including a 13MP rear and 8MP 120-degree ultra-wide lens main camera, long-lasting, fast-charging 4,000 mAh battery, and fingerprint scanner at the back for unlocking the phone using one hand. It comes with 32GB capacity and runs on a 1.6GHz octa-core processor. Finished in black, it sells for just $350.  Stream live and always be on! Enter for your chance to win a Samsung Galaxy A20
With similar features, the A50 is $100 more and boasts a 6.4" Infinity U-Display, triple rear camera, 4,000mAh battery, and an on-screen fingerprint scanner. It also has features like face recognition for unlocking the phone using your visage, and runs on a faster 2.3GHz processor. It comes in both black and white.
Nokia 1 Plus
This entry-level smartphone runs on the pared-down version of the Android operating system called Android 9 Pie (Go edition) that includes scaled down versions of programs like Google Assistant Go in order to help bring the cost down while still offering a smart and intuitive experience. Finished with a textured nano-pattern on the back and a polycarbonate shell, it has a 5.45" IPS 18:9 screen and measures just 8.55mm thin.
Android (Go edition) allows apps to run more quickly and consume less data since there aren't extras, bloatware, skins, or UI changes draining the battery and using the phone's resources, nor any pre-installed apps or hidden processes. But you also get security features like verified boot and an accessible dashboard for tracking and monitoring data consumption to keep your information safe. You also get full access to the Google Play store with apps that are optimized for Android (Go edition), like WhatsApp, Facebook, and YouTube Go getting primary placement so you can find them easily. Snap pics with the 8MP auto focus rear camera with LED flash, and a 5MP front camera with the "beautify" feature that can enhance natural features. It's powered by an advanced MediaTek quad-core CPU. Grab it in black or white for $179.
Asus ZenFone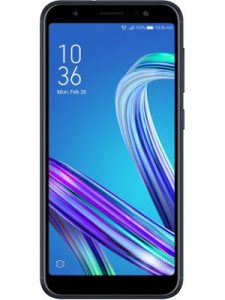 At about $230 unlocked, the Asus ZenFone Max (M1) is a great basic phone for Web browsing, snapping photos, sending e-mails, messaging, and accessing apps. It has a large 5.5" HD+ touchscreen display (1,440 x 720 resolution), 8MP front camera and dual 13MP/8MP rear camera. You'll only get 16GB of built-in storage out-of-the-box but can expand this up to 256GB via an optional microSD memory card, giving you tons more room to store your photos, videos, and more. Running on a 1.4GHz Qualcomm Snapdragon 425 quad-core processor with 2GB of RAM, it will run pretty smoothly and quickly as well. Additionally, it boasts Bluetooth 4.0, Wi-Fi, and a fingerprint sensor camera that doubles to let you snap selfies via the touch of a finger.
Motorola g7
This smartphone, which sells unlocked in black or white for about $350, has an ample 6.2" Full HD+ screen, 12MP dual camera system, high-res zoom, and AI-powered photo software, including Google Lens, despite being dubbed a "mid-range" phone. With pre-orders available now and a scheduled ship date of August 30 directly from Motorola, you can purportedly get great photos, even in low light situations, and get more clarity when zooming thanks to the high-res zoom that would typically be lost when using standard digital zoom. The camera has an auto smile capture feature for getting the perfect group selfies, and screen flash will automatically trigger when needed. There's even a cool cinemagraph feature that will keep a portion of the shot in motion while everything else is frozen, allowing you to take photos with cool effects. With all all-day battery and 19:9 aspect ratio, as well as turbopower charging, it's ideal for the power business user or student who doesn't want to spend an arm and a leg on a new phone. Adding to the appeal, it's also water-repellent, which means it can withstand  accidental spills and light rain.
Related:  Smartphone