If you are planning to get one of the latest iPhones, have already gotten one, or have a new enough model to download iOS 13, you'll be able to enjoy most, if not all, of the benefits of the new smartphone operating system.
At the heart of the updates are performance improvements that make the system more responsive. You'll get faster Face ID unlock, and a new way to package iPhone apps on the App Store that reduces app download sizes by up to 50%, thus resulting in apps launching up to twice as fast.
What are some of the main benefits and new features from a productivity standpoint? Here's a rundown.
Look Around and Maps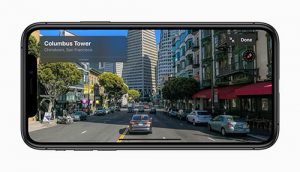 Business travelers, or those navigating busy cities, will be able to see navigation details in a more interactive way, visually exploring locations with 3D imagery. Meanwhile, a revamped version of Apple Maps includes broader road coverage, better pedestrian data, more precise addresses, and more detailed land cover, which will help those who drive around a lot for work, or travel to foreign destinations. It's already available in select cities and states, and will launch across the U.S. by the end of 2019 and to more countries in 2020.

Dark Mode
Aesthetically pleasing, this Mode features a dark colour scheme that works across all native apps. But it provides some productivity benefits, too. You can see apps better in low-it environments, like on a dark plane or train while traveling, or while trying to get work done at night in your hotel room or outside. It essentially adjusts the background and foreground colours so that content more easily stands out, allowing you to read text easier, or filter through important information. Third-party app developers can also integrate it into their apps, scheduling the Mode to activate automatically at sunset, or a specified time.
Intelligent Photo Organization
If you use a lot of photos in business, whether it's to update social media accounts or websites from your phone, iOS 13 tries to make organizing and locating photos easier. The best images are highlighted, showing only the most significant events from a specific day, month, or year so you can quickly and easily add a photo library or a new conference or work-related event. Swipe to add effects to images, and seamlessly edit videos as well, including rotating, cropping, or applying filters, all from within the Photos app. You can also leverage Portrait Lighting when getting eye-catching new headshots for team members, sharpening eyes and brightening and smoothing facial features.
Quick Sign-In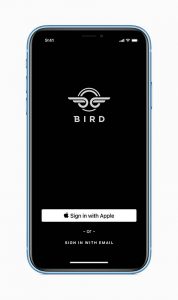 Save time by being able to sign in to apps and websites more quickly, using your Apple ID to authenticate. When a name and/or e-mail address is required, you can still keep your personal details private by sharing a unique random e-mail address instead, generated by the device. Sign-in via Apple ID is completed using either Face ID or Touch ID, which means you don't need to spend any time or effort typing superfluous information. Both methods employ two-factor authentication for added security.
Better Reminders
Improved Reminders make it easier to create and edit reminders, organizing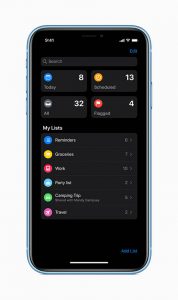 and keeping track of them so you can stay on top of your days. A quick toolbar allows you to add times, dates, locations, flags, or attachments, important for going back to a critical e-mail you need to review or show to a colleague. There's also deeper integration with Messages so you can more easily tag someone in a reminder. Once done, the reminder will surface once the user messages you.
Smarter Siri
Siri is also smarter in the latest iOS, with a more natural voice as well. Siri Shortcuts, now built into the iOS, support suggested automations, so you can ask her to initiate your drive to work, for example, or navigate to your gym in the afternoon for a lunch workout. There are updates to CarPlay as well, if you have it in your vehicle, via a new dashboard for viewing music, maps, and other apps in a single view. There's also a new Calendar app so you can see all of your upcoming appointments directly from the car before you head off to the next one. It also supports third-party navigation and audio apps.
HomePod, AirPods Siri Integration
If you have a HomePod smart speaker at home, you can seamlessly switch from talking via the handset or a pair of AirPods to the speaker once you walk in the door using Handoff. Get dinner ready or tidy up while you finish an important call, and still hear the person clearly through the large speaker. If you have a pair of AirPods in your ears as you walk to the subway station or while on the train, Siri will read your incoming messages from Messages or any SiriKit-enabled messaging app as soon as they come in. Voice Control also allows you to use your voice to control a compatible iPhone, iPad, or Mac, ideal for text transcription and editing.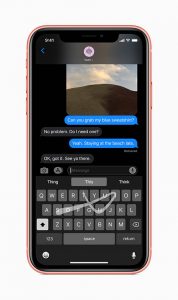 There are a number of ways iOS 13 simplifies text editing and other text-based productivity tasks. In Notes, a new Gallery View allows for collaboration with shared folders, new search tools, and checklist options. QuickPath, meanwhile, makes it easy for one-hand typing by continuously swiping through the letters of a word. You can more easily scroll through documents by moving the cursor and selecting text faster and more accurately. The Files app lets you share folders with iCloud Drive and access files from external storage devices like SD cards and USB flash drives.
iOS 13 is available for all new iPhones, including the iPhone 11, 11 Pro, and Max. New software features will also be available for all devices from iPhone 6s and later, as well as for iPadOS for iPad Air 2 and later, all iPad Pro models, iPad 5thgeneration and later, and iPad mini 4 and later.