Are book clubs evolving with the adoption of eReaders and limitless online book resources and reviews, not to mention the modernization of the local library? Yes and no, are my findings.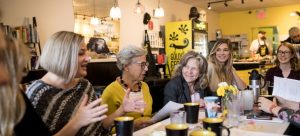 One just needs to look up BooknBrunch, a book and food experiences marketplace. It is a virtual book club that meets in person: it offers a digital experience (website and app) to find and join a book club discussion over a tasty brunch or meal, but it also offers a platform to buy books, read blogs about books, and be paid to host a book club. BooknBrunch is a marketplace with membership benefits, with its mission summed up as 'Building tribes around books and brunch.'
Further, its website suggests, "BooknBrunch is a community, an immersive in-real-life (IRL) experience and a movement toward connecting with people through a love of books and brunch. We're rewriting and redefining the book club experience to create a book and culinary experience for the curious minded."
I asked Daniela Kelloway, co-founder of BooknBrunch, about her IRL (In Real Life) business and book clubs, more generally.
"A few years back my co-founder and sister, Zuzana Drakul, was in a dark and stormy place. I told her she needed to force herself to get out of the house; to give herself a reason for leaving and maybe a way to make new friends," began Kelloway.
"She started a book club and visited a different restaurant each month with the club. Two things happened in that first year; the club grew from 5 people to over 1,000 people (she learned she was a beautiful curator of experiences), and it transformed her life and got her out of her depression."
Kelloway remarked, "When I witnessed this transformation I was blown away. We felt compelled to help others connect in real life over a book and a meal. The simple ritual of reading, eating and meeting can change someone's life! So we started to build out a platform that made it easy to plan these events and connect in real life with like-minded people."
I also asked Kelloway to describe how BooknBrunch works for book lovers to which she responded, "BooknBrunch allows anyone to organize host and attend book and food experiences."
"Our community attend events (community members are referred to as 'Brookies'). Events can be public or private, ticketed or free – it's an open marketplace in that sense. Anyone can host an event. Brookie hosts choose any book they please, they select a venue partner to work with – our platform is preloaded with venue options and set menus, and then they post their event."
Kelloway further explained, "We support our hosts by helping ensure their event is a success. Our venues [include] restaurants, cafes, private spaces with caterers … and can [accept] group dining reservations, easily. Every event is different and takes on the flavour of the host. Authors sometimes attend our events and surprise and delight the guests."
Brookies are also offered access to chef, restaurant and author interviews, as well as book reviews. "We post on The Journal 2-3 times a week … and have an incredible team of seven contributors that help develop the content," said Kelloway.
So traditional book clubs are the customers of BooknBrunch, though technically supported by the website and app. And, fully virtual book clubs also exist for time-pressed and global bibliophiles.
For the month of October in honour of Canadian Library Month, BooknBrunch has committed to donating all proceeds from its #IRL Tour to local library foundations. Kelloway and Zuzana will be hosting events in Toronto, Ottawa, Montreal and Edmonton. "Libraries are essential to the fabric of communities and as a bootstrapped start-up we are very proud that we are giving back in this way so early in the life of our business," said Kelloway.
"We were thrilled that Rakuten Kobo stepped up to support this tour and also to spread the word that through your eReader you can get direct borrowing access to your local library inventory via OverDrive," shared Kelloway.
Does Kelloway use an eReader?
"I do it all. Audio books are amazing for multi-tasking. You cannot beat eReaders for when you travel, for nighttime reading, for beach reading (anti-glare options) and for the direct access to the library via OverDrive. The Kobo eReader is an absolute game changer for a voracious reader who is also an entrepreneur.
"That said, I have an old school mini library in my home and I love the smell of books. They relax me. I buy books online, I visit Indigo once a week, I go to the library, I listen via audio books and I use eReader. Mostly, I read print books over the weekend when I have more time."
Kobo and WhatsYourTech.ca are giving away a Kobo Clara HD 6″ Digital eBook Reader with Touchscreen.  Enter for your chance to win!