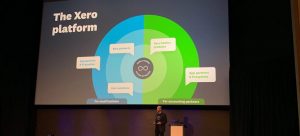 While Xero's official launch in Canada occurred last May, Xero recently set up operations in Toronto, a move that further signals its commitment and attraction to top tech talent in Toronto. Xero is a publically traded technology company, listed on the Australian Stock Exchange, which offers a cloud-based accounting software platform for small and medium-sized businesses.
Xero acquired Hubdoc in 2018 to add its automation capabilities, and the new office accommodates more than 200 employees who've integrated from both the Xero and Hubdoc teams. The Hubdoc co-founders have leadership positions within Xero and play key roles within the company. Jamie McDonald was recently appointed as Xero's Executive General Manager Product, Accounting and Global Services to lead the development of the core accounting tools used by more than 2 million subscribers in more than 180 countries. Jamie Shulman has joined the Xero Americas leadership team, working to drive the integration of the Hubdoc go-to-market team. Beginning in March 2020, Hubdoc will be included in all Xero Business Edition subscriptions across the globe.
"We have an amazing opportunity in front of us in Canada since less than 10% of small businesses in North America have adopted cloud accounting services," said Tony Ward, President of Xero Americas. "This is a key growth opportunity for Xero and we're excited to establish our presence in Toronto and help foster innovation for Canadian small businesses so they can share data, uncover insights, and better plan for the future." See 2019 Scoring Tech Talent from CBRE Group Inc.
"As a company, our mission is to rewire the world of small business, making it seamless, simpler and smarter," began Will Buckley, Country Manager, Xero Canada. "Xero helps small businesses work with their closest ally, their accountant or bookkeeper, whether it's doing taxes, understanding their finances, or making plans to grow —with connections to … over 800 third-party apps and more than 200 connections to banks and financial institutions."
"We first launched Xero in Canada in 2018 and it's been incredible to see the amazing growth, progress and community we've created with cloud accounting professionals who want to shape the future of the industry in Canada."
Added Buckley, "Today, we're working with large firms like PwC, Deloitte and Grant Thornton across Canada. We also partner closely with innovative firms like LiveCA—Canada's largest CPA firm without a physical office—to support their clients like BetaKit and WealthSimple. Additional firms we work with include McRally, Cloudmeb and ConnectCPA."
I asked Buckley if global organizations have a responsibility to invest in local start-up ecosystems to which we responded, "Global organizations have a responsibility to present and engage in the important conversations that will grow local ecosystems, even if they are slow to show signs of progress. This way, the investment goes beyond just a local commitment. Global organizations with a robust knowledge of the policies and practices that are capable of truly shaping an industry need to lead by example – not only by challenging lawmakers and institutions, but by lending their expertise to the process so that entire industries can become more efficient, accessible, and valuable to [all]."
In reference to Canada, Buckley added, "Xero has lobbied for federal policies like open banking that will transform the financial landscape for every Canadian. We've also partnered on groundbreaking initiatives, such as CIBC's SmartBanking for Business, to bring the tools that we know – from ample years of experience in countries like Australia and the UK – that are extremely useful for small businesses."
How can Canadian companies better leverage resources to sculpt and dominate the tech space?
Buckley replied, "Xero has been a part of market-led momentum in other countries and we've found that when stakeholders work together, all parties are able to achieve more. By embracing market-led innovation, Canadian companies can pave the way for even broader government-led discussions to shape policies or enact changes in the tech sector."
"Companies can also take the initiative to proactively reach out to the various advisory committees that are set up in their field," offered Buckley. "Earlier this year I wrote an open letter to the Canadian Advisory Committee on the Open Banking Review. These actions put companies on the radar of decision-makers and position a company as a leader in its space."