Video is all the rage these days. We have replaced making phone calls with sending text-based messages and have quickly adopted instant messaging through platforms like iMessage, WeChat, and Facebook Messenger. And now, video messaging and video calls are all the rage, adding that element of face-to-face to the equation.
Why Video Message or Call?
Unlike phone calls, video messages work through cellular data or Wi-Fi so you aren't using up long distance minutes or paying for long distance when chatting with friends and family. You can make video calls from apps over the Wi-Fi network in your home or cellular data connection while away.
Video messaging is also more interactive: you can see peoples' faces, talk to more than one person at once, both in the same room as well as via group chats with many services; and even with people from around the world. If you want to show your co-worker a potential design for your trade show booth or spouse a new pair of shows you're thinking of buying, video chatting makes this easy, too.
Video messaging isn't just for on the go, though. It's useful for at-home conversations as well. Just think of that Amazon Echo Show commercial you've probably seen a thousand times where a woman is panicked, cooking a last-minute pasta dish for a date who's on the way over because she screwed up the lamb. As she cooks, she's talking with her father on the screen who is guiding her through the process.
So what video messaging apps and platforms are out there and most popular today? Here are some worth considering.
TikTok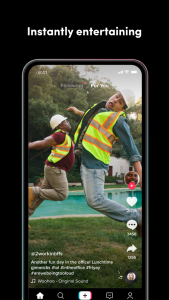 Even if you've never used it, unless you've been living under a rock for the past few years, you will have at least heard of TikTok. It's not necessarily designed for video chatting but more so for creating super-short-form shareable videos that (hopefully) others will find compelling. It's video messaging with the response of "likes" or reply videos versus a back and forth conversation. Videos might feature pets, people doing silly things like lipsyncing to songs, practical jokes, make-up tips – you name it. It's like YouTube, social media, and animated GIFs rolled into one. The focus is on entertainment and it's typically used by teens, though it has been acquiring a larger audience of late. In February 2019, the app reached one-billion downloads and was named the 7th most downloaded mobile app of the decade.
Google Duo
This video calling app allows for making high quality video calls on smartphones, tablets, computers,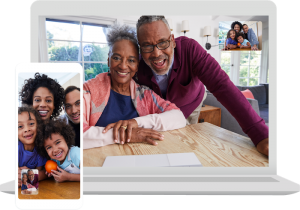 and smart displays like the Google Nest Hub Max. It works with both Android and iOS devices and allows you to video call not just one other person, but up to eight for a conference or group call. A neat Knock Knock feature lets you see a live video preview of who's calling before you pick up (or decide not to!) In addition to live chatting, you can also send video messages. End-to-end encryption ensures calls are private. Google Duo comes loaded on the new Samsung Galaxy smartphones, including the foldable Galaxy Z Flip as well as the S20 5G, S20+ 5G, and S20 Ultra 5G.
FaceTime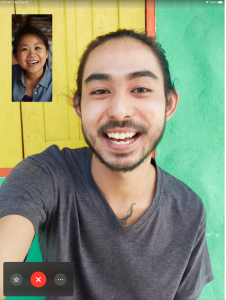 This proprietary video messaging and calling platform is owned by Apple and supported only by iOS devices, including iPhones, iPads, and MacBook computers – virtually any Apple device with a forward-facing camera. It's simple to use, allowing you to chat with someone else using another compatible Apple device over video. Apple bought the name FaceTime from FaceTime Communications way back in 2010 and has been incorporating it into their devices since the iPhone 4. Through the latest update with iOS 12 and macOS Mojave, you can chat with up to 32 people using FaceTime. For those who live within the Apple ecosystem and have Apple devices, it's the ideal video chat option.
Tango
Rather than let you talk one-on-one, this video messaging app is designed to allow you to broadcast your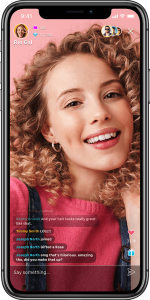 commentary to people anywhere in the world. Join and start live streaming, allowing other random people to listen in and watch if they're interested in what you have to say, or connect with friends, family members, colleagues, or groups with similar interests. In addition to talking, you can also use stickers, photos, and filters, play games while on a live call with people, or even access special masks. For those who are looking to get noticed, get some practice in the broadcast world, and potentially even make money by earning gifts from your viewers, it's a platform worth considering. It's available for both iOS and Android devices.
Alexa Video Calling
Using Alexa video calling, available on devices like the Amazon Echo Show and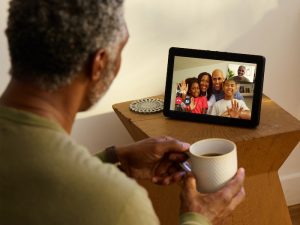 Facebook Portal smart displays, you can make video or audio calls from one compatible Alexa device to another, or using the Alexa app. The incoming caller will be announced and you can use your voice to pick up if you like, keeping your hands free for other tasks, like doing chores or cooking, or ignore the call if you're busy. You can also place calls over the platform using your voice.
Skype
Skype, owned by Microsoft, has long been the standard for making Internet calls online, but also offers video calling as well as just audio. In addition to chatting face-to-face from digital devices like smartphones, tablets, and computers, you can also use handy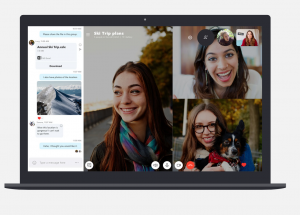 features like screen share. This lets you share an important document with someone else from your mobile phone, like a spreadsheet, map, or soccer schedule. Skype is available for both mobile devices as well as Windows, Mac OS X and Linux computers. You can also enjoy Skype calling through Alexa devices by downloading the app and linking your account.
WhatsApp rose to popularity as a cross-platform instant messaging service that would allow people using any kind of phone, including Android, iPhone, and BlackBerry, to send IMs back and forth. But the service has now expanded to include voice and video calling as well on supported mobile devices. It's totally free, using only data on a Wi-Fi or cellular data connection, and you can seamlessly switch between video and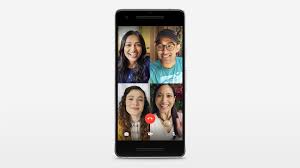 voice call. End-to-end encryption secures calls and messages, and group calling allows you to chat with up to three others at a time. The added advantage with this service: you can also send video-based messages through the same platform you use to make video calls.
Tags: