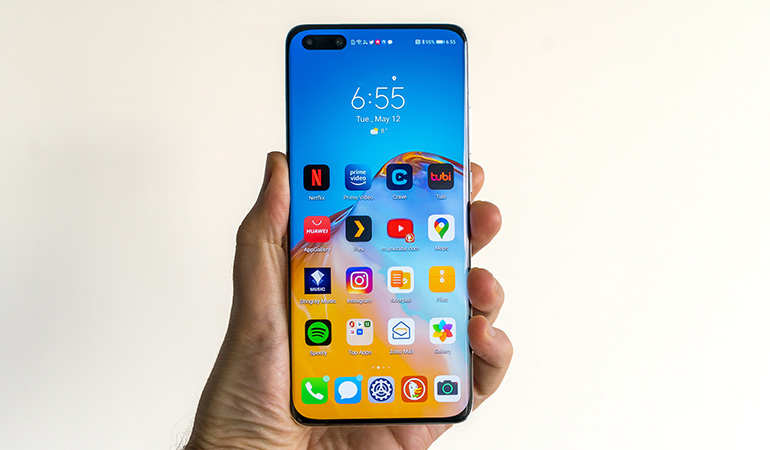 Huawei is in a strange position with the P40 Pro in that it has a solid smartphone sitting between awkward positioning and passive rebellion.
By now, it's old news that Huawei is embattled and embroiled in the geopolitical noise between the United States and China. Despite the U.S. banning the company's products from its shores — and from doing business with Google, its latest phones do still run on Android. It's just Google Play Services that are cut off.
That means no Google Play Store, no Gmail, no YouTube, no Chrome browser, no Google Assistant, no Maps, no Chromecast, no Google Pay and no Android Auto. If that's a deal-breaker for you, it's understandable, but it doesn't mean you still can't get a lot of those and other apps onto the phone anyway.
In one of the more interesting phone experiences I've had to date, the P40 Pro is not for the impatient or faint of heart. It requires extra attention, but also comes with an innovative camera arsenal other brands will have to compete with more than ever.
Design and hardware
The P40 Pro carries on much of Huawei's design philosophy dating back to 2018 with the P20 and Mate 20 devices, and certainly from 2019. Small bezels with a large screen in the front, along with eye-catching colours and a noticeable camera array in the back.
I've never been a real fan of curved edges on a screen, and that is no different with this phone. Why manufacturers continue to do it is beyond me, especially when it serves no real functional purpose beyond silly aesthetics. The good news is they're not as pronounced here, giving the phone a flatter impression that pays dividends in handheld use.
The 6.58-inch OLED display is gorgeous, and easy on the eyes throughout. Huawei calls it "Overflow" because of the curved edges that blend with the rest of the device, but it's more marketing than practical use. What is actually more practical is the 90Hz refresh rate Huawei included to give the interface a smoother feel when navigating around it. It's not quite as buttery as 120Hz would be, but it's still nice to have.
The Kirin 990 5G processor is more than capable, though it prioritizes CPU power over GPU performance, meaning it will be quick, but not as efficient when rendering high-quality graphics. That won't be a problem for almost everything you would do on the phone, unless you're an avid gamer looking to play the most intense titles. I never found it to be all that bad, but it is objectively better on competing handsets, like the Samsung Galaxy S20 lineup, for example.
Rounding out the hardware story is 8GB of RAM and 256GB of internal storage, with the option to expand it further using a microSD card.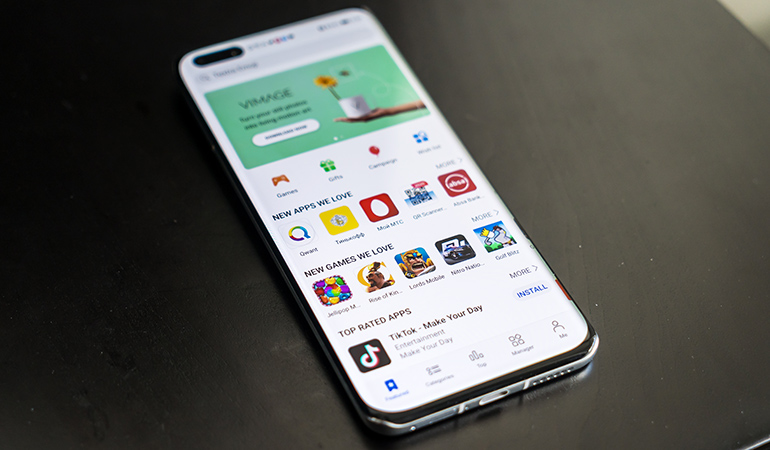 Software and apps
Here is where things get tricky. Without the Google Play Store, using the P40 Pro is a matter of consistent improvisation. Huawei is trying hard to offset the loss with its own app store, AppGallery, which was already available in China before it branched out to other countries, including Canada in 2020. While there are plenty of apps on it, the biggest obstacle is the selection itself.
I used Phone Clone, an app Huawei includes preloaded on the P40 Pro, to migrate whatever data and apps I could from a Google Pixel 4 XL. It was a decent shift, but far from perfect, so I had to search for the missing apps I wanted elsewhere.
Huawei's AppGallery needs a lot of time to try and catch up to where the Play Store is, but the strategy of focusing on the most popular apps is the right one. It's just up to developers to play ball. As of this review, far more were missing than were present.
Popular streaming apps, like Netflix, Disney+, Spotify, Apple Music, Plex and DAZN are missing. Social media staples, like Instagram, Facebook and Twitter aren't there. Messaging options, like WhatsApp and Facebook Messenger are no-shows. Productivity apps, like Slack, Trello, Zoom, Adobe Lightroom and Otter are missing, too.
That's all on top of the popular ones you would expect to see for navigation (Waze), home audio (Sonos), voice assistants (Google Home), eBooks (Kindle or Kobo), airlines (take your pick) and activity trackers (Fitbit, etc.), among others.
Not to mention apps you would use to support a product or service, be it your smart home device, home Wi-Fi router, camera, banking, dating life, food delivery and more. Ride-share services are their own problem because Uber and Lyft use Google's maps and services to work properly.
With such vast omissions, what does the AppGallery have? TikTok, Snapchat, Amazon Prime Video, Microsoft Office, Indigo, Wattpad, Tidal, Stingray Music, SwiftKey, Telegram, Viber, Deezer, Stocard, Booking.com and a few others. Huawei recently added HERE WeGo as its premier map and navigation app, and it's a surprisingly good alternative to Google Maps.
From a North American context, there are plenty of apps to wade through in the store, only they're not made for the market here.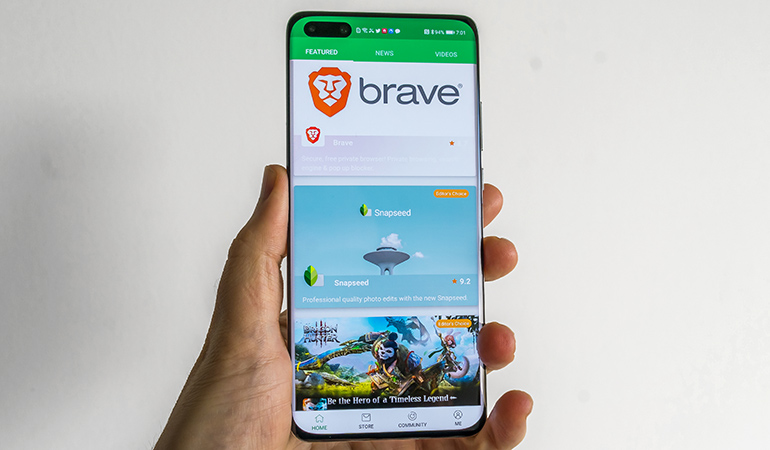 Finding alternatives
In lieu of something good as an alternative in AppGallery, you can pursue other avenues. APKPure and APKMirror both have a large library of Android apps you can sideload onto the P40 Pro with little effort. Doing that, I was able to get whatever apps I was missing. I got Netflix, Crave, Tubi, Plex, Sonos, Otter, DAZN, and others easily. The apps worked fine, too.
Google's app suite wasn't so straightforward. There's no way to get a YouTube app on it, so I created a shortcut icon to go to the web browser version. Chrome was simple enough to download and it worked well. But Chromecast and Android Auto never worked, leaving two gaping usability holes. Maps wasn't perfect, either. Gmail isn't my preferred email client, but if it was, I would have to plug it into a third-party app instead because it's another of Google's apps that is useless without services support.
The other APKs I downloaded worked well almost all the time. I encountered no issues streaming music or syncing with devices, like a Fitbit Charge 4, and Twitter, Instagram and Facebook Messenger were smooth. Streaming video and music from the most renowned apps rarely ever registered a hiccup. It was in those moments that it was easy to forget the P40 Pro was on a blacklist.
But there were times when it became apparent. Never mind the Android Auto, Chromecast or Google Pay disappearances, it's also that push notifications are nowhere to be found. If you're the type to want to know every new move made on your favourite apps, you won't like how it is with APK files. Apps that use Google Mobile Services (GMS) won't send push notifications, whereas those that don't, might.
If you look online, you will find interesting hacks to cover both of these issues, letting you install GMS and enable push notifications, though the steps to get there are numerous. Other than determined users, I can't see too many going that route. But it is there if you're so inclined.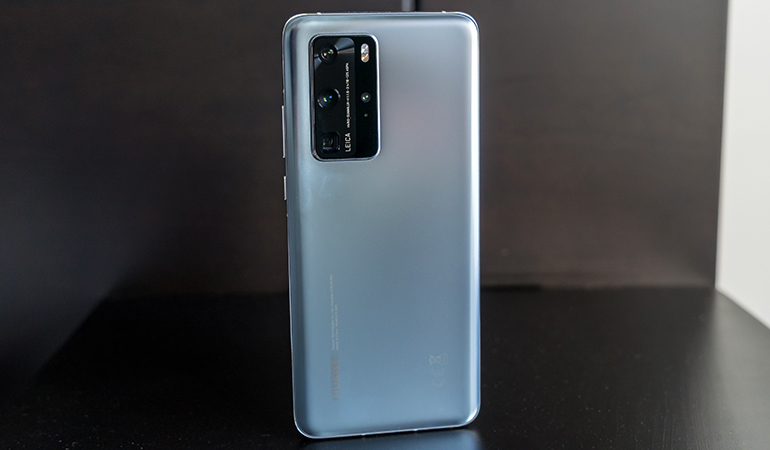 Camera
As expected, this is the phone's signature component, and it's an industry-leader. There are four lenses in the rear — a 50-megapixel wide, 40-megapixel ultra-wide, 12-megapixel telephoto and Time-of-Flight (ToF) sensor — plus another 32-megapixel front-facing camera with a laser-guided autofocus assist off to the side.
The centrepiece inside is undoubtedly the huge 1/1.28-inch image sensor — one so large that it even trumps Samsung's 1/1.33-inch 108-megapixel sensor it put in its Galaxy S20 Ultra. The hardware under the hood is augmented by the stellar software package Huawei includes for its camera. There are 18 different modes to shoot with, and most of them hold some value. Two of my favourites going back to the P20 models are Pro and Night modes, and they're still the standouts now. Few phones can even come close to the night and low-light output.
The main Photo mode is going to be the most common anyway, and it's equally capable of taking excellent shots. Despite limited movement available during COVID-19, the images I captured convinced me that Huawei's position amongst the top of the food chain in mobile photography will continue throughout 2020. The HDR (high dynamic range) effect is more balanced now, bringing out colours with a little more pop. Detail is nice, though I'm always a little weary of the artificial intelligence (AI) sharpening every image when processing every shot (I preferred to keep "Master AI" off). Shooting in RAW in Pro mode is the one way to escape that, though I know it's not a something every user will comfortable doing.
The 5x optical zoom in the telephoto lens is more impressive than it was last year, but I would argue the bigger shift came in the ultra-wide lens. At 40-megapixels and with better output in different settings, it doesn't require as many trade-offs. There are a couple, though. The software-based Macro mode Huawei squeezed into the ultra-wide lens with the P30 Pro isn't available here.
I could go on about the camera, but I think it's best to discover it for yourself. And not just keeping it in Photo mode and shooting at will, but trying Night, Pro, Portrait, HDR, Monochrome and Aperture are worth experimenting with.
However, Huawei does need to up its game on the video side. It's great to shoot in 4K at 60fps, or in super slow-motion at a ridiculously slow 256fps (or four other settings), but the results just aren't on par with what I've seen with the Galaxy S20, Pixel 4 or iPhone 11 Pro. Don't get me wrong, it's not bad, just not as much a leap forward as I would've expected.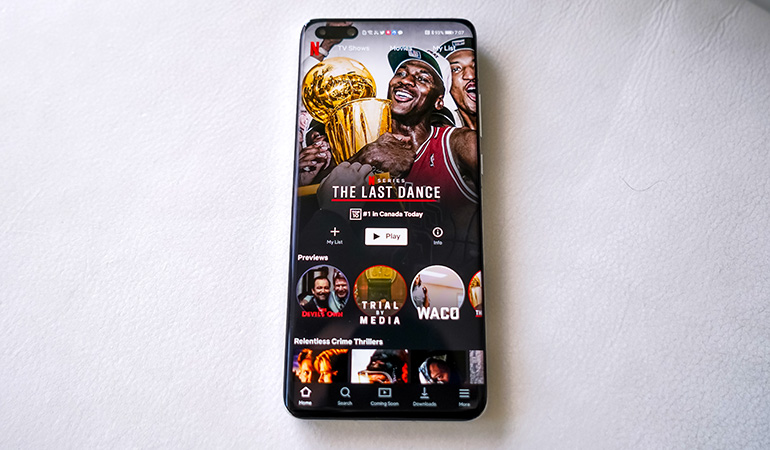 Battery life
On paper, the P40 Pro would seem hindered by a relatively small 4200mAh battery, but I never found that to be the case here. I easily flew through a day with life to spare, even with the 90Hz refresh rate on at all times. Huawei wisely includes a 40W charger in the box, capable of getting you from zero to about 90 per cent in 60 minutes or so.
It also supports wireless charging going both ways. Its reverse charging ability isn't going to fill up another phone, but it is useful to add a little juice to another device in a pinch. It's especially good for true wireless earbuds, which can run out of battery fairly quickly on a longer day.
Conclusion
There is a conundrum permeating the P40 Pro's whole existence and purpose. It's a wonderful phone, yet is incessantly hampered by the uncertainty and lack of support regarding the apps available to use with it. It's too soon for AppGallery to have a major impact as a competitive marketplace (at least in North America), and the good news on that front will be a trickle before it can even become a flood. That's not even getting to the geopolitical madness associated with the company's fortunes in this part of the world.
It's a lot to take for a phone, especially considering how good it is. While I wish Huawei would start rethinking how to do its own EMUI Android overlay to make it more efficient, the P40 Pro checks a lot of positive boxes. It's just the rest of the software experience that you can't take for granted.
The phone will be available in Canada in "early summer" with no price confirmed as of yet. In a tight, competitive market, it will be interesting to see how it holds up.