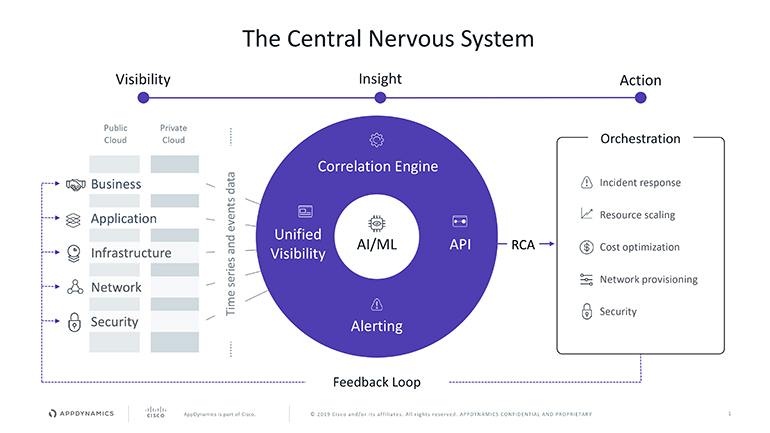 Before and even more so now during the pandemic, CIOs and IT leaders are managing new capacity increases, security demands, and, in some cases critical, life-saving applications. It is essential how optimized technological performance enables the digital applications that power daily lives.
AppDynamics, a Cisco company, helps companies around the world power their complex multi-cloud environments, through application performance management (APM) and Artificial Intelligence for IT operations (AIOps).
I asked Luke Rogers, Area VP, Canada, AppDynamics, how COVID-19 has impacted businesses.
"The COVID-19 pandemic has transformed our everyday interactions and how companies operate," replied Rogers. "Now organizations have been forced, seemingly overnight, to operate digitally for an extended period of time.
"As a result of this," explained Rogers, "we've seen an increased need for our services. In fact, we've analyzed organic surges in our website traffic, trending web search terms, and the most commonly asked questions from our customers between a peak period of intensity in the COVID-19 pandemic (March 1 – April 4, 2020) to identify the core challenges IT professionals are facing. We found that resources about implementing an Application Performance Monitoring (APM) strategy saw a 35 per cent increase in web traffic on our company website, and information about application performance testing saw a 24 per cent increase in traffic during that same time frame."
"We've been supporting businesses, including in Canada, to help with the influx of digital demand by providing free use of our APM software through free AppDynamics SaaS licenses (licenses available through 7/15/20) for new qualified customers," said Rogers. "For new and existing customers, we're providing free 30-minute one-to-one meetings with a technical consultant (available through 7/15/20) and access to AppDynamics Premium University content subscription (available through 5/31/20)."
"CIOs and IT leaders are at the helm of organizations, helping maintain business continuity in a COVID-19 world," added Rogers. "Leveraging artificial intelligence (AI) and machine learning (ML), or more specifically, AI for IT operations (AIOps), assist IT leaders with real-time insights into identifying root causes the moment problems arise and remediating them, allowing organizations to stay one-step ahead in our pandemic world, to enable better business performance.
AIOps
"AIOps platforms can provide faster resolutions to outages, leading to a reduction in the repair team and costs that would otherwise be associated with performance challenges, which can help with capacity increases and security demands," explained Rogers. "Further, AI can support with proactive performance monitoring, identifying issues before they become bigger problems. Additionally, AIOps can drive faster and smarter decision making for IT leaders, which is key for organizations delivering critical, life-saving applications.
I asked Shreyans Parekh, Director, Product Marketing, AppDynamics, to elaborate on how it's supporting Canadian customers at this time.
"During the COVID-19 pandemic, there are many industries that are seeing large increases in customers including retail and more specifically, grocery stores. We work closely with one of Canada's leading retailers, enabling them to shift from being a traditional retail company to a technology company that also happens to be a retailer. By monitoring their applications with the AppDynamics Central Nervous System, they are able to leverage these metrics to help them make decisions proactively at an operational and infrastructure level, and from synthetic monitoring of the customer experience. Throughout the pandemic, AppDynamics has helped this retailer's IT operations handle the increased digital demand to provide essential services to hundreds of millions of Canadians." Added Parekh, "By working with us, they become more than technologists – they become agents of transformation."
"Additionally, our new partnerships with such vendors as ServiceNow, Turbonomics, Rookout, Harness, Hashicorp, and others have broadened our capabilities to provide the best user experiences, extend the breadth of our Central Nervous System for IT and gain the greatest impact from our mutual capabilities."
Live from Home
"AppDynamics and Cisco Webex have collaborated to bring "Live From Home," a weekly virtual concert series providing relief to global nonprofit organizations and supporting artists worldwide, that have been impacted by Covid-19," shared Parekh.
"The goal is to drive donations to featured performing arts nonprofit organizations by streaming live entertainment directly into homes."
"Each virtual "Live From Home" event highlights a nonprofit in need," explained Parekh. "Donations made during the events go directly into a pool that will be evenly split across all nonprofits at the conclusion of the concert series. Also, any donations made by Cisco or AppDynamics employees are matched by Cisco. So far, more than $17,000 has been raised in donations and these activities have garnered 25,000 total views."
"Each gathering has a specific theme. We've hosted a few such as Indie Night and Kids Night and more are coming like Jazz Night and Classical/Dance Night. Please join us for our next event on May 26 and feel free to sign up!"