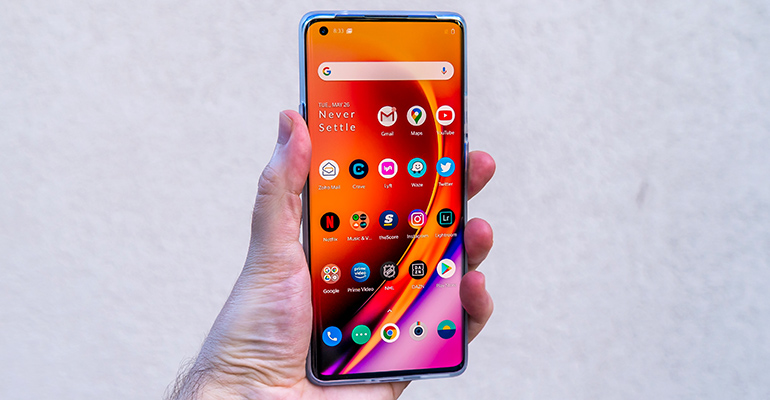 OnePlus fully ventures into premium flagship territory with the new 8 Pro smartphone as it aims to take on the best options on the market.
There are two versions of the device — the 8 and the 8 Pro. I focused on the latter because it's the best OnePlus offers, only it does come with a big catch off the top: its price tag. Starting at $1,400, the phone is $400 more than its 2019 predecessor, the 7 Pro, putting it right on par with the most expensive handsets available.
Despite what it costs, the company has put together one of the best phones of 2020, lending some credence to the notion that OnePlus can take it this far. It's just going to be a tougher sell when there is only one way to buy it.
Consummate pro
The main thing for OnePlus was to not only improve upon the past, but to also finally include what's been missing all along. Of those features, wireless charging is among the biggest. You can finally charge the device using a pad or dock. So much so, in fact, that the company made its own stand called the Warp Charge 30 offering a 30W fast charge.
The large 6.78-inch AMOLED display is gorgeous in its own right, though I do wish OnePlus would eschew curved edges and just go flat. The OnePlus 7T actually did that, and it made for better handling all around, but in the interest of trying to be sleek, the curvy design philosophy won out. It gets even better when you factor in the resolution, colour accuracy and 120Hz refresh rate. I wouldn't be understating it in saying this is one of the best phone screens you'll look at in 2020.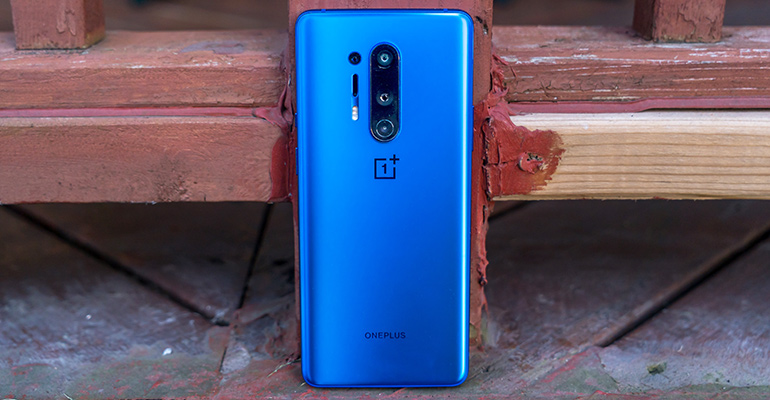 The front-facing camera is a pinhole on the top-left, making last year's mechanical experiment a one-off. The 7 Pro's front camera emerged from the phone's body, freeing the screen from any notches or pinholes, but it also meant selfies would take longer to shoot, or that the mechanical parts themselves would get damaged or degrade over time. Doing it this way was probably the wiser choice.
That also goes for the choice in colour and material. I love the ultramarine blue shade OnePlus chose, as it not only reminds me of last year's model, but also gives the device a real aesthetic splendour. Even the glacial green has a unique look to it. The back is also neither glossy, nor totally matte. It is smooth enough to be slippery, yet just dry enough to maintain a grip. OnePlus throws in a clear silicone case in the box to help with that, but I would still advise buying a sturdier case if you want additional protection.
On the inside, the phone has what a flagship should have. The Snapdragon 865 processor is zippy, with 8GB or 12GB RAM options, plus 128GB or 256GB of internal storage. No microSD card slot or headphone jack, but that's to be expected now. It also has an official IP68 rating for water-resistance, meaning it will handle clear water at a depth of 1.5 metres for up to 30 minutes.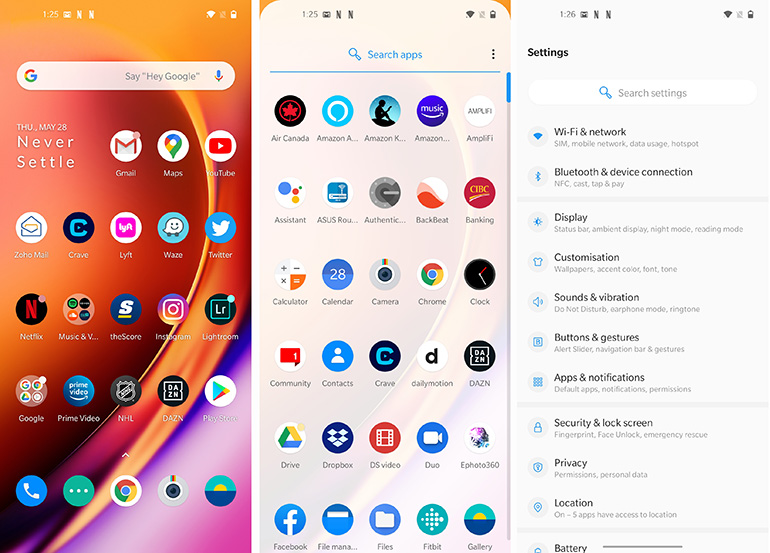 Software and features
Android has different software experiences, depending on the brand, but OxygenOS deserves high praise for delivering something that is unique, yet will feel familiar to first-time users. It's a clean overlay that strongly looks and feels like stock (no overlay) Android, especially now that Google's own Discover news feed is a mere swipe right away from the home screen.
Credit where it's due, OnePlus has made huge inroads into the software presentation and performance. Where I was once skeptical years ago, I've since grown very fond of how things flow now. It helps when the pieces of the puzzle feel natural to the whole thing. The optical fingerprint sensor is better now than it's ever been on a OnePlus device.
The 120Hz refresh rate is a must to turn on when first setting up the phone. Buttery navigation isn't the only positive consequence, it's also the fact it blends in nicely with the gesture-based navigation controls. The buttons at the bottom are still there in the settings if you elect to use them, but the gestures are more fluid.
I also noted that OnePlus seemed to fix some of the minor issues I noticed last year. Waking up the phone by double-tapping the screen is more consistent, and I didn't encounter the same phantom touch inputs this time around. While I'm still not super impressed with the keyboard, it does appear to be more accurate now. It wasn't at first, mind you. Without a software update to help fix it, it would've been a glitchy mess, but thankfully OnePlus moved to patch things up. There's still room for improvement, though.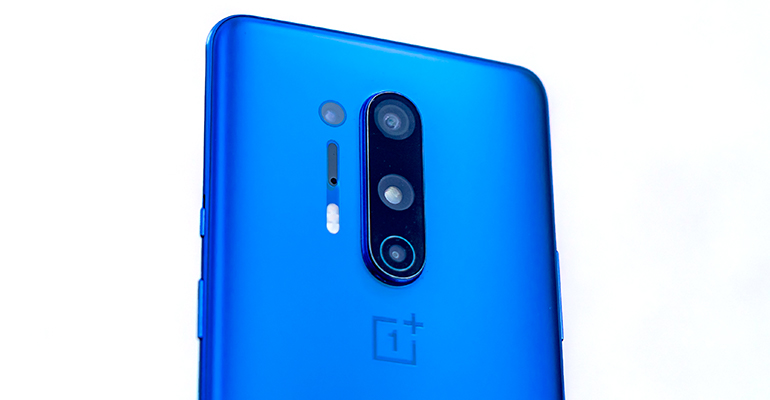 Camera output
With each year, OnePlus tries to take a leap forward and stake a claim among the best mobile cameras available. Without question, the company has taken big steps in the last few years, but there was a lot of work to do to enter an "elite" level, as it were.
The 8 Pro's camera array is anchored by the 48-megapixel standard lens, plus a 48-megapixel ultra-wide and 12-megapixel telephoto lens. There is also a separate 5-megapixel color filter camera that I will touch on, along with a 16-megapixel camera in the front for selfies.
One thing to note off the bat is that the telephoto lens isn't entirely as it appears. OnePlus claims a 3x zoom, but it's a hybrid zoom, not optical. As such, it is cropping into the image to create the zoom, which is also why a 12-megapixel shot turns into an 8-megapixel one. The lens isn't doing much to get you closer to the subject. That's not to say you can't get a decent shot with this lens, only that conditions need to be really optimal to do it. Low-light and night shots can come out looking pretty bad.
The main lens has a 12-megapixel option for that very reason. While 48-megapixels is always there, you are often better off going with 12 in low-light or night shooting because the pixels are larger, thereby taking in more light. The 48-megapixels come in handy when detail and potential cropping are important to the image. The ultra-wide lens is convenient for squeezing more into a frame, and with 48-megapixels to work with there, it's possible to gain a little more detail for certain shots there, too. The same option applies for this lens — go with 48 or 12-megapixels.
Overall, this is a solid camera for a number of reasons, not least of which is the improved white balance and dynamic range in most situations. However, colours are more muted this time around, suggesting that OnePlus' processing is laying off saturating anything. I noticed this in Pro mode, where there is virtually no processing at all (or none entirely if shooting in RAW), and found colours were often similar to what I was getting with similar settings in the automatic Photo mode.
Despite that, OnePlus still has some catching up to do. It is a serious contender, but it's not quite as varied as, say, the Pixel 4 or Huawei's flagships. Moreover, the HDR (high dynamic range) is a little hit or miss here compared to the other brands. Where Google, Huawei and Samsung tend to do a little better at pulling in detail from highlights and shadows, the 8 Pro needs to be more consistent. Even the iPhone 11 Pro is more adept at capturing the detail in skies, for example.
Then there's the color filter lens, called "Photochrom" under the filter settings on the top right-hand corner. OnePlus launched this with some fanfare until users discovered it had the ability to actually see through plastic. Likely because of the phone's infrared sensors, the filter was able to visualize beyond certain layers and reveal what was inside. It seemed to work with thinner plastic and some clothing, but didn't always work that way. The company acknowledged the privacy issue and says it will deal with it in a future software update.
Battery life
For a phone with a large screen, 120Hz refresh rate and plenty going on with the camera, the 4510mAh battery is a stalwart. Going a full day with this phone was easy, though I recognize conditions are somewhat different in light of the COVID-19 pandemic. Still, with moderate and constant usage to gauge performance and battery drain, I was pleased with the results.
That it has wireless charging adds a huge convenience to adding some juice at any opportune time. And the included Warp Charge 3.0 30W cable and charger in the box means a quick wired plug-in connection can fill up to 50% of power in a mere 20-25 minutes.
The phone does also offer reverse wireless charging, so you can charge any Qi-enabled devices by placing them on its back. This is a low-level charge, so is better suited to smaller items, like true wireless earbuds, for example. In a pinch, you can put another phone on there to at least keep it alive if it's really low on battery.
Hanging tough
Any way you look at it, this is an expensive phone because you have little recourse for payment options. Unlike other handsets that come with upfront subsidies through carriers, you have to pay full freight for this one. That's a lot when you're looking at $1,400 plus taxes, and yet, it still comes in cheaper than the most expensive Samsung and Apple phones.
If it's too rich for your blood, you could go with the regular OnePlus 8 that starts at $1,100. Still a pricey proposition on its own, though flagship phones are routinely crossing the $1,000 threshold nowadays. Either way, you won't get a perfect device, but you will get something that is among the best available this year, so it's up to you if you're willing to go that high.