In order to safely get people back to work environments that require on-site presence of employees, how can airborne transmission of viruses, like Covid-19, be mitigated?
In response to COVID-19, Canadian business BrainBox AI has released an Airborne Virus Mitigation Program (AVMP). BrainBox AI utilizes self-adapted AI technology to optimize the energy consumption of buildings, one of the largest climate change contributors.
I asked Jean-Simon Venne, CO-Founder and Chief Technology Officer of Montreal-based BrainBox AI, to explain the technology behind its AVMP, and in relation to re-opening commercial buildings in pandemic times.
"Our Airborne Virus Mitigation Program focuses on reducing the potential, non-deliberate recirculation of a virus that can potentially be transmitted via aerosols throughout building HVAC (heating, ventilation and air conditioning) systems," began Venne. "The AVMP follows the control system standards recommended by the American Society of Heating, Refrigerating and Air Conditioning Engineers (ASHRAE), and the Centers for Disease Control and Prevention (CDC), and can be implemented 100% remotely," added Venne.
"More specifically, BrainBox AI mitigates the potential spread of the virus through 2 specific strategies: Dilution Ventilation and Temperature and Humidity Regulation," remarked Venne. "The goal [is] to reduce the lifespan of the virus between 60 and 80% of its current lifespan."
"To accomplish this, BrainBox AI express-ships a Gateway to a building and assists building owners in installing this gateway through video conferencing," explained Venne. "This process typically only takes less than 60 minutes. Within 48 hours after installation, BrainBox AI will have remotely configured the Gateway to work seamlessly with the building's existing networked HVAC system."
Shared Venne, "Thanks to cloud technology and our teams internal building automation expertise, BrainBox AI will then begin to write directly to the various outputs of the building's HVAC systems. In order to help communities in their fight against COVID-19, we are offering the AVMP free of charge for 90 days to all building owners," added Venne.
Other Building Applications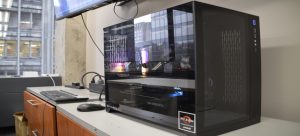 "This technology is as simple and works as efficiently in large and small buildings, as long as the HVAC system in the building is centralized," stated Venne. "Schools and nursing homes are excellent examples of buildings that may benefit the most from the solutions such as BrainBox AI's AVMP."
As per its website, other applications extend to building types including offices, multi-residential, airports, hotels, grocery stores, senior assisted living, data centers, large commercial retail, etc.