Earlier this spring, HR-Tech start-up Thrive announced it would provide for free its career software and services – typically offered through large companies – to Canadian individuals affected by the Covid-19 crisis. This includes career coaching, upskilling opportunities, resume builders and job tracking software that can help those who may need to re-skill, re-focus their resumes and re-imagine their careers, right now.
I asked Thrive's founder and CEO Jeffrey Doucet about the trends he's seeing in employment as well as the support still being offered for free by Thrive.
Employment Trends and Industry Impacts
Doucet began, "For years the labour market in Canada has enjoyed unprecedented stability, with record-low unemployment and growth in new sectors like technology, real estate, services and the sharing economy."
"However, in parallel, we were also seeing discussions about a transition to the "Future of Work" in which the labour market will eventually see disruption and potential job losses in certain segments due to the combination of automation, digitization of services and big data," remarked Doucet. "It was expected that many experienced workers would have to upskill and reskill to transition their skills and experiences into related industries to cope with this transition. The pandemic has become an unexpected factor that has accelerated that shift."
"From February to April, 5.5 million Canadian workers were affected by the pandemic," cited Doucet, based on the government's May release of its Labour Force Survey, April 2020. "This included a drop in employment of 3 million and a COVID-19-related increase in absences from work of 2.5 million. The unemployment rate itself more than doubled from February, reaching 13.7% in May, the highest rate recorded since comparable data became available in 1976." See: Labour Force Survey, May 2020.
"While the headlines have focused on the more obvious industries like travel and tourism, entertainment and storefront retailers, Thrive has been working with a growing list of impacted workers and employers from across industries and parts of Canada, especially industries like manufacturing and natural resources where there is no remote work solution, industries that were already under global competitive pressure."
"The layoffs have impacted workers across all job functions as employers have to cut payroll temporarily or permanently downsize to keep afloat as they await guidelines from governments on re-opening."
"While many workers are expected to return back to their old jobs," shared Doucet, "many employers are looking at this critical shutdown to make investments into automation and digitization that were inevitable. Meaning many workers will have to focus on upskilling and reskilling and find employment in different industries and job functions than what they left behind."
Thrive Steps Up: Free HR Software & Support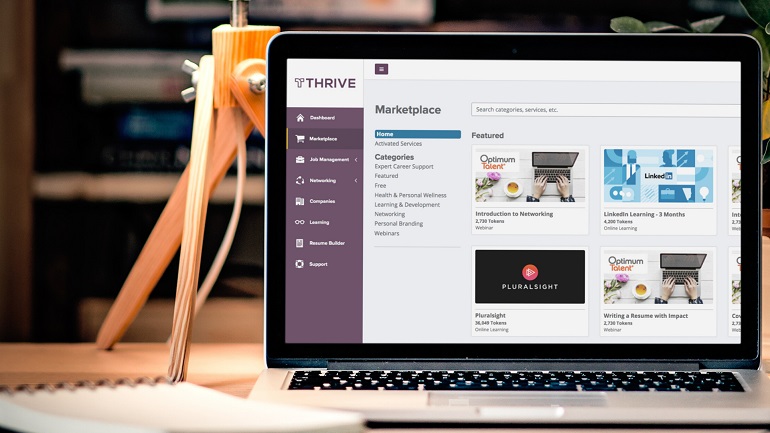 "In March, at the start of the social distancing measures, we recognized that most of the layoffs were expected to be from financially vulnerable companies, particularly small and medium businesses, particularly in the hospitality sector, retail and transportation."
"The pandemic created a national movement of businesses stepping in to support their fellow Canadians and as one of the only Canadian tech firms in our space, we felt a responsibility to help," said Doucet. "As a result, we made a decision, alongside our partner Optimum Talent to offer complimentary three-month access to their Career Wellness Platform. The online bilingual services offered include a resume builder, job search software, networking tools, a live chat, and the ability to track and analyze postings across different job boards.
"It's our hope that anyone who's lost their job can use our software to begin paving the way forward, whether that means exploring new opportunities, upskilling, or transitioning to a different career altogether."
Added Doucette, "We plan on continuing the offer until this pandemic is over." Thrive recognizes, as shared by Doucet, that, "Outplacement and career transition services are not generally offered by the majority of employers in the best of times, and if they are, they are typically offered to only management and above."
"This has been a new experience for us as previously we have been exclusively focused in the B2B space," explained Doucet. "Since the pandemic, we've had hundreds of users from across Canada who have heard about our offer through various sources. "In addition to our own networks, we've shared our story with the media, human resource industry networks as well as through various grassroots campaigns in Canada that promote free resources."
"While the free software offer has been valuable, we strongly believe that Thrive can best help job seekers through personalized coaching, assessment and upskilling …. services [so] we've invested our efforts in engaging employers on the benefits of outplacement services."
Looking Forward: Reskilling
"While we are in a difficult job market, our economy is resilient," shared Doucet.  "Last month we saw almost 290,000 jobs added to the Canadian economy as we slowly re-open businesses and cautiously emerge from the shutdown."
"It is important for displaced workers to make an honest assessment of their career, their experiences and skills to determine whether they have the flexibility to do a different job function at their current company, whether their skills are essential to the operations, and if they could be valuable in a different industry altogether."
"Earlier this year, Thrive went through an exercise with a team of call centre employees experiencing job loss as a result of the call centres being shut down," revealed Doucet. "The employees were frustrated … because their jobs were increasingly being outsourced or eliminated due to digital automation. However, what we uncovered was that as their jobs were being digitized, there were opportunities for these outplaced workers to transition into digital customer relations roles, an area their employer was actively staffing.  Through upskilling platforms like LinkedIn Learning and EdX we routinely help experienced workers successfully transition into new and emerging roles."
Added Doucet, "Many users have had similar success taking on platforms like Codecademy and Pluralsight to enhance their web development and data science skill sets and finding substantially higher-paying roles."
More articles on Recruitment & Hiring