BlackBerry has partnered with Canadian Manufacturers & Exporters (CME) and the Government of Ontario to help push Canada's economic recovery. This collaboration will encompass the Ontario Made program, led by CME, as well as a technology working group established by BlackBerry.
Said Dennis Darby, President & CEO of CME, "As a Canadian icon and a global market leader, BlackBerry will lead this working group that will consist of experts in the technology and software field. These experts will provide guidance and help expand the definition of software and technology that is Ontario Made. The group will also be used as a platform to encourage their networks to register for the program." Darby added, "This working group will raise the awareness of the Ontario Made program and can serve as a model for future working groups in different sectors for the program."
"I am incredibly proud that the Government of Ontario, CME and BlackBerry are collaborating to advance the Ontario Made program," said John Chen, Executive Chairman & CEO, BlackBerry. "Ontario has been a great home to BlackBerry since 1984 and it is together that we have developed world leading technology and talent. We are extremely pleased to strengthen our investment in the province through the partnership we are announcing today."
Although the focus is on Ontario, home to 750,000 manufacturing jobs, the program addresses the value and pride of Canadian manufacturing. "We are stronger together and the Ontario Made program can be used as a model for other provinces to replicate and raise awareness of manufactured goods made in their own backyards," shared Darby. "Businesses across Canada can use Ontario Made's database as a source to find other Canadian companies to partner with on different endeavours."
Further, consumer and business needs are hoped to be addressed. "Although primarily focused on B2C products," explained Darby, "a goal of the program is to expand its focus on providing a strong B2B product listing."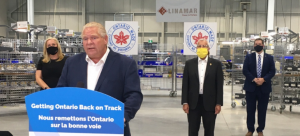 To learn more about the Ontario Made program, visit https://www.supportontariomade.ca/.