TELUS Health has released its latest digital health product, Healthcheck, within its Babylon by TELUS Health service, which aims to provide Canadians with innovative and greater access to healthcare. Babylon by TELUS Health enables healthcare from home as it allows its subscribed users to have a video consultation with a doctor or mental health counsellor, get a prescription and check symptoms all via their phones.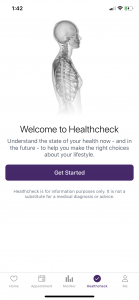 Healthcheck, its newest feature, is an AI-driven health assessment tool designed by doctors, scientists and epidemiologists to give users a snapshot of their overall health and provide recommendations to support a healthier lifestyle. App users respond to various health-related questions – medical history, family history, diet, lifestyle and mood – and Healthcheck offers a health assessment. Results are visually rendered using a schematic of the human body broken down by organs, which users can explore to gain a better understanding of their risks and the factors affecting them.
"While Healthcheck is available to all users across Canada, the foundations of Healthcheck are based on statistical evidence and guidelines for adults," explained Juggy Sihota, Vice President, Consumer Health at TELUS. "That means assessments are only suitable for users aged 18 years or older. We also don't recommend Healthcheck for pregnant women as pregnancy can have significant effects on the body for a set amount of time, making assessments extremely complex and difficult."
Sihota also pointed out that Babylon by TELUS Health should not be used to solely manage one's health. "It's important to remember that Babylon by TELUS Health and its physicians are not meant to replace a user's family doctor, but instead offer another option for complementary and convenient access to primary care." Sihota added, "Babylon by TELUS Health physicians can help assess acute or episodic health concerns as appropriate, while acknowledging the limitations of video-based assessments for certain conditions."
As well as being able to modify responses within Healthcheck, your data remains private to you. Sihota explained, "Babylon by TELUS Health takes every necessary precaution to ensure personal information is safeguarded and secure. Personal data is never shared with any other organization without a user's consent, and are held with technical and organizational security in compliance with the maintenance of Canadian health records."
In context to its complete health offering, which also includes its symptom checking, video-based doctor consultations, and prescription services, Sihota explained, "The health and medical information that users share and receive through Babylon by TELUS Health, including symptoms, treatments, test results and consultations, are stored in Canada and securely transmitted using encryption mechanisms that meet and exceed, the highest industry-recognized standards."
Can Healthcheck help with identifying COVID-19 symptoms?
Sihota replied, " While Healthcheck provides an overall assessment of health, which would be helpful in identifying proactive measures to reduce a user's risk for disease, the Babylon by TELUS Health AI Symptom Checker has been updated to recognize many potential COVID-19 symptoms and risk factors, linking users to validated information about the virus." Added Sihota, "What's great is that if the user's symptoms suggest a risk for COVID-19, they can virtually connect with a locally-licensed physician right through the service. We updated this at the beginning of the COVID-19 pandemic."
"TELUS Health's full suite of technology solutions puts us in a unique position to help amidst the COVID-19 pandemic," expanded Sihota. "For instance, we expanded our Home Health Monitoring solution to include the remote monitoring of COVID-19 patients in B.C, enabling healthcare providers to track the symptoms and condition of those with or at risk of COVID-19 as they recover outside of the hospital."
Babylon by TELUS Health is available on the App Store and on Google Play.
More on Health