More and more Canadians are deciding to cut the cord from traditional cable and satellite television. In fact, Media in Canada reported back in September 2019 that one in seven Canadians had already shifted from linear to streaming TV and one in five planned to do so over the next year.
But that doesn't mean they're cutting themselves off from entertainment altogether. Instead, many households are relying on streaming services where they can binge watch legacy series from a variety of networks along with original shows, and a selection of library title, new, and original movies, and more.
What are the options in Canada? While it used to be just Netflix, today, there is a wealth of choice. Here's a look at the most popular streaming services you can get in Canada and what you can watch on each.
In all cases, you can watch across a multitude of devices, from smartphones and tablets to laptops and desktop computers and smart TVs. Some smart TV platforms have apps built-in for certain services, others let you download and add them. You can also use streaming boxes and sticks to access the services on a big screen. All services offer a free trial period, usually 30 days though some offer just a week.
Netflix ($9.99-$18.99/mo.)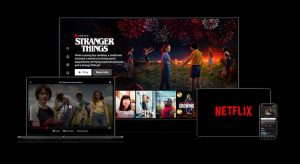 Netflix offers tiered pricing relating to the resolution (the highest tier provides access to 4K quality streaming) as well as the number of devices on which you can watch simultaneously. In addition to watching via an Internet connection, you can also download many shows and movies for offline viewing from a mobile device.
Netflix has one of the biggest libraries of all of the streaming services. This includes high-quality original series like Stranger Things, Grace and Frankie, and Orange is the New Black and movies like The Irishman and Murder Mystery. But Netflix has also acquired streaming rights to some of the biggest network series, including The Blacklist and Scandal, as well as movies like Happy Gilmore and The Karate Kid. Titles span every genre imaginable.
If you'd only subscribe to one streaming service, Netflix is a logical choice given that it's baked into just about every platform imaginable, from smart TVs to gaming consoles and media streaming boxes, and will likely provide the most bang for your buck in terms of content.
Amazon Prime Video ($7.99/mo. or $79/yr.)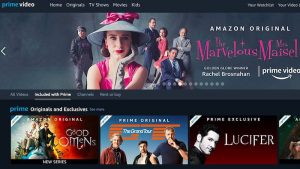 The great thing about Prime Video is that it comes as part of an Amazon Prime subscription. So, if you have already signed up to become an Amazon Prime member in order to get free and fast shipping on items, you already have access to Prime Video.
The service originally included a limited selection of library series and movies plus originals, but Prime Video has upped the ante and offers some truly quality programming now, including series like The Marvelous Mrs. Maisel, Utopia, and Upload, and movies like Brittany Runs a Marathon and Beautiful Boy. There's library title content there as well, so you can watch shows like Mr. Robot and Golden Girls and movies like A Beautiful Day in the Neighborhood and Rocketman.
A prime membership includes other benefits as well, including access to Amazon cloud storage and Amazon Music, and early access deals to special pricing. So, if you'd make use of these other features as well, or even just free shipping and Prime Video, it's worth the price of entry. And like with Netflix, a lot of content is also available to download for offline viewing on a mobile device.
Crave ($9.99-$25.97/mo.)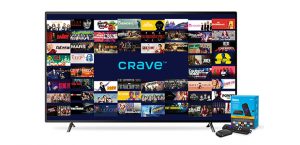 Bell's offering in this space, Crave offers some originals, too, most notably the series Letterkenny. But what really makes it worth considering is that Crave is the streaming home to the entire HBO, Showcase, and Starz libraries, including shows like Game of Thrones, The Sopranos, and Dexter. Crave is also where Canadians will be able to watch originals from the new HBO Max streaming service in the U.S., like Anna Kendrick's Love Life and I'll Be Gone in the Dark.
Pricing starts at $9.99/mo. for the basic subscription, which is offered in both English and French, or pay $19.98/mo. to add movies + HBO content. The top-tier option adds Starz content as well.
If you want to watch shows like Game of Thrones, Seinfeld, The Handmaid's Tale, and Lovecraft Country, you'll need Crave. You'll find that a lot of shows that stream on Hulu in the U.S. are available in Canada through Crave.
CBS All Access ($5.99/mo.)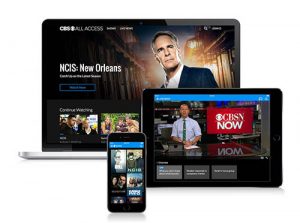 One of the traditional networks offering a streaming option, CBS All Access affords access to all CBS content, including TV series and news broadcasts, as well as originals like Star Trek: Discovery and The Good Fight.
It's the place where you can watch popular shows like Survivor, SEAL Team, and NCIS as well as older classics, all commercial-free. News is 24/7 CBSN content as well.
If there's a small selection of shows you want to be able to watch, CBS All Access is one of the most affordable options that might just be exactly what you need – nothing more, nothing less.
CBC Gem (Free-$4.99/mo.)
CBC content is typically free, so you can watch to your heart's content to catch up on favourite shows with some rabbit ears and a TV tuner. But the traditional linear TV network is also offering a premium tier that provides access to on-demand and ad-free content, as well as exclusive access to CBC News Network.
It's a good option if you want to keep up with the news or watch CBC shows on the go as well as at home, and be able to binge watch shows on demand, on your own schedule.
Disney+ ($8.99/mo., $89.99/yr.)
One of the newest options on the list, Disney+ offers Disney's extensive library of content, including movies and TV shows like The Simpsons, The Lion King, Toy Story 4, and Avatar, as well as new originals, like Muppets Now and The Mandalorian.
If you have young kids, this is the must-have service. But it might be worth holding out until 2021 when many of the new originals are slated to launch. But if you're mostly interested in introducing your kids to some of the classics like Finding Nemo and The Princess Bride, and nostalgic '80s cartoons like Gargoyles that you can't get anywhere else, it might be worth it to sign up now. And with the second season of The Mandalorian on the horizon, some Star Wars fans are willing to pay just to watch that!
Apple TV+ ($5.99/mo.)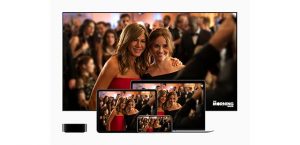 One of the most affordable options, Apple doesn't exactly have a massive library of legacy series on Apple TV+. But it has its own original series that have attracted subscribers, notably The Morning Show, For All Mankind, Dickinson, Servant, and Ted Lasso. Apple also has deals with people like Oprah Winfrey, who is offering her own Book Club series through the service, and movies featuring A-list actors like Samuel L. Jackson, Bill Murray, and Tom Hanks.
Unlike the other services, you only get a one-week free trial, but Apple does offer free one-year subscriptions with the purchase of certain new Apple devices (new Apple iPhone 12, anyone?)
You can also sign up for Apple TV+ as part of an Apple One subscription, which includes one price for several Apple services.
YouTube Premium ($11.99/mo.)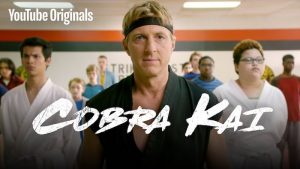 While the primary focus of YouTube Premium is to get access to ad-free and offline access of YouTube and YouTube Music, the premium-tier service also includes access to original content. Some of the most notable original series from the service include follow-up to Karate Kid, Cobra Kai, which has since moved to Netflix, and Justin Bieber's documentary, which broke viewership records for the service. In addition to watching ad-free videos while using other apps, and even when your device screen is locked, you can also download videos to watch offline and listen to ad-free music from the app.
BritBox ($8.99/mo. or $89.99/yr.)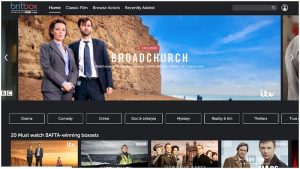 If you're into British comedies, rom-coms, dramas, and other series hailing from the U.K., the BritBox streaming service is the most logical one to consider. It features a wide selection of TV shows and movies from the BBC and ITV, both live and simulcast, and including new and legacy shows. In some cases, you can watch new series hours after they launch in the U.K.
Check out everything from the original classic Doctor Who series to hilarious comedies like Are You Being Served? and Black Adder. Keep in mind that some of the bigger streaming services, like Netflix and Prime Video, are offering series from all over the world, including the U.K. But BritBox will have some shows you can't get anywhere else.
You also have the option of subscribing through Amazon Prime to access BritBox from the Amazon app.
Acorn TV ($7.49/mo.)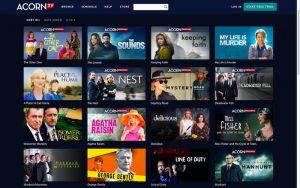 Like AppleTV+, Acorn TV provides just a seven-day trial, but chances are those who are signing on are doing so for a specific reason. The streaming service, also from the U.K., features legacy and original series in the mystery, drama, comedy, and documentary genres, like Mystery Road, Deadwater Fell, and The Nest. The series hail from Britain as well as Ireland, Australia, and other regions of the world.
Like with BritBox, you have the option of subscribing through Amazon Prime to access Acorn TV from the Amazon app.
More articles on streaming