Winter days are here – or will come soon to where you live – so why not learn how technology and chemistry factors into winter tire design?
I asked Farrell Scott, Winter Product Category Manager with Michelin, to share his insight about tire technology.
"[Tire] technology centres around two main areas: the compound and tread design," explained Scott. "The compound is devised to ensure the rubber remains flexible in cold weather and severe winter conditions. This improves the contact patch, or the overall contact of the tire with the road."
Scott added, "Depending on the seasonal application, a different compound and different tread design is required for different seasonal tires. Additionally, in a winter tire specifically, there is a greater amount of siping [cutting extra slits into tire treads], giving a winter tire the biting edges needed for improved ice and snow traction."
I asked Scott to describe some of the technological features Michelin employs in the design of its tires, which I learned include:
Next-generation V-shaped tread design: Maintains tread design shape, even when worn, to provide long-lasting grip in winter conditions.
FLEX-ICE 2.0™ tread compound: A unique rubber mix for use in a wide range of winter temperatures, with a full silica-based compound to maintain flexibility in severe cold climate conditions.
MICHELIN EverGrip™ technologies: A technology utilizing an innovative tread compound with inclusive micro-rubberized polymers which create a micro-rough surface.
Two types of full-depth, interlocking 3-D sipes: Variable Thickness Sipes and Notched sipes to increase the claw effect on snow and ice
Software applications also factor into tire design, like Michelin's Piano® Noise-Reduction Tuning, a software tool developed internally to model and reduce tread-pattern noise in its tires.
"Winter tires tend to be noisier because of the tread compound and design; [the] larger void for evacuating slush and snow equals more opportunity for increased tire noise," described Scott.  "This Michelin designed and owned technology optimizes the placement and size of the tread blocks to reduce the noise."
The 'rubber that meets the road' is based on fundamental chemistry principles. Gum compound, for instance, adjusts based on temperature.
Scott explained and clarified, "It's less about how the compound adjusts; and more about the materials we're putting into the compound to allow it to perform in cold weather/severe winter conditions."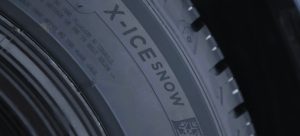 "A compound is made of multiple materials – synthetic and natural rubbers, silica, oils and carbon black, among others and the specific combination of those materials allow a tire to perform at lower temperatures. Every polymer/rubber has a glass transition temperature. As a result, you can add materials to your compound to allow it to be more flexible and operate at a lower temperature. We design the thermal-adaptive nature of a compound to perform optimally at the temperature range it will be used in."
So, tire technology and applied chemistry helps to offset the road conditions we experience during our great Canadian winters. Drive safe!