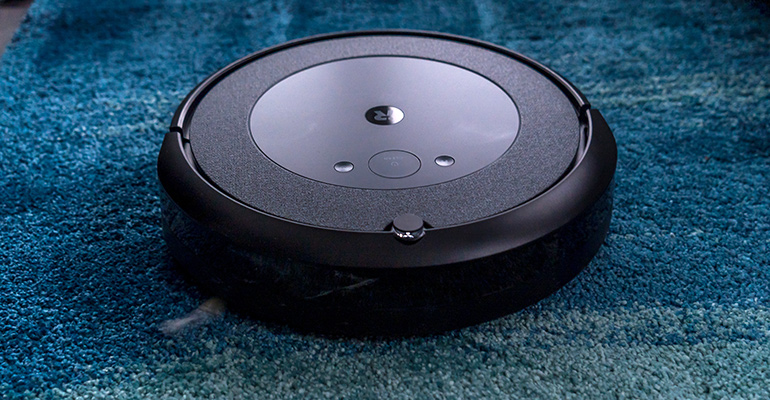 Robot vacuums come in far more varied sizes and prices now, and the iRobot Roomba i3+ is among the least expensive that includes automatic emptying.
Years ago, just the fact a robot could vacuum was a big deal. Now, a robot vacuum that can also empty its dusty contents only adds to the novelty and convenience of owning one. This has been a feature usually reserved for the most expensive models, but the Roomba i3+ is well under $1,000, and looks compelling relative to its price.
Its performance and features are also commensurate with that price, meaning iRobot had to cut a few corners to get there. Whether that impedes the vacuum from reaching its potential in your home depends on key factors and expectations.
Design and setup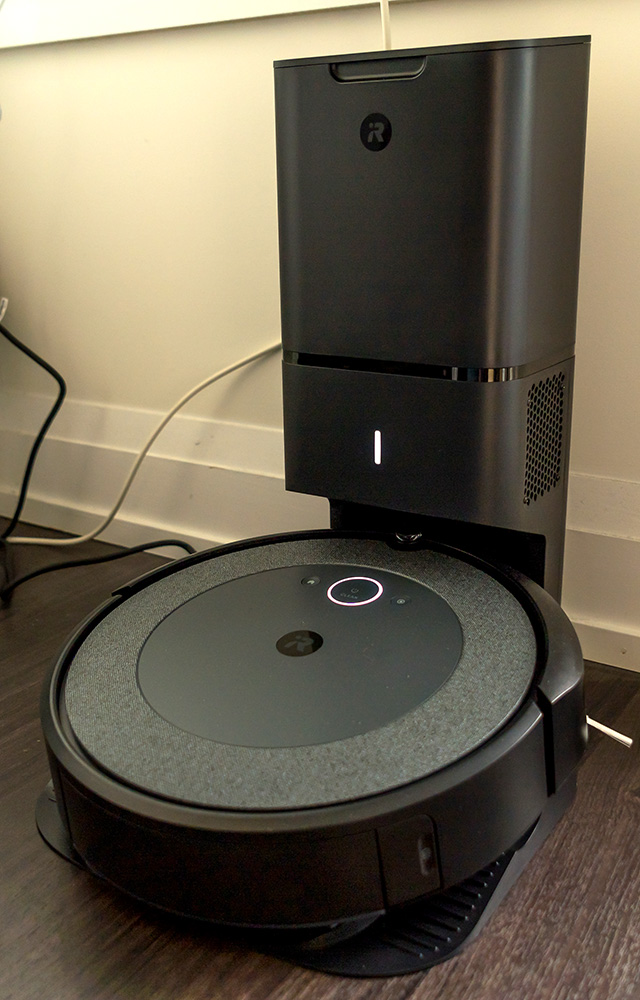 The Roomba i3+ is made up of two, though technically three parts: the vacuum, the Clean Base docking station and the AllergenLock rubbish bags. I'm separating the last one because it's the one part of the equation you need to consistently replace long-term.
The basis for these components is pretty simple. The Clean Base includes the battery terminals to charge up the vacuum, which it always leaves and returns to when doing its job. After finishing a cleaning and docking itself, the vacuum empties itself, which is sucked up by the tower into the bag. You'll know it's happening because it sounds like a jet engine revving up. I was surprised at how loud it actually was, even if it only lasted about 20 seconds.
iRobot wisely designed the vacuum to be more efficient when covering certain areas. Once it finds a spot that needs extra cleaning, it keeps going over it until the job is done. Moreover, the rollers underneath are detachable and washable by hand, adding some useful and easy maintenance to it all.
Setup is fairly easy through the iRobot app on iOS and Android. You will need to connect the vacuum to your home Wi-Fi network to make it all work, and once you do, you can also make it responsive to voice commands via Amazon Alexa and Google Assistant.
The Clean Base itself is not exactly small, so you would need to find a space big and tall enough along a wall without obstructions in front of it. The vacuum itself is a reasonable size, and its low centre of gravity pays dividends when crawling under tough-to-reach spaces.
What's missing
By now, robot vacuums usually offer the ability to map out where the thing goes as it cleans. That's not an option here, so once you set the Roomba i3+ loose, it just seeks out whatever is in its path. However, under Settings>Cleaning Preferences>Cleaning Passes, you can set it to do one pass or two passes when covering an area. You can also set time limits to mitigate its wandering ways, but you won't be able to relegate it to a certain room or program it to avoid a certain area.
If you want to do that, you'll have to do it the old-fashioned way, which is to close doors, set up roadblocks, or use virtual barriers iRobot sells. Under Bin Full Behaviour in the settings, you can tell the vacuum to keep cleaning even when its bin is full.
Since mapping isn't part of the feature layout here, your voice commands are mostly limited to starting and stopping the vacuum. While you can set a schedule in the app, including with the time duration you have in mind, you wouldn't be able to tell it where and where not to go. That means you'd have to plan ahead by sealing off certain areas, unless you want the Roomba i3+ to cover every space it can find.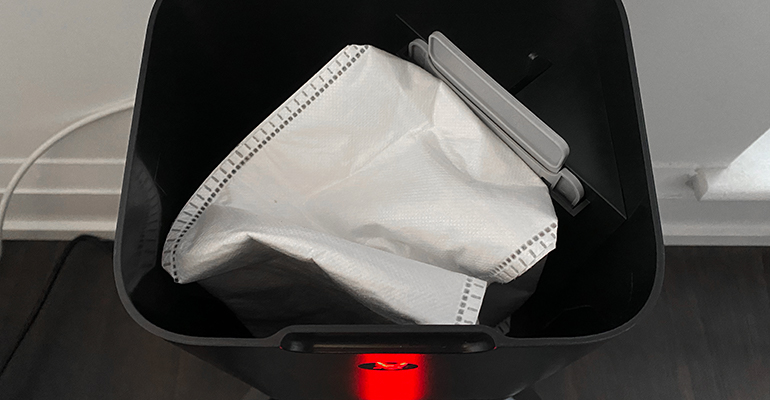 Cleaning things up
iRobot smartly designed this vacuum as something of a toolkit. Various pieces do come off for cleaning or replacement, like the rollers I mentioned earlier. That means that if something breaks, the whole product itself isn't obsolete. Depending on the state of your home after any given week, you'll know how well this works.
With Dirt Detect mode, the Roomba's light ring turns blue and starts to focus on cleaning a specific area. Otherwise, it stays a flashing white, unless it's low on battery (red) or seeking out the Clean Base (solid blue). It can get loud, so your tolerance for noise will depend on whether you make it clean while you're home or at least in another room.
Beyond that, the i3+ tends to work like iRobot's other models, where it starts in a central space and then moves out in an unusual pattern toward the edges. When furniture or obstacles are in its way, it knows to get around them, but I couldn't always make sense of its patterns. Unlike Dyson's far more expensive 360 Heurist, which tends to take a more methodical approach, this one never really seems to be following a distinct path.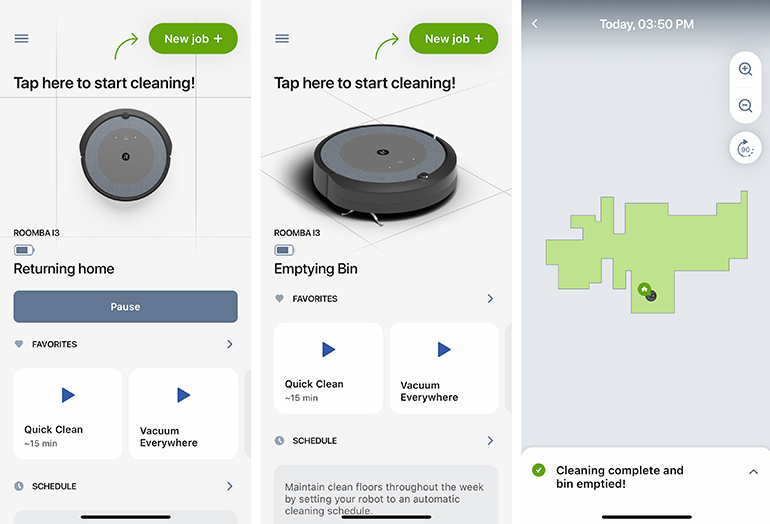 That hardly matters if it does the job well, though. One thing I really liked was how it went right under the entertainment console in front of my TV. It's a spot that's too tight for my upright vacuum to get to, but the i3+ rolled right in there and presumably went into Dirt Detect mode because it stayed there for a while.
The only problem was that it also got stuck there. My view was fully obstructed so I don't know why, but I had to physically pull it out of there so it could resume its job. The elongated brush helps kick up dormant dust, though its placement in one corner means the vacuum does a lot of spinning and reorienting to cover more ground. Its ability to reach certain nooks is great, provided it can find its way out. If your couch is tall enough, it will burrow underneath and do a stellar job cleaning up. If not, then you'd have to do it the old-fashioned way.
I don't have kids or pets, so can't relay any experience related to those two variables, but I don't see why the i3+ couldn't do its job with pet hair and kids' messes lying around.
Battery life
And as good as the suction power is, I think the vacuum is at its best in intervals of every two days or so. That's not to say it can't handle messy or dusty floors on a weekly basis, just that you get more out of the battery when you spread it out.
At first, the i3+ will take longer to do the job because it roams and explores the room a little slower. That can take 60-90 minutes, whereas subsequent cleanings may take just an hour or less. It also depends on how many Dirt Detect areas it encounters.
If it runs low while doing a job, it will return to base and then come back out again to finish it later after charging up.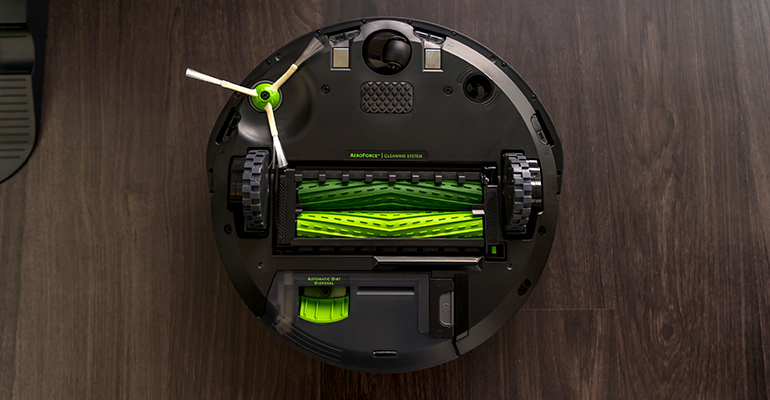 Maintenance
One aspect of the Roomba i3+ is its filter that iRobot recommends replacing either once a week, or twice if you have pets. No pets? Stretch it out to two months. Then there's the full bin sensor, as well as the rollers underneath, which may or may not need cleaning under the same cadence.
The app does help plan these things out for you, while the Clean Base also lets you know when the AllergenLock bag needs a new replacement. The solid red light is your indicator, and while an extra comes in the box with the vacuum, you will need to buy new ones after that. You can get a 3-pack for $20, which isn't bad. They can last for up to 30 emptied bins, so you do get some mileage out of each one.
In that regard, the Roomba i3+ is highly mechanical. Several parts are replaceable, including the wheels, rollers, brushes, battery, cleaning head and even the whole Clean Base itself.
The bottom line
The iRobot Roomba i3+ doesn't come cheap at $750, though it is on special for $550 until December 3, and may get another deal for the holidays. If it was just a mid-range vacuum on its own, it may not have been as compelling. But with the Clean Base included, it's an interesting value proposition. You would just have to be okay with the limitations and unpredictability that sometimes comes with it.
Enter for your chance to WIN a Roomba i3+ Robot Vacuum Cleaner with Clean Base, value $749.99