While we continue to work remotely, it is not surprising that LinkedIn has enabled new ways to facilitate virtual professional interaction, while making a variety of enhancements to its offering.
Hoping to make sharing professional news and messages easier, for instance, LinkedIn has rolled out new Stories and Messaging features. Byron Ma, Director of Product, LinkedIn, shared how LinkedIn is evolving communication features to allow professionals to share what is happening in their work lives.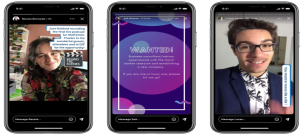 "Because Stories are shared for 24 hours," began Ma, "we see this as an option for members to express professional moments with their network without worrying that the content is permanent." Added Ma, "We've seen members adopt this format to connect a little more casually with their peers and friends. Stories are a virtual substitute for the impromptu hallways chats so many are missing right now."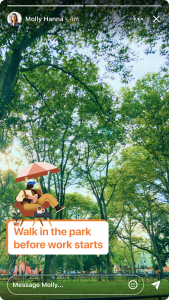 Also new to LinkedIn are updates to its messaging functionality, which has seen an increase in 25% of messages sent since last year. Said Ma, "we're adding new ways to connect with feature updates including reactions and the ability to kick off a video meeting directly in a message thread." Ma shared the following about messaging changes:
Visual Enhancement: "This October we'll be making it easy to switch the conversation from chat to face-to-face using Microsoft Teams, BlueJeans by Verizon, or Zoom directly in your LinkedIn messages."
Edit/Delete Functionality: "We've added the ability to edit or delete sent messages. We've made it easier to select multiple conversations at a time to archive, delete or mark them read/unread all at once."
Emojis: "We've added the ability to quickly react to messages with emojis to make it easier to express yourself."
What is driving these and other site changes?
"Since our last redesign, LinkedIn has grown from a platform to create your professional profile and search for other professionals of interest, to an active community of more than 700 million professionals across the globe," replied Ma. "We're seeing members sharing in record numbers and sending hundreds of millions of messages every week."
"Conversations are the centerpiece for members to stay informed and find opportunities, and … over the past five years, we've seen messaging between LinkedIn members more than quadruple. That's why we have added features to help professionals continue to find and engage in conversations they care about."
"We [also] saw this as an opportunity to enhance the search experience for members to more easily discover and engage their communities on LinkedIn," shared Ma.
"We're better organizing search results by people, jobs, groups, courses, companies, posts, events and more. This organized experience helps you more easily discover what you need, and also explore other aspects of LinkedIn you may not have known existed before. You can also add additional filters on the same page as your initial search results for a more intuitive and streamlined experience – and this function is now available to the mobile app for the first time," remarked Ma.
Ma spoke further about LinkedIn's changes to Search: "We've also added more personalized insights to your search results: like surfacing your connections who work at companies with open jobs, and LinkedIn Learning courses "liked" by people who work at your company. We've added new result cards that let you glimpse your connections' recent activity when you search for them, and also a "People Also Viewed" list of relevant companies or people to follow.
Ma elaborated, "[We've also] added more calls-to-action in search results. Now you can simply tap "follow" to stay up to date on companies or schools whose updates you want to see in your feed, and "save" jobs that you're interested in applying to later."
Efforts to appear more inclusive have also been undertaken, according to Ma. "The layout and features of the site are centered around inclusion and accessibility as well, including a dark mode coming soon. We've also added new illustrations that showcase people with different abilities, diverse backgrounds and ethnicities and a wide range of jobs and industries. We want everyone to be able to see themselves and feel welcome."
What LinkedIn behaviours have been amplified as a result of the pandemic?
"One of the behaviours that has been amplified most during the pandemic is public-facing requests for career advice and work opportunities," Ma responded. "We heard from our research that members have a perceived stigma about being unemployed. But we know from our data and our conversations with customers that recruiters want to know who is available, and communities want to know who to support and members want jobs. In a recent LinkedIn survey we found people want to help. 84% of respondents said they would be willing to help someone in their professional network who has lost their job due to COVID-19 find a new role."
Recalling to this past summer, Ma explained, "We launched "Open to Work," a simple LinkedIn profile photo frame that says just that: you're looking for your next opportunity. More than three million members have adopted the public #OpenToWork photo frame and early results show members with this photo frame are receiving on average 40% more InMails from recruiters and 20% more messages from the LinkedIn community."
"70% of talent professionals globally say virtual interviews are here to stay, and members have told us our interview prep tools are a great way to practice answers to the most commonly asked questions and improve interview skills." The feature has been so well received that we are introducing new interview prep for in demand jobs, like project manager and software engineer, so you can improve your chance of landing those most sought-after roles.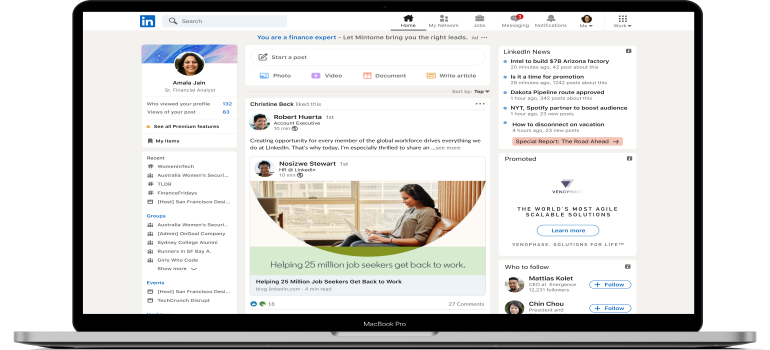 What have you seen in terms of job search and recruitment this year?
"We're seeing people come to LinkedIn in record numbers to search for jobs, nearly 40 million each week, and despite a challenging job market, three people are getting hired on LinkedIn every minute," shared Ma. "And for those unemployed job seekers worried about potential stigma, we know from talking to hiring managers that almost all of them (96%) would hire someone who had been laid off due to the COVID-19 pandemic."
"Our data shows that nearly 150 million more technology-related jobs could be created globally in the next five years," began Ma.
"To help members get ready for these career openings, LinkedIn has identified the top trending skills among professionals. These include skills like data analysis, digital marketing and programming." As well, Ma offered, "The LinkedIn Skill Assessments feature can help members showcase their proficiency in these areas directly on their profile. Candidates who earn a Skill Assessment badge and display it on their profile are up to 20% more likely to get hired."
LinkedIn changes clearly reflect how user needs are evolving during the pandemic.
Related:  hiring trends