Canadians have definitely relied on technology to strengthen family connections during the pandemic, particularly during periods of lockdown. It also appears that Canadians have been looking for wider and deeper information about family history, too.
Ancestry recently revealed that last year it saw a 37% increase in new subscriptions globally (year-over-year), and that three quarters (74 per cent) of Canadians wish they knew more about their families.
"As Canadians continue to live in an extended period of lockdown, keeping in touch with loved ones is often top of mind – especially when we cannot physically be together," shared Genealogist and family history expert Lesley Anderson.
"I was quite young when I started looking into my family history and thankfully, I was able to ask my Nana what she knew about our ancestors. She told me the story of her mother being orphaned when my Nana's grandmother died of Typhoid after a flood and had to go and live on a farm with her elderly grandparents,''   said Anderson, "Finding her in the 1871 census living at Windwhistle farm as an 8-year-old confirmed that story and seeing her in the records told me more about her life.  And happily – I was able to go to England and visit the farm!"
"As topics of conversation on those family video calls start to dwindle, many are striving to learn more about their family members, their history and where they come from. This often starts by engaging in conversation with family members, but curiosity leads to a deeper dive," added Anderson.
"That's where Ancestry comes in," stated Anderson. "With [Ancestry's] expansive record collection, people can not only build out their family trees, but find real moments in history that their families were a part of and, in effect, use these records to get to know their ancestors and understand the lives they led."
Ancestry's online family tree building service enables customers to search through "billions of digitized historical records worldwide, including censuses, marriage, birth and immigration records to discover the stories of their ancestors' lives – when they were born, where they lived, when they came to Canada and who they loved," explained Anderson.
It seems that the AncestryDNA test is also popular, which helps Ancestry customers discover, "where your ancestors may have lived in in the world, as well as identifying living relatives in the AncestryDNA network of 18 million people worldwide."
As a genealogist, Anderson offered a few tips for building a family tree:
Talk to your relatives – particularly the oldest living members of your family, who are often among the most valuable family history resource.
Create a list of existing documents. Ask your relatives whether they have any letters, newspaper clippings, obituaries, photo albums, medals, photos, postcards, Bibles, diaries, certificates of naturalization, or even family heirlooms with engravings.
Start your family tree with the information you know.
Put your direct line – parents, grandparents, great-grandparents, etc. in capital letters. Always use maiden names for females to find pertinent information and records on female family members prior to their marriages, helping uncover new branches of your family tree and offering new avenues of research.
Use online resources and services to build out your family tree. Anderson specifically recommended, "Leverage Ancestry Hints®. These are suggested records or other people's online family trees that may contain information about people in your tree."
Learn about the places in which your ancestors lived. Familiarizing yourself with the geography and history of these locations can provide you with context for your ancestors' lives.
Search historical records.
Said Anderson, "Ancestry's mission to empower journeys of personal discovery has never been more relevant or more needed. The pandemic has created a greater focus on families and making meaningful connections."
What is motivating more online family research? Data is one big reason, for sure.
"People have many different reasons for learning about their family history," responded Anderson.
"For some, it could be a way for them to feel closer to their family, or the pandemic may have made them realise the importance of preserving and sharing their family history. Additionally, life moments such as a wedding, birth of a child or death of family member can trigger peoples' interest. Or, it could be that some people have always been interested and they find themselves with more time available to do so."
Anderson summarized, "Putting together the story of your family is much like putting together any other story – you need 'The 5 W's': Who, what, when, where and why. Names, places of residence, occupations, dates of birth, marriage and death are all valuable pieces of information that serve as the foundation when building your family tree."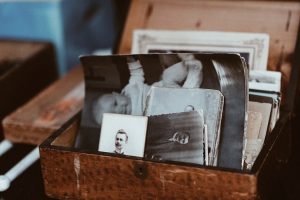 Anderson also reminded me that many valuable records, "may already exist in the homes of your family members. Ask them whether they have any letters, newspaper clippings, obituaries, photo albums, medals, photos, postcards, Bibles, diaries, certificates of naturalization, or even family heirlooms with engravings. These are all great resources full of helpful information and clues to get you started on your family history journey."
WhatsYourTech.ca  and Ancestry are giving away a One Year World Deluxe Membership to Ancestry, value $259.98.  Enter for your chance to win!
.