Spending more time at home nowadays likely means that, whether we like it or not, we're also spending more time with our mobile devices. Sure, it's often work-related. But other times, we might just be surfing the web, playing games, or watching videos on a tablet to pass the time, chatting with friends on a smartphone, or immersing oneself in a new novel on an eReader. Whatever the reason, chances are that screen time is on the rise.
It's important to balance out sedentary time with physical exercise and non-screen-related activities, like playing board games, listening to music, cooking, and engaging in other activities. But for those times when you are indulging in much-deserved mindless mobile activity, the least you can do is make the experience more comfortable while you enjoy your R&R.
Here are some great accessories worth considering that can help you do just that.
Blue Light Blocking Glasses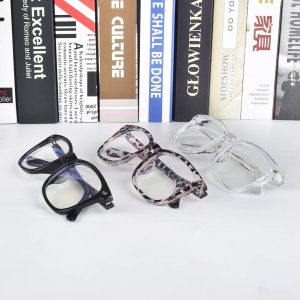 While many parents are eyeing (pun intended) blue light blocking glasses for their kids, they are also popular among adults, especially when your job requires spending 8-10 hours in front of a screen five days a week. The jury is still out on whether or not blue light glasses actually work. But even if just for psychological peace-of-mind, they can't hurt. The idea is that their lenses block the harmful blue lights that emit from electronic device screens, helping prevent or reduce symptoms like eye fatigue and strain, sleep disruptions, dry eyes, and even headaches. Options run the gamut, from cheap blue light glasses you can find in abundance on Amazon to more expensive ones from high-end brands like Ray-ban and popular retailers like Warby Parker.
Tablet Stand
After seeing my elderly mom using one of these for her iPad to more easily enjoy playing games without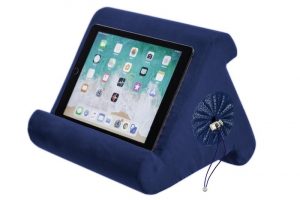 putting so much strain on her aching hands, I was intrigued. At home, I have been trying out the Flippy Tablet Stand that adds a useful twist: an interior pocket with a cordlock that can hold eyeglasses, a stylus, your phone, and other accessories you want to have close by. It's made of lightweight foam with an ultra-suede cover and comes in a ton of different colors and designs to match your personal style. It's a great way to get a kind of laptop feel from a tablet when you aren't using it for productivity purposes, but for having a relaxing video chat with a friend, shopping online, playing games, or watching movies.
Under-Desk Cycle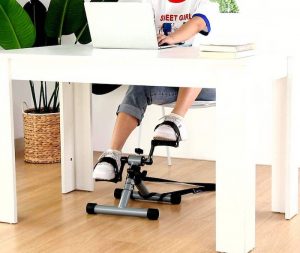 This isn't so much about increasing your comfort as it about making you feel better during sedentary time. Even if you're scrolling endlessly through your Instagram account, that doesn't mean you can't keep moving while doing it! These handy exercise devices sit below your desk, or even at your feet at the couch or table, allowing you to slide your feet on the pedals and cycle away while you remain seated. Relax with the eBook of that new autobiography you've been dying to read while getting some exercise at the same time. Or binge watch that thrilling true crime docuseries while pushing your legs to the limit. There are so many different options, ranging from cycles you can grab for about $50 like the TODO Mini Exercise Bike Foldable Pedal Exerciser, to ones that are more elaborate and cost in the hundreds, like the Cubii Exercise Seated Elliptical Trainer. The latter model is used with your feet placed flat on pads versus pedals. Start with a simple stationary pedal exerciser to determine if it's for you, then upgrade if you find that it's something you can get used to doing.
Grippy Case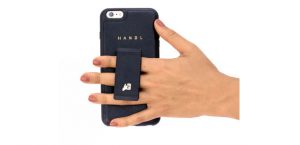 A protective case with good grip can make for a more comfortable experience, whether you're playing mindless app games, watching videos, or typing away in Messenger. I personally love the Handl case because not only do some of the models have a nice textured back to offer great grip. But they also have a built-in handle (hence the name) that sits flush with the back of the case when you aren't using it. When you need it, pull out the handle using the elastic brace system and wrap your fingers around it for a more secure hold. The elastic brace can also be used as a kickstand for watching video hands-free. Now, you can lie down in bed watching guilty pleasure reality shows and not have to worry about finding a pillow to prop your phone up.
Extra-Long Charging Cable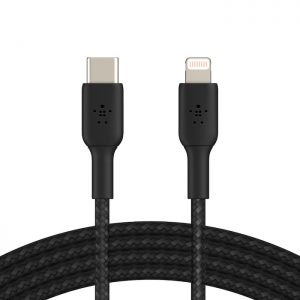 How many times have you been deep in the throes of an important Twitter conversation only to have to stand up tethered to an outlet or with your arms outstretched over to the coffee table because your phone is dead and has to stay plugged into the wall outlet or it will shut down mid-upload? Sure, wireless chargers are great. But if it's on the side table, kitchen counter, or night table, you can't comfortably continue to use your phone while it's charging. An extra-long charging cable can totally come in handy in these instances. Run the cable all the way from the outlet on the wall to the other side of the couch so you can keep the conversation going without missing a beat. Brands like Belkin offer a wide or range of durable cables in a variety of lengths: look for one that's at least three metres (10 feet) for maximum flexibility in placement.