Sustainability is at the forethought of many corporations, today. Manufacturing and technology companies – small and large – are working together to design sustainable applications to ensure waste is reduced and that innovation continues to build-up a circular economy.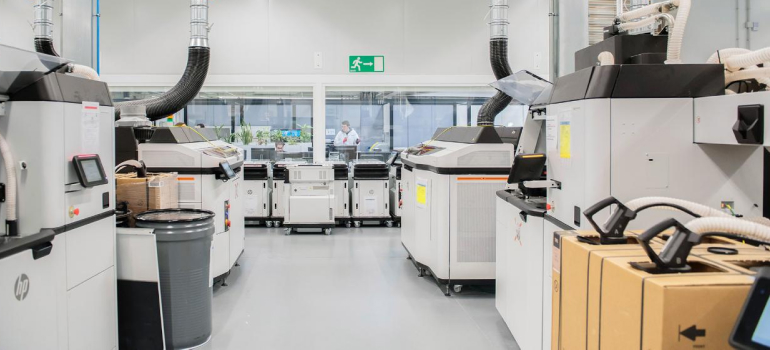 Ford and HP announced this spring their collaboration to transform already-used 3D printed powders and parts into auto components for Super Duty F-250 trucks, creating closed-loop on waste. Recycled 3D printing waste is being used to manufacture injection-moulded fuel-line clips, which have better chemical and moisture resistance than conventional versions, are 7% lighter and cost 10% less.
Quebec-based company, Lavergne played a vital role in transforming the moulds and discarded powder into high-quality plastic pellets, suitable for injection moulding. After being moulded into fuel-line clips by Ford supplier ARaymond, the clips can be installed on the Super Duty F-250, with future plans to expand to other existing vehicles.
The Ford research team has identified 10 other fuel-line clips on existing vehicles that could benefit from this innovative use of material and are migrating it to future models. Ford has a companywide goal to achieve 100% sustainable materials in its vehicles.
I asked Debbie Mielewski, Ford Technical Fellow, Sustainability, about 3D printing at Ford.
"In 1986, 3D printing was called stereolithography, and Ford bought SLA 3, the third 3D printer ever made," replied Mielewski. "The machine couldn't produce a single truck, but it could be programmed to create an infinite variety of shapes and parts. So, we have had extensive experience with 3d printing for many years and have kept pace with new technologies as they develop."
"Today, Ford uses 3D printing for tens of thousands of prototypes and plant final assembly fixtures every year," explained Mielewski. "Workers in final assembly appreciate the new 3D printing fixtures due to their light weight and ability to be customized.  If one breaks, it can be replaced quickly. Ford has launched 3 production 3D printed parts in the past couple of years.  Although not in high volume, these printed parts serve their purpose in niche vehicle applications where cutting an injection moulding tool takes too much time and resources."
Ford will continue to find sustainable applications for 3D printing waste revealed Mielewski. She remarked that one application will be, "Adding recycled PA12  powder to polyurethane foam to improve mechanical, physical and sound absorption properties for under the hood applications," As well, Mielewski stated that Ford is, "Exploring PA 12 powder as reinforcing layer to improve corrosion and stone chip resistance on chassis components."
I asked Ellen, Jackowski, Chief Sustainability and Social Impact Officer, HP, to elaborate on the connection between 3D printing and sustainability.
"The potential of 3D printing to make a sustainable impact on the Earth is just beginning," began Jackowski.
"Regardless of company size, 3D printing has revolutionized manufacturing, enabling even the smallest companies to develop, iterate and distribute goods more efficiently and sustainably. Whether producing component parts for many applications, or medical devices and dental aligners for health and wellbeing, 3D printing provides manufacturers with vast opportunities to create sustainably-produced full-customized physical goods that are likely to shape the future of many industries," shared Jackowski.
"HP's 3D printing solutions," added Jackowski, "are anchored by responsible materials use and streamlined production based on personalization. Taken together, HP's 3D printing solutions lead to less waste.
"Our collaboration with Ford," said Jackowski, "extends the environmental benefits of 3D printing even further, showcasing how we are bringing entirely different industries together to make better use of spent manufacturing materials, enabling a new circular economy."
"From the industry perspective, 3D printing can help to lower carbon dioxide (CO2) emissions – by 130.5 to 525.5 Mt by 2025, including a 5% reduction in manufacturing emission intensities – through the localization, simplification and shortening of traditional supply chains –  from pre-production, to production, inventory, product use, and service," said Jackowski. "While the industry as a whole continues to chart towards achieving greater sustainability accomplishments, HP's own printers are certainly part of this solution to create technology that doesn't simply take from the environment, but responsibly gives back."