Every small business uses software and tools, whether it's financial software for keeping track of accounting, tools for accepting payments, or programs for managing inventory or staff. But there are apps that are worth adding to the mix, too.
Through the years, I have covered all kinds of apps that are suitable for small businesses, including apps for project management and communications, apps for messaging among colleagues, and even apps for filing your taxes.
Here are 5 more worth considering if you're running a small business and could use some assistance in additional areas.
1.Increasing Productivity: RescueTime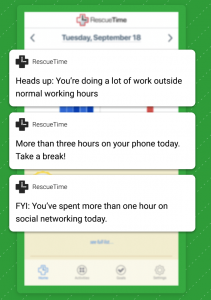 Unlike most other small business apps, RescueTeam focuses on something that is often forgotten: time management. Yes, there are a wealth of scheduling apps, but this app actually runs in the background of your smartphone, monitoring how much time you spend doing different things to notify you when you might need to take a break or switch to another task. At the end of the day, you'll get a report letting you know what you spend the most time doing.
Maybe you realize you spend far too much time reading and replying to e-mails, prompting you to look for a way to reduce that in order to increase productivity. Or, set timers to limit yourself to only 30 minutes per day on e-mail. Or perhaps, it's an awakening as to how much time you actually spend scrolling through social media accounts (maybe it isn't just 20 minutes or so every day as you thought.) Tempted to scroll Reddit or Imgur during business hours? The app can block these distracting websites, too.
The Premium option starts at $6.50/mo. and adds the ability to track time automatically, block distractions, and receive reports and tools to help you better manage each day. Features vary depending on the platform you use, including desktop, iOS, Android 8, or Android 9+, but check the handy chart to find out what you can't and can't do from each device, including what features are free and which require the Premium subscription.
2. Scheduling staff: Connecteam Scheduling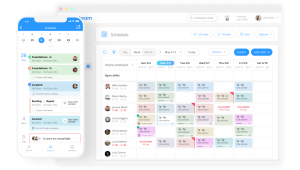 If your job involves scheduling various team members for shifts or specific on-site jobs, the Connecteam app can come in handy. Simply plug in the dates, times, and jobs that need to be done by whom and everyone can keep track of where everyone else is at all times. Jobs can be time managed to ensure that you meet deadlines and shifts will always be covered as needed. Create a recurring schedule every week or month or custom schedules day by day; and add things like bulk actions if there's a recurring team meeting every Friday at 8 a.m., for example.
The app can also be used for communicating with the team, so you can ask someone if they're able to pick up an extra shift, for example, or see how much longer Joe might need on the jobsite and if he can fit another quick job into his schedule.
3. Manage social media accounts: Hootsuite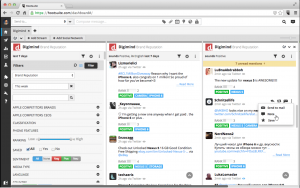 Hootsuite is one of the bigger and better-known brands on this list, offering robust tools for managing a small business' social media presence. Any small business knows that being present and active on social media is critical for acquiring new customers, reaching a new generation, and building your brand. With Hootsuite, you can manage all of your social media channels in one spot, including scheduled posts, notifications, and even mentions of your brand online by others so you can reply accordingly, and in a timely fashion.
It offers support for the biggest social media platforms, including Facebook, Twitter, LinkedIn, Google+, Pages, Foursquare, Instagram, WordPress blogs, Vimeo, Tumblr, Evernote, Flickr, Mailchimp, Slideshare, and Storify. Reply to comments right from the app and keep on top of how your brand is doing and what people are saying about it.
Manage up to five social accounts for $19/mo. with unlimited scheduling or upgrade to the $99/mo. plan, which gives you 10 social profiles and up to three users along with unlimited scheduling. For larger businesses, pay $559/mo. for unlimited scheduling along with up to 35 social profiles for up to 10 users.
4.Sending newsletters: Mailchimp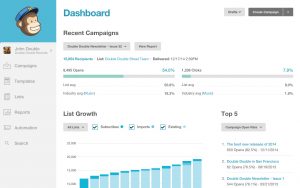 Another big name, Mailchimp is one of the top brands when it comes to e-mail outreach. Not only can you use it to send personalized e-mail newsletters and other promotional content directly to subscribers, you can use behavioural targeting tools to tweak e-mail content based on individual user activity. It can also be used to create landing pages on your company website, sign-up forms, and be used within Facebook ads.
A great tool to have in your marketing arsenal, Mailchimp is lauded by small business owners as being easy to use with customer service personnel available 24/7. It's not too costly, either, at just $10/mo.
5.Find outsourced help: YouTeam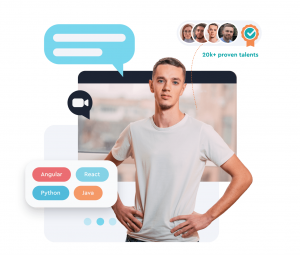 Especially when it comes to small businesses, chances are you might need a certain skill set every now and then but don't have the budget to hire someone full time. That means outsourcing the work to another company or individual. But how do you find the right person? YouTeam is an online network of trusted companies located in Eastern Europe and Latin America that provides talent in areas like remote software engineering or development.
Technically, it isn't an app you can access from your mobile device but rather a service you can access from a desktop, tablet, or smartphone via the web address. Every person is vetted for skills, including independent developers who join looking for work. Indicate what you are looking for and, within 48 hours, the app will use an intelligent matching process to find the right person or team for the job. Along with the team comes a dedicated manager who can help with legal or communication inquiries and secure methods of payment.
Costing varies based on the person or team's level of experience and specific job requirements.
More on Small Business