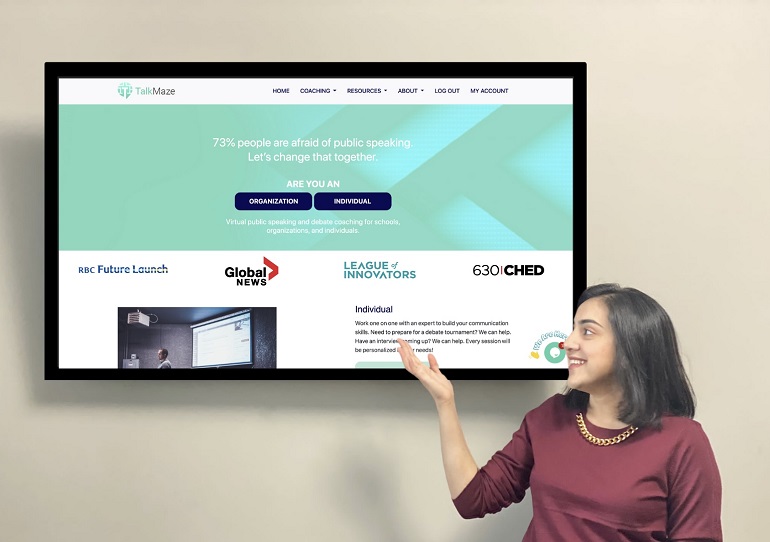 A University of Alberta undergraduate student will be representing Canada with her start-up, TalkMaze, at the Global Student Entrepreneur Awards (GSEA). After beating out students from all over Canada to win the national championship, Ghalia Aamer will be moving on to the global competition taking place in 2022.
What is TalkMaze?
"TalkMaze empowers students around the world through a virtual hub for public speaking and debate training," shared Aamer.
"We partner with schools and organizations to help them implement and sustain public speaking programs for their students. We also offer a variety of resources for individual students including on demand courses, an online forum, and virtual one on one coaching. At TalkMaze, we're on a mission to make effective communication skills a priority worldwide."
What does TalkMaze mean?
"The name TalkMaze really stems from the struggle that so many people face with public speaking," explained Aamer. "In fact, according to the National Institute of Mental Health, over 73% of people fear speaking in public. As a result, communication really is like a maze that we have to navigate – one that often has different paths depending on changing settings such as the audience or the environment. Communication is important on a daily basis in the workplace, education, and even social life. We're constantly navigating a maze when it comes to communication and our goal at TalkMaze is to give you a map to get around any communication maze that comes your way."
Aamer's motivation for starting TalkMaze comes from personal experience.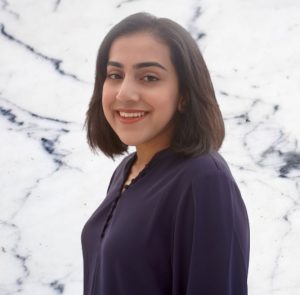 "I struggled to speak up when I was younger," shared Aamer. "Joining the debate team changed my life. I gained self confidence that I could never have imagined."
"In tenth grade, I began volunteering as the coach for my former junior high's debate team to empower younger students the same way debate had empowered me. The number of students interested in joining the team grew from twenty to eighty and we had to start rejecting students due to a lack of resources. Having felt like I did not have a voice when I was their age, I knew the power of debate and it was disheartening to have to deprive students of such an incredible opportunity.
Aamer also shared, "I realized that less than 15% of schools offer public speaking and debate programs despite the fact that over 73% of people are afraid of speaking in public. I knew something had to change and launched TalkMaze to empower students through communication skill building."
"I merged my passion for business with my love for public speaking and debate by launching TalkMaze."
Aamer began to flex her entrepreneurial muscle years ago with her first company, Toon Tutors, which connects students with tutors who have first-hand experience with school curriculum.
Aamer appears confident and ready for the global competition, which comes with a $25,000 USD cash prize for first place. I asked her to describe her pitch.
"I cannot wait to represent Canada at the Global Finals," said Aamer.
"What truly distinguishes TalkMaze is the passion that this company has been built on. From our pitch to everyday working in this business, our team is dedicated to what we do because we have all experienced first-hand the power of public speaking."
"We were also able to set TalkMaze apart by demonstrating immense traction since launching only last year, in the middle of the pandemic. We have already helped hundreds of students, been selected for multiple startup incubator programs, and been featured on major news outlets. The support we've received in only our first year of business is a key indicator of all that is ahead for TalkMaze."
"This is really just the beginning, and I cannot wait for all that is to come. The Global Student Entrepreneur Awards will be a pivotal opportunity for us to take TalkMaze to the international level."
What advice does Aamer have for Canadian student entrepreneurs?
"Go for it! Nobody ever has it all figured out," replied Aamer. "You do not need to wait until you graduate high school or postsecondary. You can start now."
"Build your support network early. Talk to peers, teachers, and mentors to find the resources in your community for young entrepreneurs. There are tons of people willing to support you as long as you have the guts to get out there and ask! Don't be afraid to ask for help. The worst that can happen is someone will say no."
The GSEA is a premier global competition for students who own and operate a business while attending college or university. Founded in 1998 by Saint Louis University, GSEA is now an Entrepreneurs' Organization program.
Like this?  Read more articles on  STEM