While holiday shopping can be fun, it can also be frustrating when you're trying to find that perfect something  for the person who seemingly has everything. There's always someone on your list who is tough to buy for because they have very specific tastes or tend to buy things they want before giving anyone else a chance to buy it for them.
Thankfully, tech spans so many interesting categories, which means there are plenty of gift ideas the tough-to-buy-for friends and family members will actually use and appreciate.
HP Envy Inspire 7955e Printer
Once upon a time, a printer was a standard part of any home office or computer room set-up. Nowadays, with so much going digital, a lot of families and individuals don't even own one. But everyone thinks they don't need a printer at home until, well, they need a printer at home. This is more so the case than ever as people are adopting work-from-home or hybrid work schedules. Whether it's to print an important document that requires a signature, for kids to print virtual assignments from the cloud, or even recipes or back-ups of event tickets, more reasons pop up than people realize. Even if a printer is only used occasionally, it's always useful to have one at home to avoid that quick trip to Staples or Kinkos.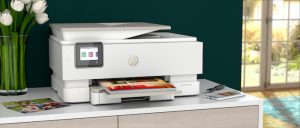 The new HP Envy Inspire 7955e is a neat option in that it also offers custom two-sided printing of photos, which makes it easy to create cards and other crafts for personal projects as well. As a smart printer, it also works with the HP Smart app, which allows you to do things like advance-scan books, receipts, and store easily searchable files. You can feel good about the purchase as well, as with every page printed using the HP+ feature in the app, HP will protect or restore forests "in equal measure." Available for $330, you have the chance to win one with our contest.
SPOT Gen4 Satellite GPS Messenger
If you know someone who loves the great outdoors, they probably have everything they need, from a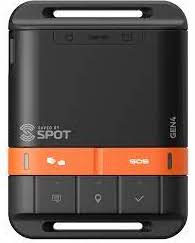 fitness tracker to a great hiking backpack, water bottle, and other relevant gear. But I bet one item they never thought of was a satellite GPS tracker. The new SPOT Gen4, which is $165 on sale (regularly $190), provides a critical, potentially life-saving line of communication once the person finds themselves in an area without cellular service. Should something happen, the owner can send their GPS location to family and friends, or even emergency services, via the push of a button. It can operate in extreme temperatures and humidity and is dust and water-resistant. Power it up using four AAA batteries, with Energize Ultimate Lithium or NiMH rechargables recommended, one set of batteries will last for up to 1,250 check-in and custom messages. Small enough to fit in a pocket, the SPOT Gen4 also includes SPOT Mapping for using it to save favourite locations you might want to visit again and share the journey with others. Keep in mind that the owner will need a service plan to access features like unlimited help, SOS, and basic tracking. Options include both year 'round (US$11.95/mo. with a US$19.95 activation fee) or seasonal, starting at US$14.95 for a one-month minimum. Keep in mind that the SPOT Gen4 is back ordered by three weeks, so if you want to have this arrive in time for Christmas, you'll need to order it ASAP. Or, you could get lucky and win one with our contest.
Smart Photo Frame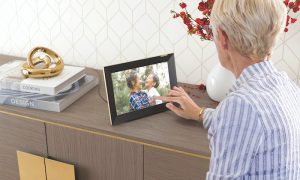 A smart photo frame is one of those items people rarely buy for themselves but that make great gifts as they would almost always be used. The concept is simple: place it where you would normally have a framed photo, like on a side table, shelf, or even mounted on the wall (though you'll have to run a cable), then use your smartphone to upload digital photos to the digital frame to display a fun and ever-changing slideshow. The newest model from Nixplay has a 10-inch 1,280 x 800 touchscreen that makes it easy to flip through photos via the touch of a finger. But the best part is that it works with a photo sharing app that allows you to easily upload photos from virtually anywhere. It's the perfect gift for grandparents who don't need another small appliance or pair of pyjamas. You can handle all the work so all they need do is plug it in. With 8GB of storage in this model, you can continue to add photos of the family and grandkids to keep them thoroughly entertained with new content every day. Grab it for about US$210.
Streaming TV Subscription Service

Most people nowadays have a subscription to one streaming service or another, often multiple. But there are plenty of ones beyond the usual that would be perfect for cord cutters that don't have access to any linear networks via a cable or satellite TV subscription. Netflix, Amazon Prime Video, and Disney+ are among the most common streaming services TV lovers on your list might already have. But there are others worth considering. If they love reality TV as a guilty pleasure, consider Hayu, which recently announced its availability through compatible webOS-enabled LG smart TVs (those running webOS 4.0 through to webOS 6.0). They can access all the best reality shows from the past and present, from Below Deck to Love Island. Hayu is also easily accessible through Xbox consoles, Samsung TVs, and other devices. A subscription is $5.99/mo., so you can set them up for a year for $72 (just make sure to cancel or the subscription will auto-renew). Other options include services like Bell's Crave, which starts at $9.99/mo. for a mobile-only subscription, Paramount+ ($5.99/mo.) for access to shows like Survivor, NCIS, Blue Bloods, 60 Minutes, and other CBS network series, and BritBox for BBC and ITV programming from a variety of genres, which is $8.99/mo. or $89.99 for the year.
Computer Docking Station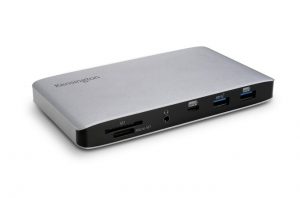 Especially for people who are newly working from home, they are probably realizing they have more gadgetry than they thought and need a way to connect it all at their desks. The Kensington SD2500T Thunderbolt 3 and USB-C Dual 4K Hybrid Nano Dock with 60W PD might be a mouthful, but for good reason: the dock, which sells for about $380, is an ultra-compact device that serves as a full-featured Thunderbolt 3 laptop docking station. Compatible with both Windows and Mac, it has single 8K or Dual 4K video output, 60W power delivery, and UHS II SD 4.0 card readers. Use it with the free Kensington DockWorks software and enjoy a three-year warranty.
Want the chance to win one? Check out our contest and you could be the lucky one to receive a Kensington docking station of your own.