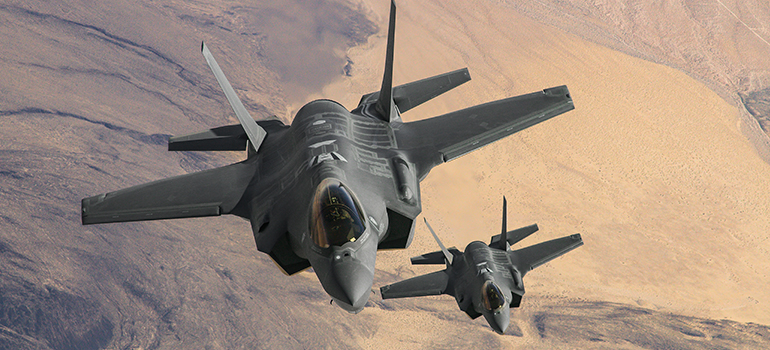 For more than 20 years, GTA based Ben Machine has been involved in the design and manufacturing of the actuation system for the Lockheed Martin F-35 aircraft. The actuation system controls everything which causes the aircraft to manoeuvre in flight.
Explains Michael lacovelli, CEO, Ben Machine Products Co. Inc., "The engineering and production of highly complex dip-brazed enclosures led Ben Machine to become a partner on the development and production of the actuation systems for Lockheed Martin's F-35 aircraft."
Since its beginnings in the 1970s,  Ben Machine has built its machining business into an innovative supplier of machining solutions for the niche military industry. "If you had a problem that could not be solved, Ben Machine developed a solution," added lacovelli.
'We are not just a build-to-print manufacturer," said Iacovelli. Regarding the F-35, Iacovelli added, "Our customer leveraged our manufacturing design capabilities to develop the mechanical components of an actuation system that was extremely cutting edge. New fixturing techniques, structural supports and design elements were added to this system to maintain dimensions and tolerances that were otherwise unachievable in the marketplace."
Today, Ben Machine provides advanced manufacturing services in engineering, multi-axis CNC machining, high precision sheet metal fabrication, certified welding, complex assembly, optical assembly, painting, chromate conversion, anodizing and much more. Ben Machine also manufactures highly intricate investment castings, dip-brazed enclosures and composite components.
"As the only company in North America which can deliver the required specifications [for the F-35…], this has enabled the company to maintain and create jobs despite the economic downturn caused by the COVID-19 pandemic," shared lacovelli.
Pandemic Response
Ben Machine remained operational throughout the pandemic as an essential service to support military safety and security and other manufacturing, but also to help provide personal protection equipment (PPE) in Canada.
Explained Iacovelli, "At the outset of the pandemic, when PPE was in short supply, Ben Machine was asked by a local hospital to come up with a solution to provide re-usable face shields for their front-line workers. By that afternoon, in partnership with one of their customers, a simple design was created for a re-usable face shield to replace the disposable ones currently in use. Ben Machine manufactured & delivered 500 of the face shields within one day and within one week they delivered 500 more for a total of 1,000 face shields. Eventually, this effort resulted in the supply of 150,000 face shields to the Province of Manitoba."
Added Iacovelli, "Employees weren't just involved in the design and build at the facility. They took face shields home and assembled them with their families. This went on for months without complaint and everyone felt great about doing something positive to support our frontline workers."
Iacovelli is clearly proud of the Ben Machine team. He described Ben Machine employees as, "A large team of skilled people, working together to build products that benefit society."
Co-op Opportunity for Canadian Students
It was also impressive to learn about its commitment with Canadian co-op programs, which provide invaluable work experience to college and university students.
The benefits of the F-35 project have enabled the company to look to Ontario post-secondary schools for manufacturing, design and tech talent.
"The pandemic has created a true labour problem for our industry," shared Iacovelli. "Commercial aerospace and automotive manufacturing were completely crushed. Highly skilled engineers, technologists, machinists and programmers working in these areas suddenly found themselves laid off or furloughed, with no prospect of returning to work for years. The commercial aerospace industry isn't expected to get back to pre-pandemic levels until somewhere between 2023 and 2025. The commercial automotive industry isn't much better."
"As a result, there has been a mass exodus and drain of labour and talent," stated lacovelli. "[We] have seen a significant tightening of skilled labour over the past year where it is becoming harder and harder to find qualified people."
"In order to counteract some of this concern, Ben Machine has maintained strong relationships with local academic institutions and had great success with offering co-op positions to students from various schools," said Iacovelli. "We have had students from Humber College, Seneca College, Georgian College, University of Toronto, McMaster University and University of Ottawa."
"Not only has our student program grown in size, but it has grown in breadth."
"We originally only offered programs for the summer term, but now offer positions across the year. With the manufacture and supply of face shields during the pandemic, we were able to offer a significantly larger number of positions to students who were finding it difficult to find work. They not only had the opportunity to work and learn, they had an opportunity to participate in helping front line workers during the outset of the pandemic."
"We see our student programs as a perfect way to develop the future key employees for our business," said Iacovelli. "Many students have continued on with the company following their co-op requirements and the completion of their education. The program is here to stay."