Tech in the year 2022 has already kicked off with a bang. The annual trade show for the technology space, CES, presented exciting innovations that will be coming later this year, some that are already available, and others that showcase potential for the future.
From tech gear for the home, to convenience tech for business, and products that were just plain cool, there was plenty to see. But a few products in particular stood out.
BMW iX Flow Colour-Changing Concept Car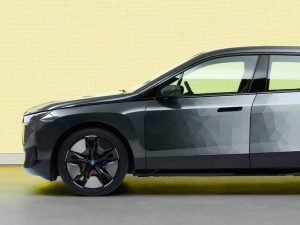 BMW was arguably the most talked about, and certainly most viral, innovation from the show. The iX Flow, a concept car, literally changes colour before your eyes. It works using a layer of electrophoretic film that contains microcapsules the size of human hairs, each charged with black, white, or coloured particles. When an electric field is applied, the colour appears. Based on E Ink technology, the ability to change the colour of the car is useful beyond just the cool factor: the exterior colour of a vehicle can impact the temperature inside so you don't have to crank the AC or heat, thus also consuming less fuel. How it reflects the sun can also impact the wear and tear of the interior material. Whatever the reason, the technology is a sight to behold.
Samsung Freestyle Portable Projector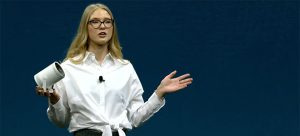 While there are plenty of portable projectors on the market, there are a few reasons the Samsung Freestyle stands out among the pack. First is the cradle, which makes it easy to rotate the projector up to 180° so you can project an image up to 100 inches in size onto a wall, table, floor, or even ceiling. Second is the ability to connect it directly to a standard E26 light socket where it can be used to project video onto a table, for example, or for playing music since it offers 360° sound and smart features with built-in streaming, mirroring, and casting from Android and iOS devices. Control it by voice and even use it in ambient mode for mood lighting. It's a versatile, battery-operated device you can take with you, but also find plenty of uses for in the home as well.
LG StanbyME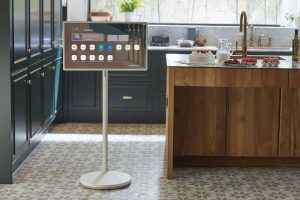 It's a pretty simple concept: a TV on wheels. This is something, after all, that has been a staple in every public school for decades. Though back then, teachers wheeled in a tiny CRT TV to play a movie or school-related video from a VHS tape popped into a connected VCR. With the LG StanbyME, it's a totally reinvented, high-tech concept. The stand is long and thin and the TV a 27-inch LCD that is smart, touch enabled, and can swivel on its base. The idea is for it to be used as a second screen in the home office, for video calls, in the kitchen for playing recipe videos or a favourite TV show or the news while you cook, or however a family sees fit. Get up to three hours of viewing per charge, and connect a source via HDMI or USB, or wireless stream from an Android or iOS device.
John Deere Fully Autonomous Tractor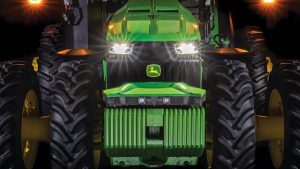 Technological innovation isn't just about consumers and the home, or even the typical 9-5 office. It's also happening across every sector, including farming. That's why it's no surprise that John Deere held a keynote address at CES. The company's head-turning announcement was of a fully autonomous tractor that they say is officially ready for large-scale production and will be available to farmers later in 2022. The 8R tractor comes with a TruSet-enabled chisel plow and GPS guidance, functioning much like a robot vacuum, mop, or even lawn mower, but on a much, much bigger scale.
The focus for the tractor is to "feed the world," helping farmers work through the challenges of having less available land and access to skilled labour. Farmers can remotely control the tractor from the John Deere Operations Center Mobile, swiping from left to right to start then monitoring it from their mobile device. The Center Mobile provides access to live video, images, data, and other metrics and farmers can adjust the tractor's movements remotely, including speed and depth. It's an exciting product that many people will reap the benefits of, even if they don't realize it.
Withings BodyScan Connected Health Station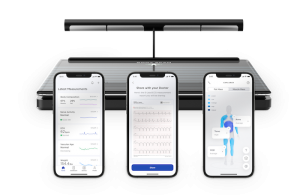 Withings is a leader when it comes to health-related tech devices, from smart scales to thermometers, blood pressure monitors, and more. The Body Scan Connected Health Station combines a multitude of health metric calculations in one smart device for the bathroom that can help you not only keep on top of progress and health, but also maintain a log to present to a medical professional. It analyzes data like segmental body composition, heart rate, and vascular age along with nerve activity, heart rhythm using a six-lead ECG, and, of course, weight.
At first glance, it looks like your basic smart scale, but attached to the tempered glass platform with four weight sensors and 14 ITO electrodes that sits on the floor is a retractable handle you pull up and hold for further measurements from four stainless-steel electrodes. See the stats both on the 3.2-inch colour screen and in the partner app. Even with weight and body fat, you'll get more than the usual number and percentage, but also percentage of things like water, visceral fat, muscle and bone mass, and extracellular and intracellular water as well as readings for specific body parts, like torso, arms, and legs. Nerve activity, meanwhile, is measured via sweat gland activity in the feet to determine if there's any sign of impaired function based on reduced sweat gland innervation.
The Body Scan won't be available until the second half of 2022 and it is currently seeking FDA clearance in the U.S., and might not arrive in Canada until after that. Nonetheless, it has some tremendous potential to reinvent the concept of the bathroom scale.
LG CLOi ServeBot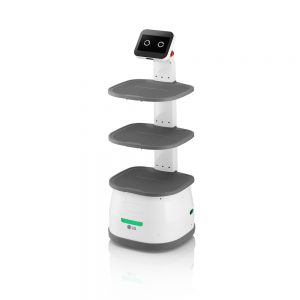 LG revealed its CLOi line of commercial service robots several years ago at CES, but this year, one particular robot is finally ready for primetime. The CLOi ServeBot is designed for environments like restaurants, retail stores, and hotels, navigating busy environment to bring orders to customers. Each one has three shelves, each of which can hold up to 22 lbs. of items for a total of 66 lbs. per trip. Pre-program the robot with a floor plan and it can dutifully navigate through, avoiding obstacles on the way, to bring a drink order, a pair of shoes from the back of a shop, or even a set of towels to a customer in their hotel room.
Each CLOi ServeBot is loaded with tons of sensors to help it do its job, including a LiDAR detector, 3D camera, Time of Flight (ToF) sensors, and bumper sensor. Use the 9.2-inch touchscreen at the top to tell it where to go or what to do, and program voice announcements, music, and even cartoon eye animations as it greets patrons. The 52.7-inch tall (about 4'3") robots can run for up to 11 hours per charge and hold items as large as 19.7 inches wide by 15.75 inches deep on each shelf. It is set for availability soon in the U.S. through certified integrators who will be fully trained on the technology.
-30-
Related:
The Hybrid Work Environment is Here to Stay
5 Cool Under-the-Radar Products Being Shown at CES 2022