It is not surprising that TV streaming has been accelerated by the pandemic, but who is hooked and what are Canadians watching?
Consumer research conducted late last year by Hypothesis Group gleaned TV streaming insight from 2510 respondents, while also determining that Roku is the #1 TV Streaming Platform in Canada, based on hours streamed.
"We are proud to lead the Canadian TV streaming market.  The Roku brand is growing in Canada with introductions to new streaming devices, original content, and new Canadian entertainment with partners like CBC, Global News, and Crave," said Arthur van Rest, VP International at Roku. "Providing simplicity, entertainment, and value is clearly resonating with Canadian consumers, who are choosing our platform to stream TV."
According to Roku's  The Streaming Decade survey, streaming is prevalent in Canada with 4 in 5 Canadians classifying themselves as TV streamers.
In fact, all audiences are hooked on TV streaming: Gen Z (98%), Millennials (96%), Gen X (86%) and Boomers (68%). Boomers agreed that the variety of TV streaming content outmatches cable/satellite/telco TV, and 65% said that streaming in more convenient than traditional TV.
Sports viewing via TV streaming has also reached new heights as viewing is catching up to traditional pay TV sports, with 1 in 3 audiences using streaming services.
The Streaming Decade survey also revealed that when content concerns 'what people are talking about' audiences jump on the TV streaming bandwagon three and half more times that traditional pay TV to be in on the conversation.
TV consumers have easily and safely turned to streaming for entertainment at home, it seems. Advertising and content creators are contributing to its success as an at-home service that is valued. Compared to cinema and sports tickets, TV streaming can be a cost-effective option, too.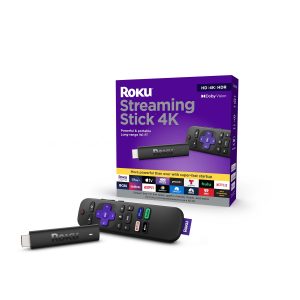 Canadian Roku users are streaming a wide variety of entertainment on the Roku platform, now including live programming and new movie releases, which provides consumers access to thousands of free and paid streaming channels.
Roku Streaming Stats
In 2021, the Top Ten TV searches were:
Yellowstone
TSN Originals
CBC Tokyo 2020 Replay
Rick and Morty
Paw Patrol
Grey's Anatomy
Game of Thrones
South Park
Friends
CBC News Live
In 2021, the Top Ten Movie searches were:
National Lampoon's Christmas Vacation
Elf
Home Alone
The Boss Baby: Family Business
Venom: Let There Be Carnage
A Christmas Story
Space Jam: A New Legacy
Paw Patrol: The Movie
Dr. Seuss' The Grinch
Christmas with the Kranks
More articles on Streaming