Super Bowl LVI will kick off on Sunday, February 13, and whether you're actually interested in football, a bandwagon jumper who watches the one big game every year, or you're just gearing up for the musical half-time show, the event is a great time to gather with close friends and family.
With the right spread of food, flowing drinks, and ambiance, it can become a night to remember. However, if you decide to host, you want to impress with the proper gear that ensures a favourable viewing experience. It's no surprise that many TV manufacturers offer special deals and sales leading up to the Super Bowl. And while a good TV is essential, it isn't all you need.
A Big Screen TV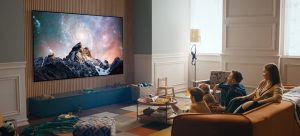 Let's begin, however, with the screen. No one wants to be invited to a Super Bowl party only to realize they'll be watching the game on a tiny, standard-definition television. If you have been mulling over the idea of upgrading your living room or basement theatre room TV, now is a good time to do it. You can have a big TV in time for the Super Bowl party and continue to enjoy it after.
I covered what's new in TVs for 2022 in a previous article but there are still wonderful 2021 and even 2020 model TVs you can get for a good deal. Ideally, get as big a size as the room (and your budget) allows. Feature-wise, when it comes to watching sports, refresh rate is critical: this describes how quickly the TV can refresh the image on the screen, so you can imagine why that's important for fast-moving sports. You'll see ratings like 60, 120, and 240Hz. While you might not necessarily need the highest number (this is valuable, however, if you are a gamer), at least try to demo the TV in store to see if there's any motion blur during fast action scenes, like while a person is running or a car is speeding down a street. Finally, if you will be having multiple people over for a gathering, the TV should offer a good picture at any viewing angle. You'd get the best result in this sense from an OLED TV, though these cost much more than traditional LED TVs. Nonetheless, check the specs on the TV and do a demo for yourself in store if you have the chance.
If you want to enjoy an even bigger screen experience, consider a projector and screen to watch the game at 100 inches or more in size. A dark room and blank white wall will do if you don't yet have a screen.
Speakers
Sound is important as well when it comes to the big game. You don't want to rely on the built-in TV speakers alone, so consider a speaker set-up that includes left and right channels, centre, and subwoofer for deep base. This will ensure that everyone can hear the action beautifully, as if they were right there.
If you don't have the space or budget for such a set-up, consider investing in a good soundbar that can provide enveloping, 360° immersive sound. It will enhance the experience so you hear every play and call with pristine clarity. We covered seven great soundbars in 2020, all of which are still available and offer great value today. But if you're looking for the latest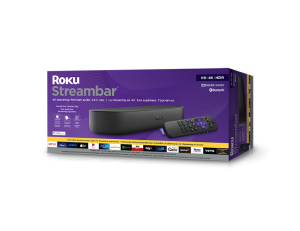 , you could consider one like the Roku Streambar, which provides Dolby Audio, clear dialogue so you can hear every play, and easy streaming of TV, including the game. Need to pause to run to the bathroom or want to rewind to watch a play again? You can control playback using the handy voice remote. We're giving one away in our contest, so enter for your chance to win.
Access to the Game Via Streaming Subscription
Many Canadians have cut the cord, which means they may not have access to the Super Bowl via its home network channel – NBC this year – or whatever Canadian affiliate will be broadcasting the game on the big day. But you can watch via a streaming service if you have the right one. DAZN, which costs $20/mo., provides streaming access to all NFL and MLB games, including the Super Bowl, along with a variety of other sports. Since you can cancel anytime, you could theoretically pay for one month to get access to the Super Bowl and cancel come March.
Once subscribed, access DAZN on the big screen by using a streaming stick or media player like Roku, Apple TV, Amazon Fire TV Stick, and even popular gaming consoles. Right now, you can win an Amazon Fire TV Stick Lite with Alexa Voice Remote ($50 value) through our contest.
A Bar Fridge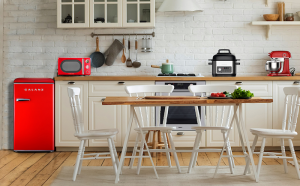 No one wants to miss even a second of the game, especially die-hard sports fans. Unlike other events, Super Bowl commercials are ones people actually want to watch. Consider investing in a small bar fridge to hold a supply of drinks so guests can grab another cold beer, soda, or water without having to leave the room and miss that memorable play.
While you might not want to spend the money to have one just for the game, bar fridges are handy year 'round. Keep one in the basement for your stock of wine, within your bar area, or for any time you have a party or gathering. Go totally retro in style with a model from Galanz, like the 3.5-cubic-foot single door fridge that comes in vinyl black, hot rod red, or bebop blue. Along with drinks, it can hold refills of dip, condiments, and more for quick and easy access. It's available through various retailers across Canada for about $360. The brand also offers smaller models, like the 1.7-cubic-foot option, which is about $186.
Smart Lights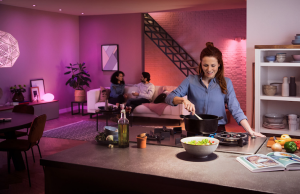 Impress guests with smart lights you can control from your phone to make them pulse or strobe in the colour of your favourite team whenever they score a touchdown or make a great play. One of the most popular brands in this space is Philips Hue, with lights that can be controlled by the intuitive app, allowing you to choose from millions of colours and various lighting effects.
Begin with a starter kit, which ranges from $140 to $240, depending on the bulbs and other additional items, including a Hue Bridge or smart button. Chances are, once the Super Bowl is over, you'll want to expand the system with additional lights for other rooms of the home, all of which can be controlled from the app individually or as a part of scenes.
Meat Thermometer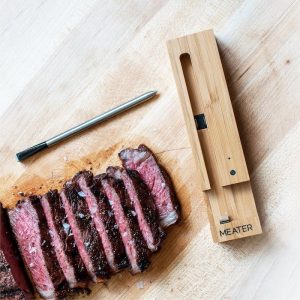 Canadian winters are no match for true Canadians who will happily head out to the grill in their boots and parkas to cook steaks, hot dogs, burgers, or chicken wings. With that said, since you won't be sitting outside tending to the grill as you would during the summer months, you'll want something to let you know when you need to go flip or check on the food. A smart meat thermometer like the Meater Plus includes two sensors and a probe that wirelessly connect to your phone and the app via Bluetooth to report the doneness of meat and poultry. It works from up to 50 metres away, so you can BBQ on the deck and get a notification when it's time to remove the food while you watch the game from the living room. Grab one for $150.
Air Fryer
If the mountains of snow and sub-zero temperatures make you reluctant to go outside, you can invest in an air fryer. It's the type of small appliance that you'll use far more than you ever thought and grabbing one just in time for a Super Bowl party could be a lifesaver. Ideal for heating up frozen finger foods, cooking chicken wings and tenders, and more, you'll get ultra-crispy food without worry about preheating an oven, messing up a baking tray, and having to keep an eye on cook times. Plus, you don't have to use oil to fry things like homemade French fries, allowing for a healthier alternative.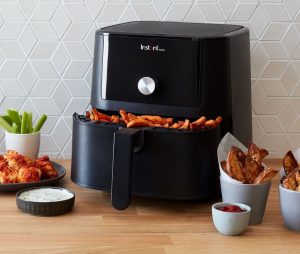 Instant Brands, the Canadian brand that brought you the mega-popular Instant Pot (now owned by Cornell Capital LLC), has branched out to make everything from blenders to air fryers. The Instant Vortex Plus 10-quart air fryer has customizable programs for chicken, potatoes, cookies, and other items and can fit up to six portions in its non-stick basket. It has auto-shut off technology so if you get sidetracked with the game and don't get to it until after the cook has long finished, you don't need to worry about setting off any smoke alarms or dealing with burnt mini pizzas. Plus, since it can also roast, broil, bake, reheat, dehydrate, and even rotisserie, it will be a staple tool in your kitchen all year 'round. At US$140 or about $189 Canadian, it's a worthwhile investment in time for the big game.