Tuesday, March 8 is International Women's Day, and the entire month of March is dubbed Women's History Month. Needless to say, the topic of women – particularly women who have made a difference – and women in the workplace, is top of mind this month. This year, the theme for International Women's Day is Break The Bias (#breakthebias). Indeed, despite how far we have come in recognizing the issues, it's no secret that inclusion, diversity, and gender equality still exist in the workplace.
HP commissioned global research firm Morning Consult to conduct independent research on this topic. It was conducted between January 24 and February 7, 2022 among a sample of 6,211 adults in the US, Canada, UK, Mexico and India. Results from the full survey have a margin of error of plus or minus 2 to 3 percentage points.  The research sheds some light not only on the current workplace climate, but also specifically how gender plays into it.
What Employees Need to Stay With a Company
There has been a shift of late towards employees holding more power and standing up for what is important to them, not accepting jobs that offer anything less. For those who are currently employed somewhere that doesn't meet their exacting standards, they aren't afraid to jump ship. The HP survey finds that 41% of Canadians are looking to leave their current company. While 69% cite a higher salary or wage as a reason, it's about far more than compensation. Many workers are looking for a better work/life balance, and it's likely that many who fall into this category are women, particularly working mothers (we highlighted several companies that support mothers in the workplace, something that needs to be done more).
HP doesn't break the data down by gender, but the survey finds that 37% of workers want a better work/life balance, while 29% want the opportunity to be promoted or work on another team that better fits their skills and interests. When it comes to having more flexibility on how and where they work, 27% seek that one, while 15% want to see their employer's focus more on corporate citizenship. Forty-four per cent of those who say they have no desire to leave their current employer note that it's because of not having flexibility in their jobs, while 24% cite a strong sense of inclusion and belonging at work as lacking.
What About Women in the Workplace?
The survey does provide some insightful data related to women in the workplace, specifically. Canadian women are less likely than men to apply for a higher-level job or express interest in being promoted at 25% versus 30%, respectively. Women were overall less successful in getting promotions than men this year, but this is likely related to the fact that fewer women even bothered to apply. Thus, it's tough to know if companies have made an effort to be more inclusive with women not taking the risk to actively apply for the positions. Because of this, only 29% of women received a promotion this year compared to more than half – 52% – of men.
More concerning is that 8% of women say they experienced sexism in the workplace, a stat that even came in above ageism, which was only experienced by 5% of respondents. "Generally, employees feel that their company has gotten better at fighting gender discrimination," reads the survey, "but some are unsure of the efforts made."
There is a silver lining, however. When asked to comment on the statement "My company is making more efforts in combatting discrimination towards gender in the workplace than in the past," almost half (49%) of respondents said they totally agree (strongly/somewhat); 24% said they strongly agree; 25% said they somewhat agree; and 30% neither agreed or disagreed. But there's clearly still some work to be done as 4% said they somewhat disagree and 3% outright strongly disagreed with that statement.
Most important is that we remain on the right track, and some workers fear the chance of moving backyards. They note that while there have been some gender discrimination efforts within their companies, overall, diversity, equity, and inclusion efforts declined in 2020 because of the attention being diverted to COVID concerns. It's the younger generation in particular who believe workplaces need to step up more for change, with 52% of Gen Z workers in Canada being more likely to believe that their company's efforts have decreased.
Why Hybrid Workforces Help Female Workers
It's no surprise that many workers are pushing for the hybrid work schedule whereby they divide their time between the office and a remote home office. If the pandemic proved anything, it's that many jobs can be done effectively from home.
This type of schedule is good for anyone, but it's particularly appealing when it comes to helping  advance women and minorities in the workplace, believes 36% of survey respondents, because it allows for a balance of both in-person time and flexibility.
Celebrate Women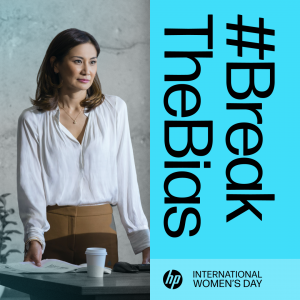 International Women's Day is a reminder to refocus efforts on equity and inclusion, with the lens not only on women but also minorities, LGBTQ+ members, and others who are often victims of workplace biases. Does your company have talented females in leadership positions, and when was the last time a female employee was promoted or given a raise? Is there pay equity in your company? Do you offer flexible schedules, where possible, to accommodate employees and allow for greater productivity and/or boosted morale?
We spoke with Mary Ann Yule, President and CEO of HP Canada, last year on International Women's Day, who noted that she supports unconscious bias training, requiring all managers to complete diversity and inclusiveness training prior to opening a requisition.
Going forward, she also noted the importance of offering mentorship and advocacy for young women in the workplace. "I think mentorship is incredibly important for both women and men," she emphasized.
Look at all these things not only on International Women's Day, and through Women's History Month, but all year long, and we'll be well on the way towards positive changes.
"We have a responsibility as humans," adds Yule, "to broaden our mindset and to help foster a workplace where every employee feels free to bring their authentic selves to work."
-30-

International Women's Day (IWD) is a global day held on March 8th each year celebrating the achievements of women and marks a call to action for accelerating women's equality. This month, it is our pleasure to shine an extra bright spotlight on several talented, inspirational women working in business and technology, and how they each represent this year's International Women's Day theme of #BreakTheBias. 
Visit Women & Tech throughout March to access new articles about amazing women in tech.