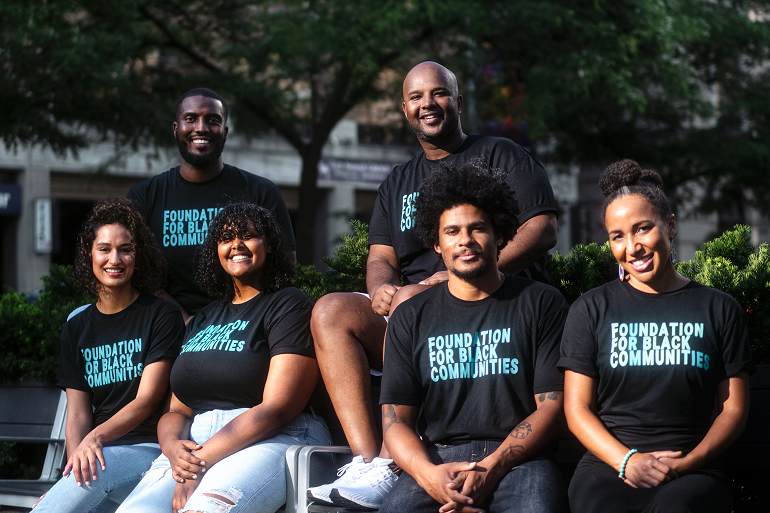 As we shine our spotlight on Canadian women entrepreneurs, trailblazers, and tech leaders in support of this year's International Women's Day #BreakTheBias theme, the ground-breaking research and work of Rebecca Darwent caught my attention.
Darwent describes herself as a social entrepreneur and philanthropic advisor who brings a catalytic approach to solve long-standing issues, particularly where there is racial bias in Canadian philanthropy. Stated Darwent, "I am redefining the 'do good' narrative by raising the voices and profiles of those who have been overlooked and undervalued."
Owner of Rebecca Darwent Inc., Darwent's mission is to activate a culture of generosity in Canada that is inclusive and impactful for people that are undervalued. Canadian philanthropy, I learned, is neither as inclusive or culturally representative as needed.
Darwent is also a supporter of The Foundation for Black Communities, which exists to ensure every Black person in Canada can thrive and all Black communities have agency in defining their own future. It is led by a working group of Black professionals within the non-profit, charitable, philanthropic and community development sectors, and supported by Black and ally leaders who work in academia, business, tech, social innovation, arts and culture, healthcare, law, and more.
I asked Darwent about her company and her recent keynote address about immigrant youth workforce development, and what tech companies can do better to adopt and lead diversity, equity, and inclusion in Canada.
Philanthropy that is inclusive is critical right now
"Global events of the pandemic, racial reckoning, economic crisis, and geopolitical war and conflict overwhelm us with the urgency to advance social good and cohesion," began Darwent. "Strategic philanthropy allows us to respond to the times."
"I am redefining philanthropy providing culturally informed services to individuals, families, and organizations looking to give back to Black and communities of colour," explained Darwent. "I provide philanthropic advisory, consulting, and speaking to advance the priority of advancing equity." Her area of expertise reinforces the need to #BreakTheBias in philanthropy programs in this country.
Shared Darwent, "Most donors want their philanthropic dollars to have an impact, but often find themselves not knowing how to have impact or where to start. That's where my services come in. I help to design giving strategies, identify giving opportunities, build learning opportunities, and provide accountability for donors to be proactive in their giving,"
The Foundation for Black Communities
"The Foundation for Black Communities was launched out of a deep need to address inequitable funding for Black-led and serving non-profits, charities, and grassroots collectives," stated Darwent.
"In the pandemic, Black leaders stepped up to deliver when the social safety net did not and are doing so without adequate funding. We achieve this through grant making, partnership, and policy," Darwent added.
"The Unfunded: Black Communities Overlooked by Canadian Philanthropy report," said Darwent , "found that for every $100 granted by Canadian philanthropic foundations, as little as 7 cents was going to Black led organizations. This alarmingly low investment demonstrated a lack of relationship and connection between traditional philanthropy and Black communities."
"To address this need," explained Darwent, "we mobilized to establish a philanthropic foundation dedicated to and led by Black communities."
Inspiring Immigrant Youth
A professional speaker, Darwent is a thought leader who speaks regularly on inclusivity, social change, personal development as well as entrepreneurship.
"It was a true pleasure to be the keynote address for the World Education Services National Town Hall on Immigrant Youth Workforce Development," shared Darwent. World Education Services helps people learn, work, and thrive in new places through recognizing the value of people's education and experience.
"I spoke on overcoming adversity, belonging, and resilience, sharing my experience graduating in the 2008 Great Recession to motivate and inspire the youth only audience to manage current uncertainties with the pandemic, recession, and racial reckoning, particularly as it applies to finding meaningful professional opportunities and career progression."
"I shared the importance of continuous learning and staying curious, how to build networks and become more connected, and offered a reminder that there is no top to your potential regardless of your background," said Darwent.
An advocate for appreciating one's worth and value, Darwent added, "While the times that we find ourselves in are unprecedented, we have tremendous capacity to develop our own roadmaps to navigating professional and personal change."
Diverse Voices Leads to Improved Wellbeing
I asked Darwent what advice she would give to employers to improve diversity, equity, and inclusion in Canadian tech.
"Tech companies, and all companies, have an opportunity to pause and listen to their teams," Darwent began. "I encourage leaders to not only listen, but also act on the advice that their diverse team members are offering and make changes for the long-term."

International Women's Day (IWD) is a global day held on March 8th each year celebrating the achievements of women and marks a call to action for accelerating women's equality. This month, it is our pleasure to shine an extra bright spotlight on several talented, inspirational women working in business and technology, and how they each represent this year's International Women's Day theme of #BreakTheBias. 
Visit Women & Tech throughout March to access new articles about amazing women in tech.