At a recent IBM conference , Ford CEO Jim Farley described a future in which all car sales would be done completely online and traditional dealers would no longer exist. Ford dealerships would serve more as customer service centres than as stocking centres, with home delivery available to buyers. Further, Ford pressed its continued shift toward online sales and fixed pricing for electric vehicles (EVs).
One Canadian company who acted on this opportunity over a decade ago is Canada Drives, the largest 100% online car shopping and to-you-door delivery platform available in Canada.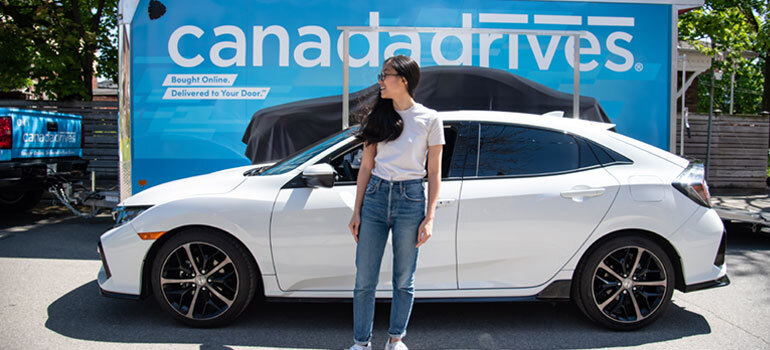 I asked Cody Green, Founder and co-CEO of Canada Drives, about vehicle purchasing trends in Canada, car online purchasing, and how car manufacturing will evolve as Canadian car buyers move away from dealerships as the point of sale.
Car Purchase Trends
Cody began, "There has been a noticeable shift in customers looking for more fuel-efficient vehicles. From 2021 to 2022, Canada Drives has seen roughly twice as many customers trading in their larger vehicles for vehicles that will consume less and give them more bang for their buck at the pump."
Adding, "One of our Canada Drives blog posts on the cheapest EVs on the market has seen a 376% increase in web traffic, signalling [to us] that Canadians are getting serious about making the switch to electric."
Rising fuel prices is another key factor in interest in EVs, clearly. "We're continuing to see an increase in electric vehicle demand as a result of sky-high fuel prices," confirmed Cody. "This, combined with advancements in battery technology, paints a bright picture for a soon-to-be thriving pre-owned EV market."
Shift to Online Sales
"We've seen a dramatic shift to online sales and Canadians are trusting companies like Canada Drives to make big purchases completely online," shared Cody. "In fact, more than 54% of Canadian consumers are comfortable and confident shopping for a vehicle 100% online."
"COVID created many barriers to traditional shopping with consumers no longer feeling safe venturing out to be around strangers or test-driving vehicles. Now, consumers are avoiding dealerships in general. To give you a snapshot of how much we've seen this shift, Canada Drives has seen a 580% increase in sales from Q1 2021 to Q1 2022."
Cody added, "On the Canada Drives site, we have recently noticed a 400% increase in web traffic and searches for EV's on our site with gas prices in Canada continuing to remain over $2/litre across the country. In addition, from 2021 to 2022, Canada Drives has seen an increase of 40% more customers searching for vehicles based on their fuel economy and 25% more cars purchased vs. SUVs than we have historically."
I asked Cody about its online platform and what features are being used most by consumers, to which he responded, "A feature we recently launched that gives Canadians the ability to get an instant online value for their current vehicle has been extremely popular with thousands of Canadians submitting their vehicle in the first two months since launch. With this offer they can sell their vehicle directly to Canada Drives or trade it in on their next vehicle."
The Online Sales Tipping Point
I asked Cody to elaborate on the factors contributing to the shift from in-person dealership transactions to online car sales.
'The tipping point has been a combination of several key factors," replied Cody. "Canadians shopping habits have been shifting online for years, consumers are becoming much more savvy with research, and they are demanding a more transparent, streamlined and convenient buying experience."
"It turned out to be a blessing that COVID hit just before we launched," added Cody. "The shift to online shopping came when traditional methods of shopping were impacted. The internet provided Canadians with an easy means to purchase a vehicle during a global pandemic."
"There are so many ways in which moving the process online improves the experience for the customer and really empowers them," In reference to Canada Drives, Cody outlined the following:
Convenience – Online you can choose your vehicle, pay in full or finance your vehicle, sign all of your documents and have your vehicle delivered to your doorstep as quickly as the same day.
Transparency – Haggle-free pricing … eliminates the fear that you might not be getting the best deal possible.
No Pressure – Online browsing and detailed vehicle information … allows shoppers to compare, research and carefully consider their purchase in a pressure-free setting.
Savings – On average, Canada Drives' customers save $1,600 on vehicle purchases and save hours that would typically be spent at a dealership.
Assurances – Canada Drives offers a 7-day love it or return it policy. If you don't love your vehicle, we will come and pick it up and refund your money. All of our vehicles are meticulously detailed and come with a 150-point inspection, free CARFAX vehicle history report and a free warranty.
Touchless Delivery – Customers can pick a date and time and Canada Drives will drop off their vehicle in premium enclosed trailers. Same-day delivery is available.
Evolution of Car Manufacturers and Dealerships
"Ford Motor Company, for example, is taking a step in the right direction with home delivery soon available to buyers and the death of traditional dealerships," explained Cody. "More than 70% of Canadian car buyers agree they would rather not negotiate with commissioned salespeople or spend time at a dealership."
Adding, "Car e-commerce has only recently risen in popularity in Canada. We have seen consumers adapt to purchasing items requiring fit (clothes, shoes etc.) online and we see car purchasing as no different, so the demand for these efficient, convenient services will only grow."
"Since launching online vehicle purchasing, Canada Drives' sales have grown month over month. Canada Drives currently has over 2,500+ vehicles available across the country – the largest market inventory of any online vehicle and delivery platform in Canada."
Cody ended with, "We think more Canadians will turn to vehicle trade-ins as a part of the purchasing process, creating a circular economy."
-30-