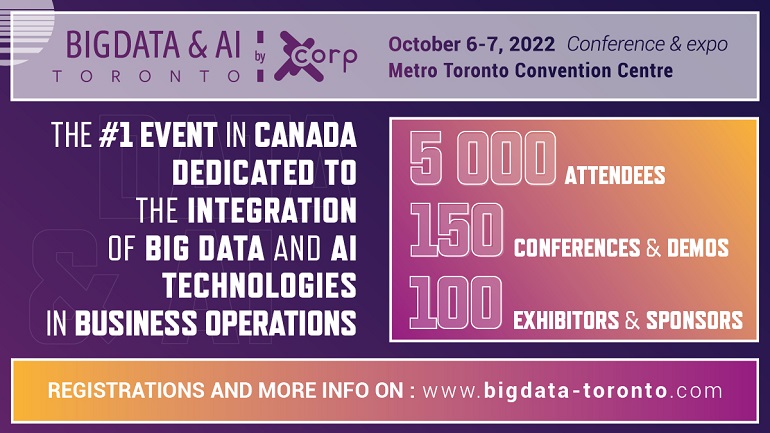 The first Canadian event dedicated exclusively to  AI, 'The Big Data and AI Show,' will be held at the Toronto Metro Convention Centre on Thursday, October 6th and Friday, October 7th.   Big Data & AI Toronto 2022 is a combination of four emerging technologies: Big Data, AI, Cloud and Cybersecurity.
Now in its sixth year, executives, entrepreneurs, thought leaders and technology experts will come together to share the future of AI. Since 2016, Big Data and AI Toronto has served the data ecosystem by providing a unique platform for IT decision-makers and data innovators to explore and discuss insights, showcase the latest innovative projects, and connect with the best and brightest minds in the industry.
Event speakers include:
Shopify's Director of Engineering and Data, Wendy Foster
Airmiles' CTO, Eric Neuman
Walmart's SVP and CTO, Sravana Kumar Karnati
Deloitte's Executive Director of Global Deloitte AI Institute/Tech Ethics Leader, Beena Ammanath
Environics Analytics President, Jan Kestle
Over 150 sessions will be on offer, and the conference agenda and list of speakers can be found on the website.
Top Technology Brands & Start-Ups
Big Data and AI will bring together the world's leading AI players including Microsoft, IBM, and Data Robot not to mention a whole host of pioneering start-ups.
The Start-Up Pitch program gives new companies a chance to get in front of investors and is open to the public as well.
Over 100 exhibitors including TD Bank, Bell and Ericsson will showcase their latest technologies, solutions, and services to thousands of professionals on the lookout for new tools to address their business challenges and boost their AI strategies.
Supporting Women in AI
Since the event started in 2016, the Big Data and AI show has supported women in AI. This year, the show will feature Women in AI on the main stage.
"We love this event because it brings us to meet like-minded people. They're all about creating a place where women and all genders can feel comfortable contributing to the conversation, sharing their experiences and collaborating on exciting AI projects that make the world more intelligent," explains Shiyamali Paranirupasingam, Women in AI's Toronto City Lead.
The main event organizers are also women with Valeriya Pershanina as the Event Director and Anastasiia Vershynina as the Business Development Manager, AI for All Canadians.
WhatsYourTech Discount Passes
Thousands of attendees are expected, including professionals and the public, and the conference and expo will take place both in physical and virtual formats.
While the Big Data and AI Show is showcasing some leading-edge technology, everyone is invited through its Expo pass, which gains you access to:
Main stage
Demo stage
Exhibition
Replays
Use the following WhatsYourTech registration links if you would like to attend:
*If you would like to purchase a conference pass directly from the event's main website, be sure to add the WhatsYourTech promo code, BDAIT22-WYT, to get your 30% discount.
-30-
Related:  Emerging tech for small business
More articles on the use of Artificial Intelligence in business