Information-seeking Canadians asked Google about international events, like the conflict in Ukraine, the World Cup, the passing of Queen Elizabeth and the U.S. midterm elections, as well as Hollywood headlines.
There were also a few top stories that were uniquely Canadian, including the reopening of the CNE in Toronto and Wordle's Canadian spinoff, Canuckle.
So, what were this year's top search trends and news stories that interested Canadians the most?
Trends / News Search Trends
Here are the 'top ten' search results in Canada.
Top Search Trends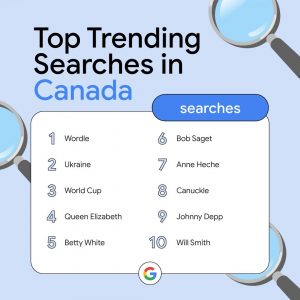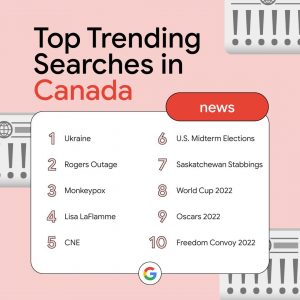 Many of these significant moments also had Canadians searching for answers.
Interestingly, we not only wanted to get the latest updates on the conflict in Ukraine, but many Canadians took their questions further, trying to understand "why Russia is attacking Ukraine", and "how to help Ukraine". 
There were also questions that have carried over the last few years about how to keep each other safe, including "How to do a rapid COVID test" and "How to get your vaccine QR code."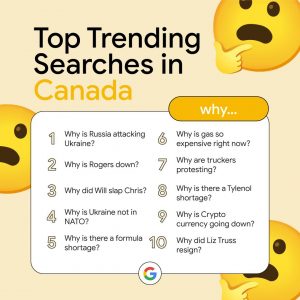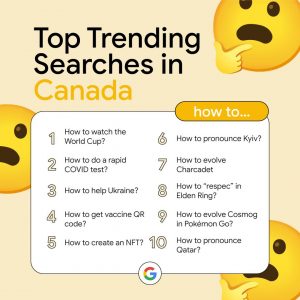 Pop Culture Trends
Canadians sought celebrity news and updates, too.
Top Celebrities
Johnny Depp
Will Smith
Amber Heard
Chris Rock
Adam Levine
King Charles
Jada Pinkett Smith
Julia Fox
Bruce Willis
Mary J. Blige
Top Movies
Encanto
Top Gun
The Batman
Thor: Love and Thunder
Turning Red
Black Adam
Everything Everywhere All at Once
Morbius
Uncharted
Don't Worry Darling
Top TV Series
Monster: The Jeffrey Dahmer Story
Euphoria
Stranger Things
Inventing Anna
The Watcher
House of the Dragon
Moon Knight
Yellowstone
The Boys
The Summer I Turned Pretty
Sports / International Competitions
Both the Winter Olympics and FIFA World Cup saw Canadians searching for the latest scores and where to watch. 2022's trends also proved that Canada isn't just a hockey nation, as we searched to learn more about international sports like cricket, soccer, and tennis. Top-trending athletes come from a wide range of backgrounds, from hockey legend Guy Lafleur to tennis upstart Felix Auger Aliassime.
Top Sports Searches and Top Athletes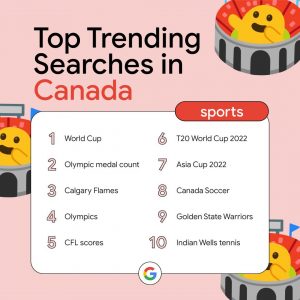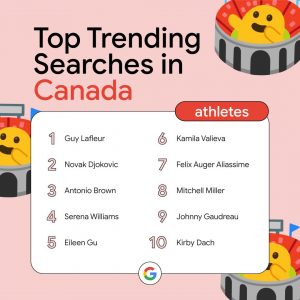 Reflections about Google search terms for the year are fascinating as they seem to encapsulate the news, interests and collective experience we share as Canadian seekers of global information.