Choosing the perfect gift for someone means not only considering their likes, dislikes, hobbies, and habits: it's also about taking into consideration their core values. For some, environmental concerns are top of mind; and getting them a gift that screams "eco-conscious" will put a smile on their face.
Earlier this year, I wrote about products and companies that give back to the environment. There are some great gift ideas there, but here, I'll look at other eco-conscious gifts worth considering this holiday season.
Skullcandy Limited Edition Transparency Series Jib True 2 Wireless Earbuds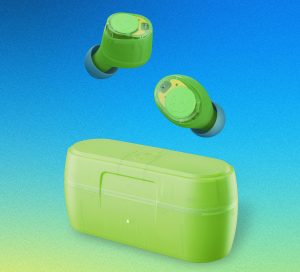 Skullcandy has partnered with Protect Our Winters (POW) for its upcycling programs. A portion of the proceeds of every pair of these earbuds goes to POW and its fight against climate change. The buds themselves are designed with a carbon emissions equivalent of 5.7 kg and come in recyclable packaging. To prevent them getting lost of misplaced, they include Tile technology so you can track their location through the Tile app. Running for up to 34 hours per charge using the included charging case, the Transparency Series Jib True 2 wireless earbuds are also IPX4 water resistant. With call, track, and volume controls, these earbuds might just be $30, but they're a powerful gift for someone whose passionate about climate change concerns.
House of Marley Get Together 2 Mini Bluetooth Speaker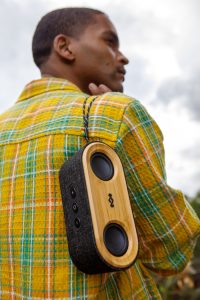 I mentioned House of Marley as one of the most notable brands when it comes to eco-consciousness, and the company continues to innovate with new products like the House of Marley Get Together 2 Mini Bluetooth speaker. Measuring just 7.6 x 3.3 x 2.9 inches and weighing under 2 lbs., it's the perfect speaker to take to the beach, picnic in the park, or to use by the pool. It's made of bamboo and the company's REWIND fabric, which is woven from 30% reclaimed organic cotton, 30% reclaimed hemp, and 40% recycled PET, along with silicone and aluminum. Offering up to 15 hours of play time per charge and 40 watts of power, a braided and removable strap makes the HoM Get Together 2 Mini easy to bring with you on any venture. In addition to being mindful of the materials used in its products, House of Marley also has its own Project Marley give-back initiative, which supports global reforestation and ocean preservation. At just $230, the Get Together 2 Mini is a gift they're sure to love for enjoying their favourite playlists both at home and on the go.
Urbanista Los Angeles Self-Charging Headphones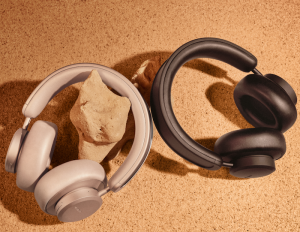 Not only do these headphones pack an audible punch thanks to 40mm dynamic drivers, they are also self-charging via a source of light. That means they don't ever require electricity to operate. Instead, let them gain exposure to the sun and they'll power up for as long as you need them. There's also an 80-hour battery reserve to use in a pinch. If it really comes down to it, they can recharge via USB-C. But for someone who is trying to reduce their electricity usage and only want to use USB-C charging when absolutely necessary, these $280 headphones will impress. As icing on the cake, they also offer active noise cancelling and ambient sound mode, and are compatible with both Siri and Google Assistant for voice control.
Rocketbook Pro Reusable Notebook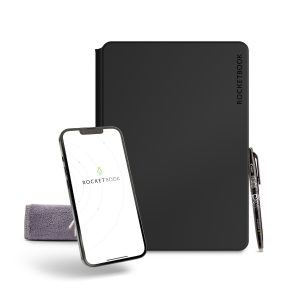 I have been testing the Rocketbook Pro for the last few weeks and can confidently say that it's not only an eco-conscious alternative to paper, it's also a really handy and easy-to-use device. It's a notebook with reusable paper that works with a Pilot Frixion pen (included though you can buy more separately). Write notes as usual, then wipe clean once done using the included microfibre cloth (dampened with a bit of water). Need to keep the notes? Use the mobile app to scan the page and upload the content as a digital PDF to a favourite cloud service, e-mail, or other software program, or even have it instantly transcribed to digital text in a .txt file. Set various destinations to choose where a file goes, along with specific folders if desired. OCR handwriting recognition means you can even use special symbols to indicate where a file should be uploaded for each document so it can be done with one photo and tap of a button. As someone who has piles of lined notebooks used for jotting down research notes, interview notes, and more, some of which could easily be discarded once I'm done with them, the Rocketbook Pro is a great – and more eco-friendly – alternative to paper. The Rocketbook Pro, the newest model in the line-up, is U$55 for the executive size or US$60 for the letter and comes with a 20-pack of lined pages (buy more for US$18 ea.) along with the Pilot FriXion pen, microfibre cloth, and hardcover.
Anything Refurbished (From a Reputable Source)
Earlier this year, I wrote about refurbished tech, discussing if it was worth it to buy tech products refurbished or not. The answer? Yes, as long as you purchase from a reputable source, understand what condition the product is in (while it should always work like new, sometimes there could be slight cosmetic damages and/or missing accessories or paperwork), and it comes with a solid warranty. Buying a hot tech item like a smartwatch, small appliance, smartphone, or even computer refurbished from reputable retailers like Best Buy or e-tailers like Amazon and eBay (which each have their own refurbished programs) can save you tons of money, Plus, you're contributing to the upcycling of high-value products that contain electronic components that are otherwise difficult to dispose of. For someone who needs (or wants) the latest and greatest but feels bad about seeing older electronics go to waste, this is a suitable solution. They won't look down on the fact that the product is refurbished, but appreciate that you did the research and found them something trendy and new that works as good as new but helped them do their part to keep electronics out of landfills.
-30-