As technology continues to underpin climate change solutioning, it is not surprising that the federal budget has proposed an investment tax credit for businesses working in the carbon capture space to assist achieving net-zero carbon emissions by 2050. A sixty-percent tax credit, in fact.
One possible area for climate change intervention is direct air capture (DAC).
Paul McKendrick, author of the forthcoming book (February 2023), Scrubbing the Sky: Inside the Race to Cool the Planet, examines how this technology has evolved over time, tracing more than 20 years of direct air capture technological development – from Biosphere 2; to multi-million dollar promises from Richard Branson, Bill Gates, and Elon Musk; to the opening of Orca, the world's largest commercial direct air capture facility, in Iceland in 2021.
Also, figuring prominently in McKendrick's book is Klaus Lackner, who is professor at Arizona State University and founding director of The Center for Negative Carbon Emissions. Said McKendrick, "I hope readers might also find something beyond the narrative, as I think the characters within can be guides to a richer worldview."
McKendrick will also launch an 8-part podcase with Ed Whittingham about the evolution of direct air capture's use to scrub the sky of carbon dioxide.
I asked McKendrick to elaborate on the term 'scrubbing', and to share his insight about direct air capture and the viability of this approach to combat carbon emissions in Canada and globally.
What is scrubbing?
"Scrubbers have long been used to pull carbon dioxide out of air for the purpose of allowing people to breathe in a confined space," stated McKendrick. "The first instance was in the early 1600s when a Dutch inventor named Cornelius Drebbel took King James of England down the Thames in the world's first submersible vessel. So, the technology is nothing new."
"The challenge now is enabling climate change intervention, first to offset emissions to get to net zero and then further drawdown after that until the concentration of carbon dioxide in the atmosphere reaches an acceptable level," stated McKendrick. "That will likely require scrubbing the sky of billions of tons per year and the creation of a vast new industry comparable in size to the infrastructure moving fossil fuels around."
What is direct air capture?
"Direct air capture is a form of carbon dioxide removal that involves exposing a chemical sorbent to the air that reacts with carbon dioxide," explained McKendrick. "The captured carbon dioxide is then separated and stored underground or used to make products."
"DAC is different than other carbon dioxide removal options, which typically entail using a nature-based approach; for example, enhanced weathering of rocks, bioenergy carbon capture and sequestration, planting trees, [or] enhancing soil sequestration.
I wondered if DAC is an economically viable approach to mitigating climate change.
McKendrick responded, "At this point, nobody can say with certainty whether DAC will be an economically viable climate intervention option. The US is in the process of spending billions of dollars to find out though, with significant support coming from three bills passed by the US government within the last year."
McKendrick referenced cost estimates from Occidental as Occidental is constructing the first largescale project using technology from Carbon Engineering.
Added McKendrick, "Currently, the US is taking the lead in deploying DAC as part of a nascent carbon removal industry. That will likely incent other companies to develop DAC technology beyond the two current leaders – Carbon Engineering (Canada) and Climeworks (Switzerland).
"The location of projects outside of the US," said McKendrck, "will be driven by numerous factors including government incentives, geologic storage, costs, availability of renewable energy, etc."
Added McKendrick, "While finishing the book … it became evident that the US is dedicating sufficient resources to ensure that the technology's potential will be properly evaluated, and that the US will be taking a leadership role in what could become a significant industry."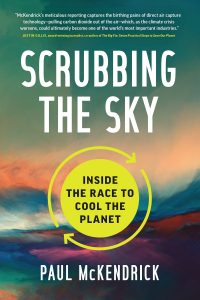 Scrubbing the Sky: Inside the Race to Cool the Planet is available for pre-order at Amazon.com and www.scrubbingthesky.com