At the end of every year, the top streaming services like Spotify and YouTube release numbers about what reigned supreme throughout the year. From the top-streamed songs to videos and downloaded apps, "top 10" lists are an annual mainstay.
So, what defines 2022? Along with Merriam-Webster naming "gaslighting" as the word of the year, here are some of the top streamed, downloaded, and used media for this year from the top providers.
YouTube
In Canada, it's no surprise that the top trending video was the "Oscar slap" moment at the 2022 Academy Awards. Second was "So Long Nerds," third was the Dr. Dre, Snoop Dogg, Eminem, and Mary J. Blige performance at the Super Bowl, followed by "Hi, I'm Dream," and "Pranks Destroy Scam Callers-GlitterBomb" to round out the top five.
YouTube is also a source for music, and the top five songs were "We Don't Talk About Bruno" by the cast of Encanto, "Enemy" by Imagine Dragons x JID, "Surface Pressure" by Jessica Darrow (also from the movie Encanto), "As It Was" by Harry Styles, and "Running Up That Hill" by Kate Bush (all thanks to season four of Stranger Things introducing the tune to a whole new generation).
The top creators were MrBeast, Airrack, Ryan Trahan, NickLmao, and Steven He.
It's clear from these results that kids are using YouTube more and more, making Gen-Zers an important part of the conversation going forward.
It's worth noting that YouTube is also offering a recap feature whereby users can look at the music that served as a soundtrack for their personal year. Visit the 2022 Recap page on the YouTube Music app and scroll to see personal stats like your top artists, songs, music videos, and playlists. New this year is the ability to access the recap from an iOS or Android mobile device, as well as more personalized stats like what artist you discovered before most others, a music personality based on your listening habits, and highlighting unique remixes and live performances that you have chosen to listen to or watch.
Google Search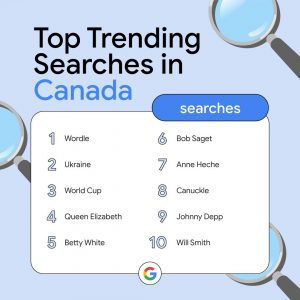 Google Search revealed different top trends in Canada when it comes to search. According to the site, the top search term trends for 2022 overall were "Wordle," "Ukraine," "World Cup," "Queen Elizabeth," and "Betty White," demonstrating a mix of entertainment, politics, and sports. The top news search trends in Canada were "Ukraine," "Rogers outage," "Monkeypox," "Lisa LaFlamme," and "CNE."
When it comes down to "why" questions, these all related to some of the most notable moments of the year, including "Why is Russia attacking Ukraine?," "Why is Rogers down?," "Why did Will slap Chris?," "Why is Ukraine not in NATO?," and "Why is there a formula shortage?"
In terms of "how tos," Googlers most wanted to know how to watch the World Cup, do a rapid COVID test, help Ukraine, get a vaccine QR code, and create an NFT.
The top searched celebrities of the year were Johnny Depp, Will Smith, Amber Heard, Chris Rock, and Adam Levine, while the top movies were Encanto, Top Gun, The Batman, Thor: Love and Thunder, and Turning Red and the top TV series were Monster: The Jeffrey Dahmer Story, Euphoria, Stranger Things, Inventing Anna, and The Watcher.
For sports, tops were World Cup, Olympic medal count, Calgary Flames, Olympics, and CFL scores; and for athletes, it was Guy Lafleur, Novak Djokovic, Antonio Brown, Serena Williams, and Eileen Gu.
Spotify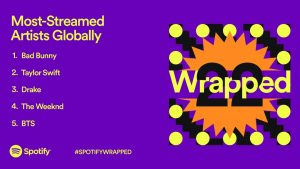 Spotify allows its subscribers to generate their own top lists and see the songs and playlists that defined their year. But the company also releases a general top list based on streams.
For 2022, the top streamed song was Harry Styles' "As It Was" followed by "Heat Waves" by Glass Animals, "STAY" by The Kid LAROI with Justin Bieber, "Me Porto Bonito" by Bad Bunny featuring Chencho Corleon, and "Titi Me Pregunto" by Bad Bunny.
In Canada specifically, the top streamed artists were Bad Bunny, Taylor Swift, Drake, The Weeknd, and BTS, showing that Canadians, at least in part, support their homegrown artists. The most streamed individual song in 2022 in Canada, however, was indeed Styles' "As It Was" while his album Harry's House was also the most streamed in the country.
Overall, the most streamed global artist was Bad Bunny who enjoyed more than 18.5 billion streams.
Podcasts are a big part of Spotify's offerings as well, and the most popular podcasts globally were The Joe Rogan Experience, Call Her Daddy, Anything Goes with Emma Chamberlain, Caso 63, and Crime Junkie.
Apple Apps
Rather than focus on the top downloaded apps, Apple releases its annual App Store Awards recognizing the best apps and games that "inspired users to engage more deeply with the world, expand their imaginations, and stay connected to friends and loved ones."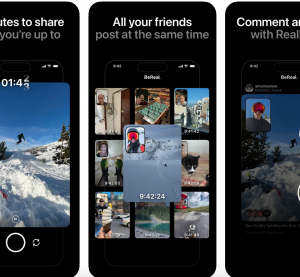 The Apple iPhone App of the Year is BeReal from BeReal (a photo sharing app), while the iPad App of the Year was GoodNotes 5 (for creating enriched notes) from Time Based Technology Limited and the Mac App of the Year was MacFamilyTree 10 (for exploring family genealogy and history) from Synium Software GmbH. For Apple TV, the App of the Year was VIX (a streaming service) from TelevisaUnivision Interactive, Inc. Apple Watch owners, meanwhile, celebrate the App of the Year as Gentler Streak (a workout tracker) from Gentler Stories LLC.
In games, the iPhone Game of the Year was Apex Legends Mobile (a battle royale shooter game) from Electronic Arts; the iPad Game of the Year was Moncage (a vignette puzzle adventure game) from X.D. Network Inc.; the Mac Game of the Year was Inscryption (a deck building game) from Devolver; the Apple TV Game of the Year was El Hijo (a spaghetti western stealth game) from HandyGames; and the Apple Arcade Game of the Year was Wylde Flowers (a life and farming sim game) from Studio Drydock Pty Ltd.
Several apps were also spotlighted for their cultural impact, including How We Feel from the How We Feel Project, Inc., which prompts users to check-in daily with their emotional well-being; and Dot's Home from the Rise-Home Stories Project, a single player narrative-driven game that spotlights systemic housing injustices and their impact within communities of colour through a time-traveling tale.
TikTok
For TikTok, which skews towards the younger generation, its fifth annual Year on TikTok report highlights everything from the most popular video clips of the year to the most popular songs and breakthrough stars.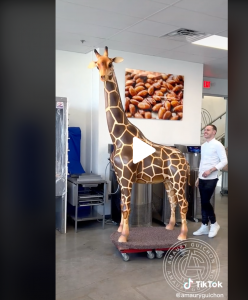 The top video in the U.S. with more than 300 million views was a clip from chocolatier @amauryguichon making a chocolate giraffe. The top global TikTok was @ox_zung's expert tricks from The Stitch. The top trend in the U.S. was Jiggle Jiggle, dances to the song by Duke & Jones and Louis Theroux.
Brands are making waves on TikTok as well through their own accounts as well as via influencers. The top products on TikTok this year were Food Chopper, MAC STACK Mascara, Glossier You Perfume, L.L. Bean Boat & Tote, and Birkenstock Boston Clogs. Lizzo, meanwhile, was the social site's top music artist of the year.
Snapchat
For Snapchat, it's all about who is being followed, and naturally, this includes celebrities. The most followed celebrity on Snapchat for 2022 was Kylie Jenner with 36.5 million followers followed by her half-sister Kim at 27 million, other half-sister Khloe (16.5 million), sister Kendall (16.2 million), and half-sister Kourtney at 15 million. Beyond the Kardashian family, rounding out the top 10 was DJ Khaled (13.5 million), Selena Gomez (13.2 million), Ariana Grande (12.8 million), Kevin Hart (10.6 million), and Loren Gray (10.4 million). Interestingly, Gray is the only one on the top 10 list who became famous from social media, first known for singing on TikTok, where she remains the 17th most followed person. She has since been signed as an independent artist.
What the Results Suggest
These results suggests that online surfers are, more then ever, looking for fun, uplifting content, whether that's through inspiring videos, catchy tunes, and fun app games that help you disconnect from the stresses of the world. With that said, people were curious online about everything from politics to pop culture and entertainment.
It will be interesting to see what 2023 has in store for music, entertainment, apps, and more.
-30-
Related   Streaming