Earlier this year, we talked about how tech can help boomers grow old at home. With certain technology, it is possible for able-bodied and minded seniors to remain living at home while still being monitored and remotely cared for by family. But the reality is that this isn't the case for every senior. Some require 24/7 monitoring and care. In these situations, the solution is Long-Term Care (LTC) facilities. But there are ways tech can help there, too.
Keeping Seniors Connected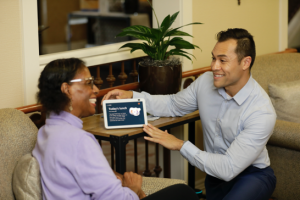 In mid-November, Amazon started trialing its Alexa Smart Properties in Canada, which sets up senior living homes with Alexa so residents can stay connected and entertained with simple voice commands. The service is currently being trailed in Bruyere Village in Orleans, ON with the assistance of Connected Canadians, a non-profit organization that promotes digital literacy skills for seniors and older adults through technology training and support.
Available by invitation only for Canadian LTC homes, the idea with Alexa Smart Properties is to help those in senior living centres contact their loved ones, access news from within the community, and more, all from an Amazon Echo device in their room. Meanwhile, family members can reach them through Alexa calling.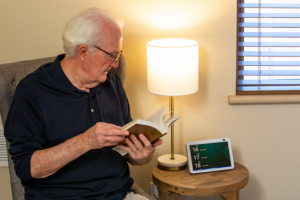 Administrators in the homes can set up a variety of Alexa skills and provide details like activity schedules and meal menus so seniors can have this information at their fingertips. Using Alexa communication, care team members can also make announcements, initiate voice and video calls to specific residents, and even send direct audio messages.
The set-up, says Amazon, is not just about making things easier and more convenient for the residents but for the care teams as well.
Rogers Business, meanwhile, also trialed a program with four LTC facilities in May 2021 with Ontario's Ministry of Health whereby participants received a Samsung tablet and on-site "Tech Champions" were appointed to monitor the program.
Following the trial, Rogers found that while some residents were happy to learn the new technology, others needed some encouragement. The more limited the devices were in features and apps, the better.
Rogers also discovered that things like video and visual training aids, larger tablets with bigger font sizes, and setting up a routine for device charging, were all positive steps in the right direction.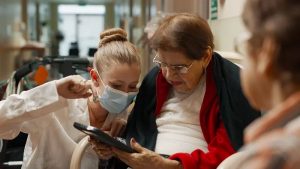 One participant of the trial, a 96-year-old woman named Edna residing at Mariann Home in Richmond Hill, Ontario, embraced her new tablet. Over time, and after getting over the learning curve (she had never used a tablet prior), the LTC home's Life Enrichment Director Shannon O'Connor says Edna became more comfortable "connecting with her family, taking part in online art classes, and exploring new territory."
No Wi-Fi? Go Cellular
Being able to connect to devices like smart speakers and use tablets in LTC homes, however, comes down to the individual residences and their rules, as well as available services. In April 2020, at the height of the COVID-19 pandemic, it was reported that some LTC homes in Toronto's lower-income areas were to receive free Internet access. In August 2021, the Government of Canada announced its Connecting Families initiative to help connect low-income seniors with high-speed home Internet by this year, through partnerships with both major and smaller local Internet providers.
But the reality is that many LTC homes still don't have Wi-Fi, or at least not Wi-Fi that's high-speed or reliable enough for residents to use for things like video calls and web surfing.
In these cases, there are cellular subscription options worth considering so that elderly family members can still stay connected beyond the home's telephone lines.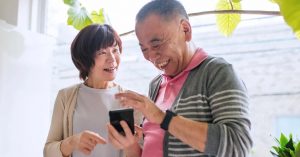 Telus, for example, offers it Mobility for Good and Internet for Good programs for seniors who qualify. This includes seniors who receive at least $6,500 annually of the Guaranteed Income Supplement (GIS) benefit with access to low-cost wireless service. Family members can set them up with an affordable mobile plan and device they can use from the LTC home. They'll get unlimited Canada-wide talk and text to communicate with friends and family members along with basic features like voice mail and call display. There's also limited data of 3GB per month, which is more than enough for them to watch the occasional video, surf websites, and even access social media or play games. The cost is $25/mo. and there are no contracts or cancellation fees.
Internet for Good, meanwhile, is a wireline service that is $9.95/mo. for unlimited monthly data and speeds up to 25 Mbps, or $19.95/mo. for speeds up to 50 Mbps. A refurbished computer can also be purchased through BC Technology for Learning Society. Telus also offers its free Telus Wise workshops and a variety of resources to help seniors safely navigate the world wide web. However, wireline service is necessary for this to work in an LTC home.
Documentation is required to confirm eligibility in both cases. Before investing, it's also important to check that cell phone reception is available and favourable in the facility.
What Device Should You Get?
Along with smart speakers (for LTC homes with available and reliable Wi-Fi), tablets make the most sense given that they have bigger screens.
If you decide to get a phone for a senior citizen living in an LTC home, it might be tempting to seek out a device that's specifically designed for seniors. But there's value in getting an older-model or refurbished premium phone that is also easy to use. Top of mind when it comes to intuitive operation for a smartphone is the iPhone. And the device has plenty of features that make it senior-friendly.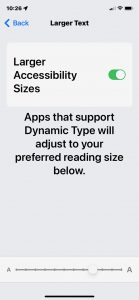 Within the Accessibility section of the Settings app on an iPhone, for example, display and text size can be adjusted. But you can also bold the text so it's even easier to see, increase contrast, and even change the shapes of the buttons. (Similar features are available for many Android phones as well.) For typing on an iPhone, set the phone to Zoomed under Display & Brightness in Settings to make the keyboard along with other buttons and controls larger. (For Android phones, a keyboard height feature is also available). You can exit Zoom mode by tapping twice on the home screen using three fingers.
To avoid a senior having trouble unlocking the phone, set it up for fingerprint ID and face recognition. If two-factor authentication is important for privacy and security, use a number they will remember (think a grandchild's birthday or the year they got married).
Most important, delete apps they won't use and keep the home screen clean and organized with just the icons they need.
In The Future
There are other technologies coming down the pike that may provide value for seniors in LTC homes. Google Glass automated eyewear, for example, which the company previewed at Google I/O earlier this year, can purportedly translate speech in real time. As someone speaks, the wearer sees a translation of what they're saying via text directly in front of their eyes.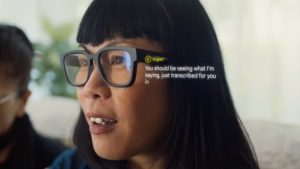 Described like real-life subtitles, it's a perfect technology for the hearing impaired who still have good eyesight (or, assuming the glasses can include prescription lenses, will be able to see clearly using them while also reading what someone is saying).
Google Glass automated eyewear is still a prototype, but it's a glimpse into the future of tech that has the potential to assist those who need it most. In LTC communities, especially, technology like this, and the others noted above, can help improve the relationship between support workers and residents. But most importantly, it can help seniors living in LTC homes stay connected to the people they love.
-30-
more on senior tech