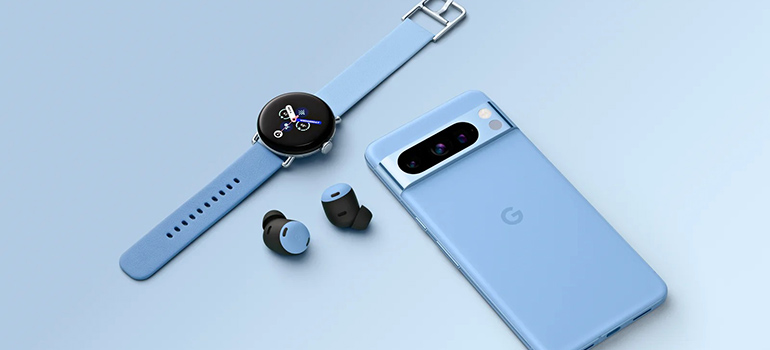 The Google I/O Conference is by far Google's biggest event of the year. This year, as usual, it was held in May and the company made various announcements relating to AI innovations and software. This included new features coming to Pixel phones as well as hardware announcements like the Google Pixel Tablet, Google Pixel Fold, Google Pixel 7a smartphone, and more.
At its Pixel event this month, Google announced more innovative devices across the Pixel line. Once again, AI technology is at the heart of many of the improvements you'll see with these new phones, new smartwatch, and updated true wireless earbuds.
Google Pixel 8, Pixel 8 Pro Smartphones
Headlining the event was the launch of the new Pixel 8 and Pixel 8 Pro smartphones. Both phones feature an upgraded Google Tensor G3 processor versus the G2 in the previous generation phones. It's snappier, quicker, and allows for more AI and camera features to be possible. Both include tons of camera improvements as well, again, many facilitated by AI technology.
The Pixel 8 is a tad smaller than the previous generation Pixel 7 with a 6.2-inch Actua display that is also much brighter. It has a sleek satin metal finish with a polished glass back and comes in Rose, Hazel, and Obsidian.
The real head-turner, however, is the Pixel 8 Pro, which has a 6.7-inch Super Actua display that is the brightest to date in the line combined with a matte glass back and polished aluminum frame. It comes in Porcelain, Bay, or Obsidian.
Key improvements include:
Temperature Sensor: An entirely new feature with this phone, and any phone for that matter, is a built-in temperature sensor in the back that you can use to check the temperature of something nearby. This might be a baby's bottle or pot on the stove. The idea is to eventually allow people to check their own temperature with this sensor and sync and save the data in the Fitbit app (Google has applied for FDA approval of this).
Improved Cameras: The Pixel 8 Pro has cameras jam-packed with features, including better low light photography, a bigger ultra-wide lens with improved macro focus and telephoto photography, autofocus for the front camera, and more.
New Photo Editing Features: There are neat new editing features joining ones like Photo Unblur and Magic Eraser that have been included in the last few phones. Best Take can combine several similar images to provide the best shot. Say you have a group photo where someone has a weird expression in the first take while someone else moved in the second and another person closed their eyes in the third. Best Take can stitch them together to deliver a perfect shot. Magic Editor, meanwhile, which is coming soon, uses generative AI to allow you to reposition and resize a subject or improve the background. Audio Magic Eraser for video helps remove distracting background noise. Video Boost is also coming later this year to help adjust colour, lighting, stabilization, and graininess in videos.
Smarter Google Assistant: Google Assistant has also been improved. Thanks to AI, it can do things like summarize a webpage, read its text aloud, or even translate it. It can better understand natural human speech patterns, as well, so even your "ums" and stumbles won't trip it up.
Both phones will support up to seven years of software and security updates, including Feature Drops, so you can hang on to them for a long time, hand it down to a friend or family member, or even resell should you upgrade the device in a few years.
The Google Pixel 8 starts at $949 and the Pixel 8 Pro at $1,349, and both will be available starting October 12. Through to October 16, customers who purchase a Pixel 8 Pro will receive a free Pixel Watch 2, the next new device Google launched at the event.
Google Pixel Watch 2
A follow-up to the original Google Pixel Watch, the Pixel Watch 2 is lighter than the original Pixel Watch, making it more comfortable to wear through the day and overnight. The crown is larger and sits flush in the housing. There's a new quad-core CPU that offers a smoother experience, says Google. It offers many improvements and new features compared to the Pixel Watch.
Better Battery Life: The battery can now run all day (up to 24 hours) even with the always-on display activated, and it charges more quickly.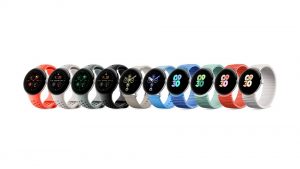 More Sensors: The Watch also has more sensors, including a skin temperature sensor, and purports to offer the best, more accurate heart rate tracking in the line-up. The heart rate sensor has 25 times the number of LEDs versus the Pixel Watch. You can now get the Fitbit Body Response feature on the watch as well, powered by the new cEDNA sensor.
Voice Activation: The Pixel Watch 2 is also voice activated so you can ask about your health data or queue up a workout with a voice command to Google Assistant. There are also new heart rate zone coaching and pace training features, and automatic workout start and stop reminders for seven exercises.
Personal Safety Features: Google has also added new personal safety features to the watch. Joining fall detection and emergency SOS is medical ID, emergency sharing, and safety check. With medical ID, you can display important medical information on screen, even when the watch is locked. Safety Check, meanwhile, lets you set a timer for an activity's arrival and finish, like a late-night run, so an alert is sent to specific contacts if you don't check in once the activity is done. They will also receive your location on Google Maps. For those with an LTE enabled watch and a Fitbit Premium subscription (the Watch comes with a free trial), you can use Safety Signal, which includes the Safety Check and Emergency Location Sharing features even without a carrier connection.
More Apps: The Pixel Watch 2 works with more apps and offers additional features of Wear OS 4. You can access new Gmail and Calendar apps, for example, listen to podcasts from YouTube Music, check nearby places on Google Maps, and more.
The Google Pixel Watch 2 is on pre-order for $480 ($550 for the LTE version, plus the cost of a plan) and will officially be in stores October 12.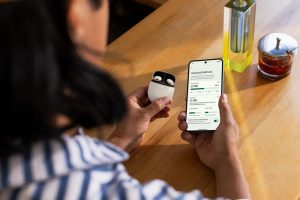 Google is rolling out a software update for the Google Pixel Buds Pro that offers tons of improvements and new features relating to AI. Some pertain specifically to when the buds are being used with the Pixel 8 and Pixel 8 Pro. But other updates can be enjoyed by users with any device.
Conversation Detection: Now, if you need to have a conversation with someone, you don't need to remove a bud: with Conversation Detection that can determine when you start talking and pause the audio automatically while also activating Transparency Mode. Once you stop talking, the audio resumes and ANC goes back on (though if you're having a conversation with someone, you'd still presumably need to remove the buds to hear the other person's response).
Record Your Listening Habits: In the Pixel Buds Pro app, you will be able to see a record of your listening habits, like when you tend to raise or lower the volume. This provides insight into your listening behaviours and, more importantly, your hearing wellness.
New Chromebook App: A version will also be rolling out to Chromebooks so you can use your computer to adjust earbud settings, switch noise cancelling modes, install firmware updates, and more.
Features Exclusive to Pixel 8 and Pixel 8 Pro: When pairing the Pixel Buds Pro with a Pixel 8 or Pixel 8 Pro, gamers will enjoy reduced latency on Bluetooth. There's also support for Bluetooth Super Wideband, which doubles the bandwidth for voices to make you sound fuller and more natural. This also helps reduce background noises.
The Buds will be available in two new colours, Bay and Porcelain, to complement the colours of the new phones and watch. They are currently available for $260; existing owners can run the firmware update to enjoy the selection of new features.
AI Takes Over
It's clear that Google is leveraging its wealth of knowledge and research in AI technology across all its services as well as hardware. AI enables these devices to become smarter, more intuitive, and help you improve everything from text composition to fixing photos, navigating web pages, communicating, and taking care of your health and wellness. We expect more firmware and software updates in the future to include AI as Google continues to develop its technology in this space.
-30-