By Gadjo Cardenas Sevilla
The Samsung Galaxy Tab represents the first real competition to Apple's highly successful iPad tablet.  Judging from the 600,000 units sold globally in the first month, it is a potential blockbuster product for Samsung. But is it an iPad killer or a completely different segment of device? Now coming to Canada on Bell and Rogers, we review this much awaited Android tablet.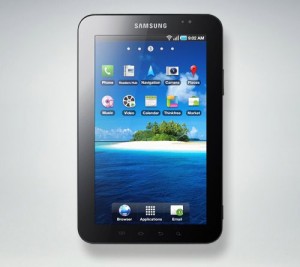 Apple's iOS and Google's Android have been around for over three years, they have each been successful iterating in the smartphone space and now are poised to take the next logical step in the tablet segment. Apple has spun off a tablet-specific version of their operating system, Google has not.
The Samsung Galaxy Tab is available in Canada from Bell with a no contract price Bell of $649.99 plus taxes and a one-time $35 registration fee.
Just like with the iPad, the Galaxy Tab is available on a month-to-month term with $15 (250MB Data), $20 (500MB Data) and $35 (5GB Data) plans attached. Bell likes to charge $2 a month for paper billing but you do have the option of receiving your bill through e-mail.
Rogers also sells the Samsung Galaxy Tab for  $539.99 on select three year plans or $674 contract free. The Galaxy tab has been in short supply in Rogers retail stores but supply is expected to ramp up heading into the holidays.
Sadly, there aren't yet any Wi-Fi only variants of the Samsung Galaxy Tab which would be ideal for most users who would enjoy all the all the perks of a 7′ inch tablet experience without the pressure of having to deal with data contracts. Something in the $450 range, minus the 3G might appeal to a wider user base and would compete with the cheaper Wi-Fi only variant of the iPad.
Pocket Rocket
The Samsung Galaxy Tab looks great on paper. A powerful 1GHz Hummingbird processor, 512MB or RAM, a high-resolution 7-inch multi-touch screen, 3G and Wi-Fi capabilities the ability to expand memory from 16GB to 48GB (with a MicroSD slot) plus dual-cameras for video chats. The Galaxy Tab runs Android OS 2.2 Froyo, the latest and most refined version of the Android OS for smartphones.
With its diminutive size and weight plus the addition of the two cameras, the Samsung Galaxy Tab addresses two of the biggest complaints about the iPad. That it is too big and heavy for prolonged one-handed use (i.e. Reading eBooks, websites and email) and that it can't handle video chats (like Apple's FaceTime which is now available on all their mobile devices, except the iPad).
We've had a Samsung Galaxy Tab (running on Bell's HSPA network) to test for a week now. Our initial impressions were that it was smaller than we expected but also heavier and thicker than we imagined but not in a bad way.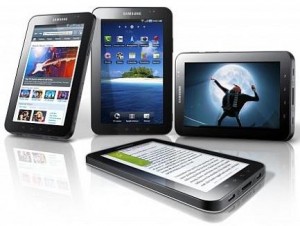 It is still a device that you can easily hold with one hand and the thickness does make it feel rigid. It is small enough to fit a jacket pocket and is the sort of device we wouldn't think twice about picking up and taking with us around town.
Wi-Fi strength was fair, but the signal indicator on the Samsung Galaxy Tab displayed less bars than our other devices even if we were relatively close to the router. It's hard to tell if this is a common issue or something particular to our pre-production test unit, but seeing that it is encased in glass and plastic, we are just surprised that Wi-Fi indicator reflected a poor signal.
3G strength was generally strong on Bell's network throughout downtown Toronto. Some readers have asked if the Canadian Samsung Galaxy Tab can be used to make phone calls, as after all it has a SIM card and runs a smartphone OS.
The answer, sadly, is no. Unlike the European variants, North American Galaxy Tabs have had this feature removed. You might be able to use software like Skype and you may quite possibly be able to use the tablet as a mobile hotspot to pair with other devices.
Size Matters
Placing the iPad and the Samsung Galaxy Tab side by side, one really gets the impression that these cannot be competing products, not by a long shot.
The size disparity is just too large, and aside from both being tablet devices with multi-touch features running a mobile OS, each device is clearly in a different segment. The iPad has its own specific version of iOS with features and capabilities that focus on its tablet specs.
The truth is, aside from the obvious size and the 7-inch screen, there's very little about the Samsung Galaxy Tab that makes it feel different from any other premium Android device. You slide to unlock the screen, Samsung's TouchWIZ overlay helps keep things nice and tidy, and everything is fast and responsive. It doesn't feel any different from say a Samsung Galaxy S, except that everything is bigger.
One question is whether the Samsung Galaxy Tab will be able to receive OS updates in the future, and how long will it take Google to capitalize on this opportunity.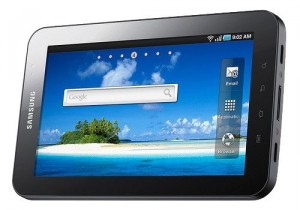 The 600 x 1024 pixel TFT screen on the Samsung Galaxy Tab is impressive, it is clear and bright plus has a wide viewing angle. HD movies look great, Google maps render nicely, and even if everything is shrunk down you can easily zoom and pinch the content at will. Most of the apps scale nicely on the slightly larger screen and don't have the clumsy forced-big look that iPhone apps have on x2 zoom on the iPad.
We used the Samsung Galaxy Tab for surfing the web, checking Twitter and Facebook, viewing video from YouTube and checking out photos on sites like SmugMug, Picasa and Flickr. Performance was good to great for most of these tasks. The Samsung Galaxy Tab also has Adobe Flash imbedded into its browser, a feature that iPads, iPhones and now even MacBook Airs famously lack.
Conclusion
The Samsung Galaxy Tab gives us a glimpse of where tablet computing on the Android platform is headed. It is a solid device with high build quality and a well-rounded feature set peppered with Samsung's innovative hardware and software features.
Android OS 2.2, however, is not a tablet-specific OS, and as a result, the Samsung Galaxy Tab acts very much like an oversized Android smartphone. This means there isn't much to differentiate it from premium Android handsets aside from the  larger size.
We are crossing our fingers for a tablet-specific version of Android to come soon, as well as apps that will not only enhance but define the usability of this very impressive and promising yet fledgling device.