This year marks the 150th birthday of our home and native land – a fact for which any Canadian resident can be proud. And businesses in Canada are tipping their hats to the sesquicentennial anniversary with a variety of special initiatives.
We previously discussed, for example, Google's doodle competition that is calling Canadians to vote for their favourite doodles by June 2 to give students a chance to have the winner's artwork takeover Google.ca for a day and win a $10,000 university scholarship as well as a $10,000 scholarship for his/her school. In fact, Canadian voting will help determine four grade group winners (Kindergarten – Grade 3; Grades 4 – 6; Grades 7 – 9; and Grades 10 – 12), with each winner receiving a $5,000 technology award for their schools.  There are plenty more.
Satellite radio provider SiriusXM, for example, is asking Canadian music fans to submit their top-three choices for the 150 greatest Canadian songs of all time. The winners will be selected based on the input of Canadians as well as a panel of industry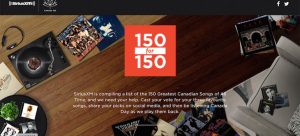 experts. The idea is to celebrate Canada's rich musical history – after all, Canada is responsible for some of the most prolific musicians and songwriters, including the late Leonard Cohen, Alanis Morrisette, The Tragically Hip, and more. In addition to producing the comprehensive catalogue highlighting great Canadian musical talent, SiriusXM will also air all 150 top-selected songs on Canada Day weekend in July, and throughout the year on The Verge (channel 173). Voted are being accepted through to Friday, June 23. At the time of this writing, The Wheat Kings by Tragically Hip was leading the vote.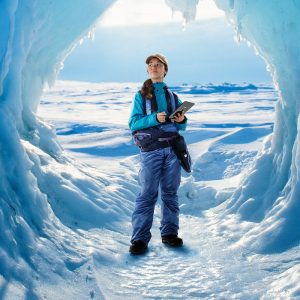 Focusing on fostering Canadian youth participation in STEM fields (Science, Technology, Engineering, and Math), Samsung's Solve for Tomorrow initiative is celebrating Canada's 150th birthday by donating grants to 150 schools across the country to help inspire students to explore careers in STEM. In Phase 1, which ran from March 6-April 13, teachers could complete an entry form, with a minimum of 37 entries from each of the four regions (Western Canada, Central Canada, Eastern Canada, and Atlantic Canada), and the highest scorers would be deemed finalists. From May 8 through to June 2, the 150 Regional Finalists and their students must produce and submit an up to three minute video demonstrating how STEM could be used to improve their community. The regional winners will be announced on June 19, and they will each receive $20,000 in Samsung technology for their schools. The 150 regional finalists will all receive a Samsung Technology Kit that includes a Samsung phone, tablet, Gear 360 camera, and Gear VR that can be used within the classrooms.
In January, Microsoft celebrated Canada's 150th birthday with Canadian K-12 students in partnership with the Toronto Zoo. The company held its first Skype virtual field trip with students in Port Alberni, BC, who got to learn about the Zoo's Great Lakes conservation program. The kids could interact in real-time with tour guides and educators at heritage sites and points of interests, while teachers could leverage the experiences to enhance and augment their lesson plans. For example, one grade 3 and 4 teacher noted that her class would be connecting the experience to the Social Studies unit on the West Coast First Nations People by creating a Minecraft First Nations village that centred on seaside living and fishing. The idea was to promote immersive, inclusive, and inspirational education, and help Canadian children learn more about their country without having to leave the classroom.
"From over 4,000 kilometers away," explained John Tracogna, CEO, Toronto Zoo, "students connected one-on-one with the Zoo's Curator of Fishes to learn about the importance of our Great Lakes and what they can do in their communities to face the challenges in the coming decades."
Following the event, students could participate in the Explore. Teach. Build. Challenge, endorsed by WE.org, which tasked classrooms to create a Canadian moment or favourite part of the virtual trip using Minecraft: Education Edition, and share it online using Office 365 Sway or Mix presentations.
Book, gifts, and toy retailer Indigo celebrated the holiday last month, promoting Canadian literature on April 23 with the #ReadtheNorth hashtag, along with in-store events. Canadian titles promoted and celebrated on that day included a diverse selection of classics and new titles, like Margaret Atwood's The Handmaid's Tale, which has been used as the inspiration for the new Hulu original series of the same name (airing on Bravo in Canada); How to Be a Bawse by Lilly Singh; Anne of Green Gables by L.M. Montgomery; and This I Know: Marketing Lessons from Under the Influence by Terry O'Reilly. Indigo stores also held story-times and make-and-take craft events that "Canada Book Day" weekend.
Finally, when you think of Canadian brands, there's nothing more Canadian than Roots. So it's no surprise that the company, known mainly for its apparel but that also makes things like tartan-decorated smartphone cases, is getting in on the fun as well. Through its Be Nice campaign, Roots is working to raise funds for WE's Indigenous Youth Empowerment Programming. The idea is to celebrate key moments and people that have helped define our nation. And the name is a play on that positive stereotype that Canadians are all, quite simply, nice. "Nice comes from strength," reads the press release. "Nice takes guts. Nice is standing your ground when you're right, acknowledging when you're wrong and apologizing for your mistakes." Through to July 1, the campaign will include a series of public events online and in stores, as well as a fundraising initiative that includes the sale of commemorative buttons ($3 for two because, of course, Canadians want to share), a search for Canada's nicest person (nominated via social media with the winner receiving $10,000 for his or her favourite charity), a cross-Canada pop-up shop tour, and the Artspace cultural art exhibits highlighting Canadian talent.
Related:
Country Captured in 360 Video, Interactive VR for Canada 150
Canada 150 Tech Tour: Quantum Changes Ahead for Your Life
Vote For Your Favourite Doodle 4 Google in Honour of Canada's 150th
150 STEM-inspired Student Teams in Canada Solve for Tomorrow