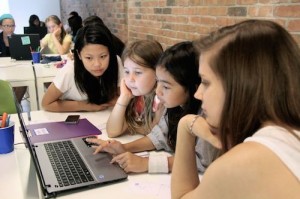 Since April, the Kids Code Jeunesse's (KCJ) / Code Create Teach (CCT) initiative has brought digital skills and computational thinking to over 1,000 Canadian educators through 20 workshops in 8 provinces, from province capitals such as Edmonton, Fredericton, and Quebec City, to rural areas including Prince Rupert, Rocky Mountain House, and Gander!
Next week's workshop on December 11 in Whitehorse, where more than 135 educators are registered, will be the most remote stop yet in this nationwide initiative. It is the first in a series of three free teacher coding trainings in the territories – with workshops in Yellowknife and Iqaluit, in January and February respectively.
KCJ is answering the call of educators in the North not just to empower them in incorporating computational skills in their already-existing curriculum, but to facilitate in their organizing of self-sustainable digital communities through the creation of new Code Clubs —which even provide coding experiences in Indigenous languages.
KCJ Founder and Executive Director, Kate Arthur, will be attending the Whitehorse workshop. She is the recipient of the 2016 Emerging Leader of the Year Award, Women in Communication and Technology, Canada. And, Arthur is also a recipient of the 2015 TechGirls Canada Portraits of Strength and 2015 YES Women in Tech Role Model.
Learn more about CCT on YouTube– you will be impressed.
Interested in STEM?