When did you last print a photo? Did you print your Valentine's Day photos? Your New Year's Eve photos?
'The History of Memory' is a new effort by HP to impress upon us the value of printed images in our lives. I had the opportunity to discuss digital and print photography with Karen Kahn, Chief Communications Officer at HP, and to learn more about the idea for 'The History of Memory' and its first film, At First Sight.
"'The History of Memory' is an expansion of HP's storytelling work within The Garage, our brand journalism site, to bring humanity to our brand and celebrate the power of reinvention," began Kahn. "The project is a five-part short documentary film series, which explores the power of the printed photograph. The first installment – At First Sight – focuses on the true story of a couple whose love was sparked by a photograph shared across continents. The film," explained Kahn, "captures both the genuine connection the image inspired, as well as the memories it continues to create."
Kahn expanded, "HP knows that image and memory have a special relationship. They are symbiotic. When printed, memories are framed, hung on walls and passed from generation to generation. But today, even though families are drowning in digital images, they are preserving very few. This is breaking the link between image and memory from generation to generation. HP sought to create a special project in the hopes to reinvigorate this link."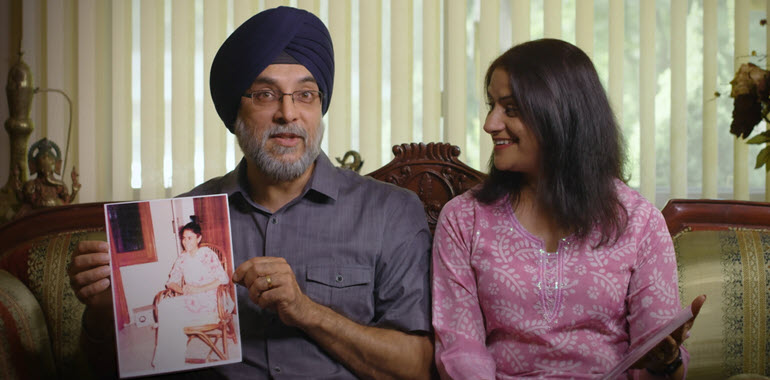 HP was inspired by love captured in photography as well as the film The Big Sick, by Kumail Nanjian. "In that film," shared Kahn, "there is a scene where the main character, who is a Pakistani American, looks at a box of photos of women…. all given to him by his mother, in hopes he would marry one of them. This sparked the idea: what if one of those photos actually worked? Our filmmakers – RedGlass Pictures – began engaging Indian American communities, and they were introduced to the Singhs. Their story is so simple and sweet, but very inspiring."
I asked Kahn who prints photographs today, and she responded, " Based on our consumer segmentation research – where we surveyed approximately 21,000 consumers across 9 markets – 1/10 of our customers print photos regularly. While youth are definitely more digital savvy – with ages 13-24 taking 30% of all photos taken across all life stages – they are beginning to get introduced to the power of print and starting to print photographs."
Kahn also commented on the volume of digital photography by stating, "1.2 trillion photos are taken annually, according to InfoTrends, 2017."
Kahn went on to explain, "However, many of them are snapped, then never looked at again. When you print a photo – it means something. Holding a tangible photograph awakens the senses, stimulating a spectrum of emotions core to humanity and truth. When emotions are amplified and combined, they create deeper sensations like remorse and love. These same emotions cannot necessarily be said for a digital photograph.
Related:  Photography