McDonald's  Canada recently integrated voice technology into its hiring process. The aim is to transform and modernize the consumer and job applicant experience with McDonald's.
"We are constantly challenging our thinking and exploring new and innovative ways to engage our customers and future employees," remarked Stephanie Hardman, Chief People Officer, McDonald's Canada. "We are proud to be the first to integrate both Alexa and the Google Assistant into our recruitment efforts – it helps simplify the application process and makes it fun!
"To apply," explained Hardman, "prospective applicants can begin the conversation by saying "Alexa, help me get a job at McDonald's" or "Ok Google, help get me a job at McDonald's. Candidates are prompted to answer a few basic questions. Once applicants have identified positions they are interested in, they will receive a link via text message to complete the online application process."
Voice technology is used, in other words, to locate and begin the application process.
"The interaction with Alexa or Google Assistant will help candidates refine their search and inform applicants of local openings," said Hardman. "Once a candidate has landed on a position of interest, they can click a link to start a more detailed application for that specific vacancy."
McDonald's Canada also has data protection in mind.
"We take data protection seriously, and we are committed to safeguarding guest and candidate information entrusted to McDonald's," said Hardman. She added, "Amazon and Google both have terms and conditions for users of their services and privacy policies, which they present — all of which govern and control those user-relationships."
Who is McDonald's Canada looking to hire with this convenience add-on?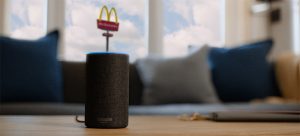 "We're … committed to reaching and recruiting future potential hires wherever it fits into their daily lives, no matter what technology or device they're using (phone, smart speaker or even the web)," Hardman replied. "Whether someone is looking for a first job, a part-time job or a lifelong career, integrating our recruitment efforts with Alexa and the Google Assistant will help make applying for a job at McDonald's easier, and more convenient than ever. "
What's more, past employees have demonstrated an affinity to both tech and entrepreneurism. "From nurses to IT professionals, teachers to entrepreneurs, countless careers have been Made at McDonald's," said Hardman.
According to a recent survey completed by McDonald's:
More than 50,000 McDonald's Canada crew members have gone on to become IT professionals
Almost 35,000 have made a career in teaching
Upwards of 59,000 have become small business owners across Canada
Additionally:
Fifty per cent of McDonald's franchisees started their careers as crew and have gone on to build successful businesses as entrepreneurs
83 per cent of the nearly 100,000 people from coast-to-coast who are employed in either corporately owned or franchised restaurants are millennials.
The impact to turning to tech and social media for McDonald's  is a committed one.
"We've been leading the way to meet future potential hires on their terms, including our partnership with Snapchat earlier this year. This is an ongoing journey, and we are committed to staying on the leading edge," shared Hardman. This is about simplifying the application process; it's also about creating greater inclusivity and encouraging more diverse talent to apply."
Added Hardman, "We wouldn't be able to build a better McDonald's without challenging how we meet and recruit potential hires. We're proud to be the first to integrate both Alexa and the Google Assistant into our recruitment efforts, which is part of our global Made at McDonald's campaign."
Related:  Recruitment