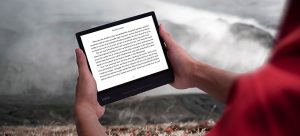 Kobo's open platform appeals to readers of all kinds. Readers are not hamstrung by the functionality of eReaders or file types and, using the OverDrive integration, readers can also virtually access many local libraries straight from Kobo devices. The introduction of Dropbox support on Kobo Forma has extended its mission of accessibility.
Kobo Forma allows readers to read documents stored in the cloud by accessing their Dropbox accounts. File formats that can be accessed via the Kobo Forma include:
Books: EPUB, EPUB3 (Note: Kobo Original and Kobo Wi Fi does not support EPUB3), PDF, and MOBI
Documents: PDF
Images: JPEG, GIF, PNG, BMP, and TIFF
Text: TXT, HTML, and RTF
Comic Books: CBZ and CBR
"We've known for some time that a significant segment of our user base likes to move content from their computer to their eReader using a USB cable," began Ramesh Mantha, VP of Product Devices at Rakuten Kobo. "We wanted to reduce the friction of that experience and mobile workflows. With this in mind, integrating with cloud storage was the obvious solution and since Dropbox is the market leader, it made the most sense to work with them first."
What's more, Kobo Forma "enables the user to initiate a Google or Wikipedia search of the word, facilitating research and deeper understanding," explained Mantha. "While reading a book, long-pressing a word brings up its dictionary entry, as well as the ability to highlight or add notes and annotations," shared Mantha.
"Data and privacy are managed in compliance with the strict European Union GDPR consumer data privacy regulations," stated Mantha.
So, how does the Kobo Forma compare to a tablet?
eReaders are for reading, without the distractions of social media, notifications, email, games, etc., to start.
They are also physically different in size and weight. "The Kobo Forma is focused on and optimized for reading. With its 8" screen, it's only 197g in weight. In contrast, an iPad Mini, with a slightly smaller 7.9" screen, is 308g, which is 56% heavier," explained Mantha.
The screen is different, as well, according to Mantha. "The Eink screen delivers a paper-like feel in all lighting conditions, whether it's bright outdoor sun, or at bedtime, where brightness and blue light can be minimized," said Mantha. And, Mantha added, "Unlike a tablet, battery life is measured in weeks, not days."
What other eReader features are next?
"At Kobo, we're constantly striving to make reading lives better," said Mantha.
"We recently have been focusing on the core reading experience, where we've improved the experience of knowing where you are and navigating within the book," shared Mantha. "We plan on building on this in upcoming software releases. On the hardware side, a recent focus has been comfort and ergonomics.  We're currently exploring the next stage of how device features can improve reading lives. Stay tuned!"
To learn more about connecting to your Dropbox account with your Kobo Forma visit here.
You can Win a Kobo forma with WhatsYourTech.ca.  Enter the contest.