I am enjoying reading at home on my digital devices, more than ever. I suspect many people are using their phones, tablets, computers and eReaders to visit libraries virtually at this time, too. I asked Karen Estrovich, Senior Regional Manager of Public Libraries at OverDrive, to tell me more about the Big Library Read program, and if OverDrive, who offers the world's largest digital content catalog of ebooks, audiobooks and magazines, has seen increased access to digital content.
"Big Library Read is an international reading program that simultaneously connects millions of readers around the world with an ebook through public libraries and schools," began Estrovich. "It's a worldwide digital version of a local book club and the program is free to readers through participating local public libraries and schools. To get started," explained Estrovich, "readers need a valid library card or student ID to borrow the ebook; just as they would the physical book."
"Past programs have generated hundreds of thousands of checkouts of the featured title with more than a million readers participating over the years," shared Estrovich. "We anticipate the total participation in this program will be even higher due to physical library and school closures."
"Currently, there are over 24,000 libraries and nearly 15,000 schools participating in this Big Library Read program," remarked Estrovich. "Of those, nearly 2,000 are Canadian libraries and over 3,000 are Canadian schools." OverDrive is available in about 90 percent of public libraries in North America.
How can you participate?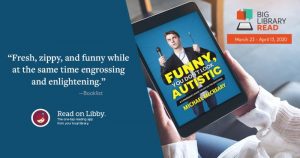 "Readers of participating public libraries can join by visiting Big Library Read or downloading the Libby app "then discuss online at Big Library Read," explained Estrovich.
"Schools around the world can choose to participating in this current program so their students can read the digital book through the school's website or Sora classroom reading app. 
With more of us staying in our homes right now, I asked Estrovich about the impact on the Big Library Read community to which she responded, "Libraries are leveraging digital book clubs in new ways locally, statewide or globally. In spite of stay-at-home guidelines and library and school building closures, more libraries and schools than ever are participating in Big Library Read," shared Estrovich.
"Current data is showing that engagement with both the ebook and audiobook is higher than the same point in previous programs, which means more readers are participating as well. What's more," added Estrovich, "the online discussion board already has hundreds of comments from around the world.
How have educators been using Big Library Read in the past and now?
"In the past, many school librarians used age-appropriate Read titles for their school-wide book clubs and experienced high levels of student participation that included discussions during class," stated Estrovich. "Other school specific programs, such as OverDrive Summer Read, have had similar success. Due in part to building closures, more schools than ever have signed up for the current Big Library Read program and are offering this title to their students."
"In addition, educators have increased their usage of Sora's Title Assignment feature to extend the amount of time students have access to the title. Educators have expressed their need for as many resources as they can access during this time and are appreciative of their access to Big Library Read content."
"Many teachers are assigning the current Big Library Read ebook or audiobook to students as a method of increasing reading and as a fun way to connect the students together even when they're physically apart."
Students can access Big Library Read titles (if age-appropriate) in two ways:
Through the public library's Libby app with a valid library card;
OverDrive joined the Rakuten Group in 2015, and changed its brand name to Rakuten OverDrive in July 2017.
Related:
Kobo Forma eReader Introduces Dropbox
Rakuten Kobo Announces Winning Authors as it Celebrates Ten Years of eReaders
# # #
Read longer than ever before with its comfortable ergonomic design, the option for landscape orientation, and easy-to-use page-turn buttons.  Win a Kobo Libra H2O 7″ Digital eBook Reader with Touchscreen