You might recognize Microsoft Teams as one of many software programs that companies have been leveraging more often now in the wake of the COVID-19 pandemic and remote working. A competitor to video chatting services like Zoom and internal online team communication tools like Slack, it is the choice of many companies, both big and small.
But recently, Microsoft has decided to capitalize on the desire for families and friends to connect while staying at home as well, and released a version of the software for families.
What exactly is Microsoft Teams for Families?
The Microsoft Teams app for mobile and desktop can be used for text and video chatting with friends and family from the safety of your own homes while maintaining social distancing. But there is also a lot more to it.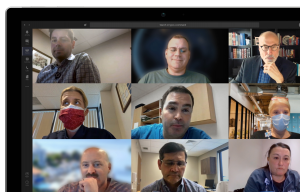 As part of Microsoft 365, it provides a hub where friends and family members can collaborate on just about anything, from finances to gatherings and events, groceries, and more. While chatting using Microsoft Teams, consumers can share documents easily from OneDrive along with data like their location, calendars and task lists, Word, PowerPoint, or Excel files, and more, all without having to use a separate app or program.
Much like you can assign tasks to others in software like Trello, families can also organize tasks among family members in Microsoft Teams for Families, like assigning schedules to kids on the chores and tasks they need to do during summer break, or dividing up household chores among all family members each week. Set custom notifications so your teenager knows that he needs to take the garbage out every Monday night at 7 p.m., for example, or to remind you to call the dentist to set up appointments.
Another neat future is the Safe, which can be used to store important family passwords for services like Netflix and the home Wi-Fi network, details like passport numbers, loyalty rewards membership numbers, insurance account details, and more. This way, one partner can easily access their spouse's passport details and Aeroplan number, for example, to complete the booking of that upcoming family vacation, and the kids can find the appropriate guest Wi-Fi password to give to their visiting friend without having to bug their parents or search for that piece of paper it was jotted down on way back when.
If you have the app already for business, use the same one for the personal side, easily switching between accounts to keep things separate.
Who Can Get Microsoft Teams?
Anyone can download Microsoft Teams on a compatible Android or iOS device and get going right away.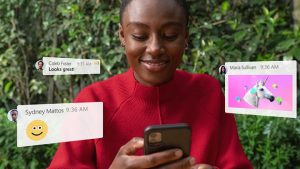 And while Microsoft Teams has aspects of software like Slack and Trello, Zoom and Houseparty, and shares some similarities with others like iMessage and WhatsApp, it's sort of like all of them combined into one. It's a way to manage a household or group of friends and activities in the same way you might manage teams in an office environment. And for those who thrive on order and organization, it's a great way to keep things running smoothly at home, just as you would in the office.
Keep in mind that the free version families can use includes access to things like personal chats, secure access to documents and files, to-do lists, calendars, and cloud storage access in group chats, work and personal calendar access in one app, group dashboards, and Safe storage. But some features require a paid Microsoft 365 commercial subscription or trial subscription to Microsoft Teams for work. This includes the ability to chat one-on-one or use group messages or dedicated channels to talk with an entire team; HD audio and video calling; file sharing and editing on the go; intelligent search without conversations to find documents, spreadsheets, and photos; custom notifications; and enterprise-level security and compliance.
Should You Use Microsoft Teams?
Any household run by a Type A person will revel in using this app to keep on top of family tasks, especially large families dealing with everyone being at home and the need to organize everything from work to school schedules, exercise, meal prep, and other activities. Parents can ensure that kids know what they have to do to contribute, whether it's daily chores or summer schoolwork. And they can keep on top of important appointments while working from home for both the office and the home, whether it's a Microsoft Teams video call with colleagues about an upcoming project or dentist and eye doctor appointments.
Everyday household tasks can be managed, like to-do lists, grocery lists, and more. Plus, families and friends can collaborate with others remotely. The kids can share their PowerPoint presentation or book report with grandma and grandpa to discuss over a call, or message one another in a safe and secure place.
There's an abundance of options when it comes to ways for both companies and families to collaborate, communicate, and organize their lives while keeping their physical distance. Microsoft Teams is just another one to throw its hat into the ring.
Is it better than the others? It's all a matter of preference. But those who already use Microsoft Teams for work might enjoy the opportunity to extend it to family life, too, while others looking for a collaborative app might find this one worth trying out.
Related:  Video Conferencing